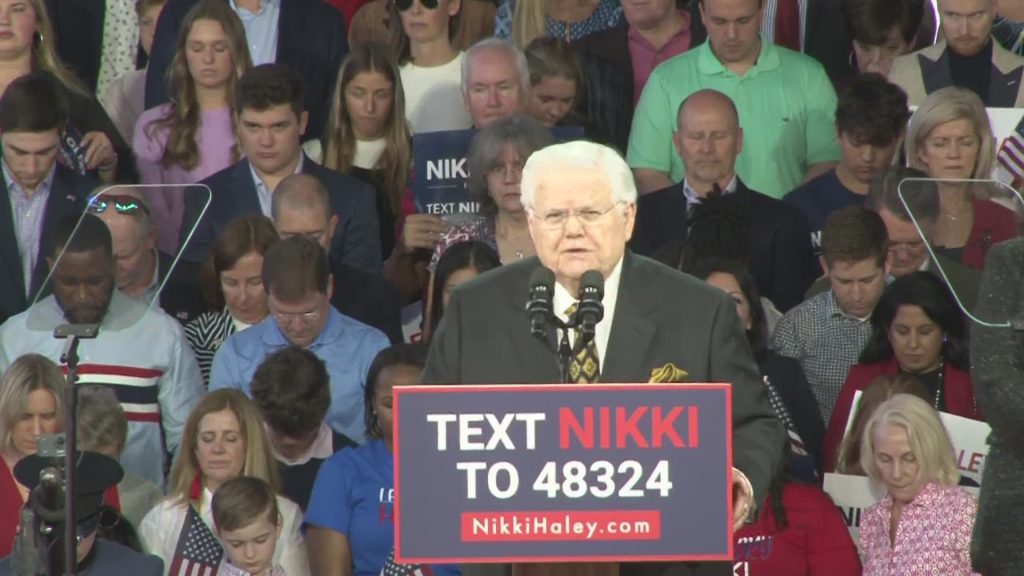 Yesterday at Nikki Haley's announcement:
Somewhere along the way Nikki Haley bonded with John Hagee, the San Antonio megachurch pastor and founder of Christians United for Israel. They have made several appearances together over the years. Back in July, she hinted at a presidential run while speaking at a Hagee event and has called Hagee a "dear friend":
In December 2021, she endorsed Hagee's Zionism:
And here is Hagee and Haley in Israel in June 2021:
Hagee is one of many evangelical Zionists in the United States. This does not make him unusual. Many Trump court evangelicals and MAGA evangelicals supported Israel. So do many non-evangelicals politicians. But Hagee has said some things that might raise eyebrows, especially his remarks about Hitler and the Jews.
He once called Hitler a "half-breed Jew" and said the Holocaust was God's punishment on the Jews for their disobedience. He has said the Antichrist will be gay and partially Jewish, "just like Adolph Hitler." At other times he has has called Hitler a "spiritual leader of the Catholic Church' and linked the Catholic Church to the "whore of Babylon" in the New Testament book of Revelation. In addition to his anti-Semitism and anti-Catholicism, Hagee has come up with a crazy view of the "end times" known as the "blood moon prophecy." He also connected Hurricane Katrina to a gay rights parade in New Orleans.
I can't believe Haley's handlers did not vet Hagee before she asked him to pray at her campaign roll-out. The phrase, "I want to be you when I grow up" will come back to haunt her in the GOP primaries, although the more I think about it, it might actually help her with some of the GOP constituency. Whatever the case, she will need to answer for her relationship with Hagee.
Several pundits and folks on social media are calling attention to John McCain's bad experience with Hagee in the 2008 presidential election. McCain was desperate to win over a Christian Right wing of the party that was lukewarm to his GOP nomination and turned to Hagee for an endorsement. The San Antonio megachurch pastor was happy to oblige. On February 29, 2008, shortly after winning the nomination, television news viewers saw McCain, Hagee, and Texas Senator John Cornyn at an outdoor event receiving the endorsement. The CNN coverage that night showed Hagee teaching a class in which he points to a cartoon image of a white woman in a provocative dress and jewelry–"the whore"–riding on a lion and two other wild cats. He then says to his students, "This is the apostate church. This false religious system is going to be totally devoured by AntiChrist." The Catholic Church urged McCain to separate himself from Hagee.
McCain tried to do damage control. He later appeared with Texas Republicans Phill Gramm, Kay Bailey Hutchison, and Rick Perry and said, "I don't have to agree with everyone who endorses my candidacy.. They are supporting my candidacy. I am not endorsing some of their positions." What is ironic about McCain's remarks is that he viciously attacked George W. Bush in the 2000 GOP primary race for saying the exact same thing about his visit campaign stop at Bob Jones University, a school that did not permit interracial dating.
The Hagee connection would haunt McCain through the entire campaign. In March 2008, faith leader and former Bush Office of Faith-Based Initiatives special assistant David Kuo questioned McCain's judgment. He told CNN: "What was John McCain thinking by standing up there with this sort of man and his anti-Catholic bigotry, and what does it say about him as a potential candidate?…I think that's what's really so fundamentally wrong here." (I might add that similar bad judgement on this front came in his choice of Sarah Palin as his running might). McCain did not reject Hagee's endorsement until late May 2008.
But times have changed since 2008. As I noted above, folks like Hagee are now more part of the GOP mainstream. Only time will tell if the Hagee prayer will hurt or help Haley down the road.