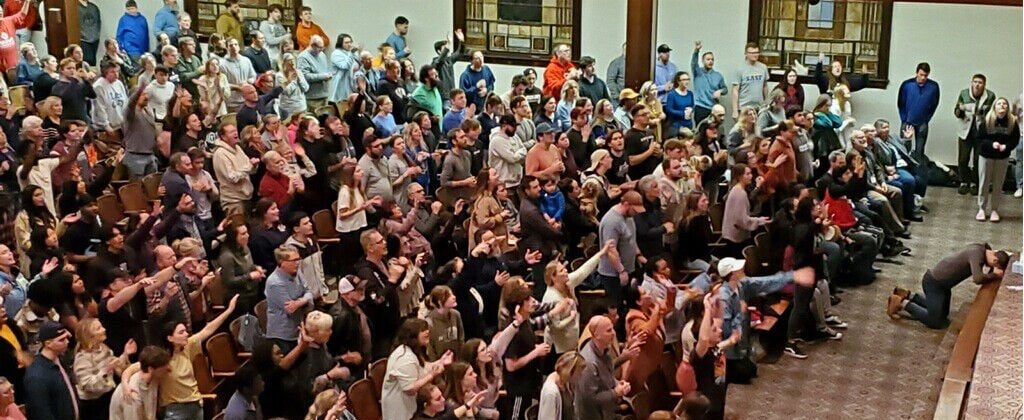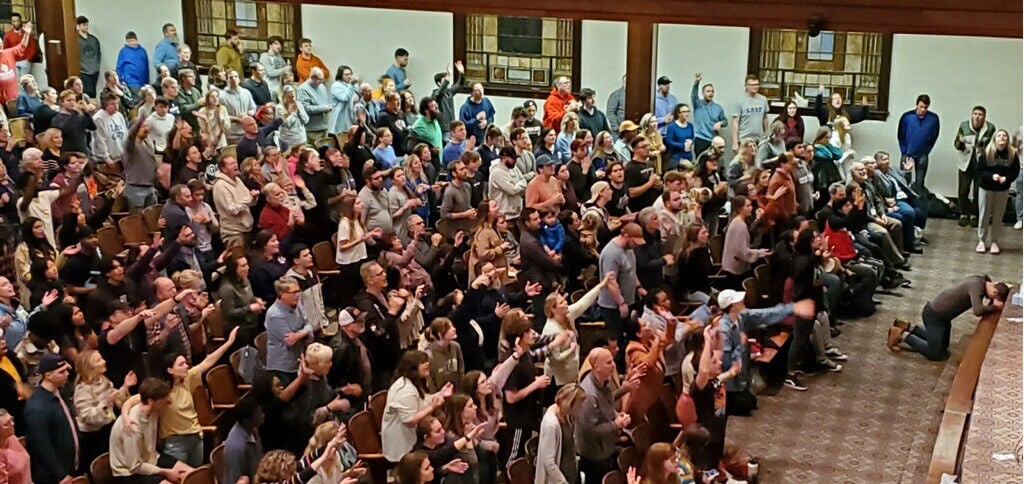 Something is happening at Asbury University in Wilmore, Kentucky and it has some striking similarities to 1970:
Here is Alexandra Presta at The Asbury Collegian:
I have been in Hughes Auditorium for almost twelve hours now without an intent to leave anytime soon.
Peers, professors, local church leaders and seminary students surround me— all of them praying, worshipping, and praising God together. Voices are ringing out. People are bowing at the altar, arms stretched wide. A pair of friends cling to each other in a hug, one with tears in her eyes. A diverse group of individuals crowd the piano and flawlessly switch from song to song. Some even sit like me, with laptops open. No one wants to leave.
No one even expected this to happen. Not on a random Wednesday for sure. Yet, we sit and sing about God's love pouring out and His goodness.
As a senior, I have never witnessed anything like this. I've heard about it from alumni, especially those who have come to chapel and spoken about their experience with the Revival of 1970. December graduate Elle Hooper agrees with me.
"I am one of many who have been praying for this since my freshman year," Hooper said. "To be here and witness to this is life-giving."
There have been moments of testimony, Scripture reading and prayer, private and public — whatever the Spirit felt like doing. Different leaders like chapel speaker Zach Meerkreebs and campus pastor Greg Haseloff worked to keep the day flowing as long as God intended it. Pizza, snacks, water and coffee rejuvenated the energy around dinner time and after the sunset.
This experience is a true testament to show God's timing. He knew when we as a student body and as a community needed a day like today. To confess, reconcile, heal and allow prayers to be spoken over us — He knew what we needed to do and helped us do it. He is still present even as I type these words; honestly, it is hard to describe everything I am feeling, much like my friends sitting around me.
Part of me is filled with nothing but gratitude. We have sung the popular song by Brandon Lake more than once, but the truth of the lyrics hit every time: "So I throw up my hands, and praise You again and again 'cause all that I have is a hallelujah."
I have embraced friends, cried with strangers and overall felt more connected to God than I have in a long while. And I am only one person, one witness to healing and transformative action taking place on the carpets, against the walls, and between the wooden rows of seats.
Read the rest here.
More coverage from the college newspaper here and here and here.
Kentucky Today, the voice of the Kentucky Baptists, has reporting here.
A testimonial from a participant:
Here are some more videos:
I am eagerly waiting for reports from Asbury University historian David Swartz and Asbury University sociologist of religion Lisa Swartz.