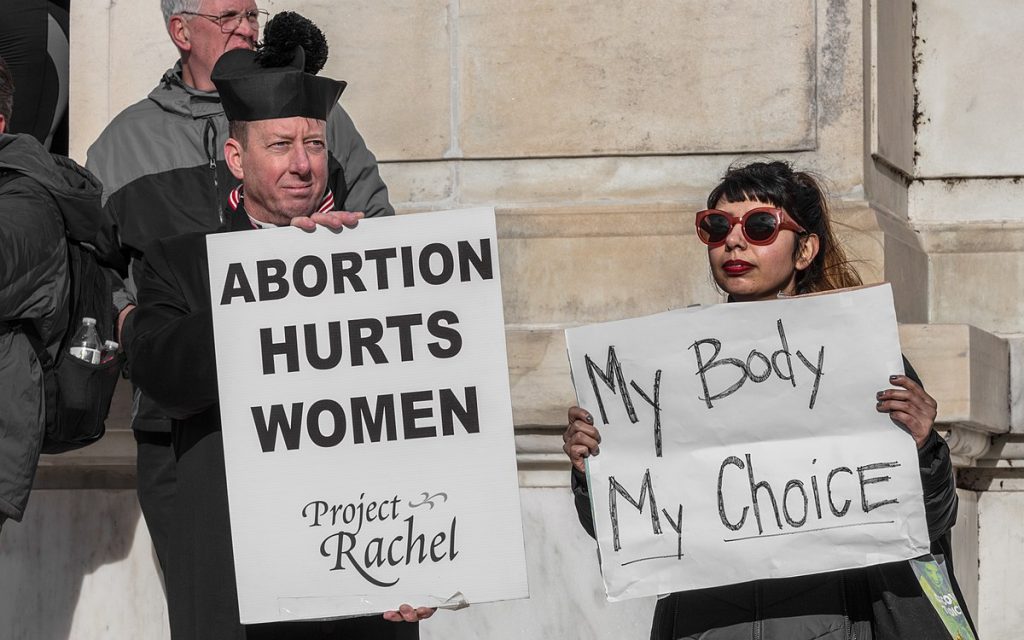 Last week I attended a conference on abortion that was held at Harvard University. It was a fascinating conference, partly because it brought together both supporters and opponents of legal abortion who in many cases shared a belief in expanded healthcare funding in order to create greater social equity. Speakers on both sides of the abortion divide called for social justice and equality.
Yet despite similarities in some of the policies they advocated, there were substantial differences in their larger social visions, and those differences revealed the impossibility of making equity an ultimate goal. The goal of equity presupposes a larger social vision of the type of social good that we would like to make equally available to all – which means that we can't talk about equity without coming to terms with our own values. And it was here that the opponents and proponents of abortion legalization who participated in the conference encountered some significant differences between their contrasting concepts of social justice.
From the early 1970s until the early 21st century, the abortion rights movement's characterization of itself as "pro-choice" reflected activists' belief that individual freedom and bodily autonomy were some of the highest goods – higher, in fact, than the potential life of the fetus. The pro-choice movement therefore fit comfortably not only with American liberalism but also with libertarianism. The government should not intrude on people's personal decisions about what to do with their bodies, the pro-choice movement proclaimed.
Yet advocates of individual reproductive freedom encountered a problem with their ideology in the early 21st century: the realization that for many people of color and low-income women (who accounted for the majority of abortions by the early 2000s), reproductive choices are not truly free. For women without adequate healthcare, childcare, or a living wage, the decision as to whether or not to have an additional child may not really be a free decision.
Many supporters of abortion rights therefore no longer identify primarily as pro-choice but as advocates of "reproductive justice." In keeping with this social justice vision, movement activists who are upper-middle-class and white are therefore now choosing to give up some of their own economic liberty in order to secure greater reproductive freedom for people who currently have significantly fewer economic resources. They are calling not only for greater access to contraceptives and abortion for people from lower-income backgrounds but also for a comprehensive expansion of the social safety net in ways that will provide holistic healthcare. This will presumably require higher taxes for some people, but in a new cultural environment that prizes diversity, equity, and inclusion as core values, many reproductive rights advocates are willing to forego some of their personal economic liberty for a greater cause.
But this leads to a question: What is the greater cause for which they are willing to sacrifice some degree of personal freedom? The answer, it seems, is personal freedom for each member of society – especially those who are currently most marginalized. Their concept of the social good has not changed very much from the previous generation's pro-choice ideology. The reproductive justice activists of today still envision an ideal society as one in which every person capable of getting pregnant can choose whether to carry a pregnancy to term and in which sex and reproduction can be separated as much as each individual would like.
The pro-life movement disagrees with this vision because it believes that there are higher social goods that we should seek. Bodily autonomy and personal freedom are legitimate social goods, but not the highest goods. They are not as high as the value of human life or even the promotion of moral virtues. In and of themselves, bodily autonomy and personal freedom will not contribute very much to human flourishing unless they can be viewed not as ends in themselves but as subordinate components of a higher social vision.
Many pro-lifers believe in the right to privacy, but they treat it not as an end in itself but as a means to a larger goal – such as the goal of protecting marriage, as the Supreme Court declared in Griswold v. Connecticut, or the goal of limiting the power of a potentially intrusive state. But when bodily autonomy or personal privacy become the highest social goals, the result will be a morally desiccated society of self-seeking individuals who are deprived of societal support for the human relationships that give life meaning.
Some pro-lifers are calling for some of the same economic self-sacrifices that the reproductive justice movement is advocating – but with a different goal in mind. At the Harvard conference, for instance, pro-life advocate Charles Camosy spoke about the need to promote "radical equality" through better family leave programs and other social policy – an idea that advocates of reproductive justice might applaud. Erika Bachiochi called for an ethic of "interdependence" as an alternative to the libertarian-style individualism that the reproductive justice movement claims to eschew.
But both Camosy and Bachiochi view the social programs they advocate as a means to a very different set of values than the ones the reproductive justice movement favors. Camosy wants to promote the value of human life as an alternative to a "throwaway culture" that treats people as objects. For him, the protection of human life and human flourishing are ultimate goals. And Bachiochi has called for a restoration of pre-20th-century feminist values that were centered on the cultivation of moral virtue – because the promotion of virtue should be one of the ultimate goals of a just society.
In other words, both the pro-life advocates and the reproductive justice advocates who spoke at this conference grounded their calls for action in a larger ethic of social justice. Both advocate similar policies on all issues except for abortion and contraception. Both groups favor expanded government-funded healthcare and better family leave policies. Both believe that sacrificing personal economic liberty for the sake of larger goals is necessary.
But nevertheless, there is a substantial difference in the type of just society that they envision and in what they are calling people to sacrifice personal economic liberty to achieve. One group views personal reproductive liberty and personal autonomy as ultimate goals. The other group views the preservation of human life and the promotion of moral virtue as the ultimate aims of an equitable society. In the end, their concept of justice differs because their vision of the good life and the good society are so different.
It was clear to me when listening to the speakers at the conference that we cannot talk about "equity" or "justice" without coming to terms with our ultimate goals and our concept of the social good.
I may be able to find temporary common ground on some policy issues with those who disagree with my views on the goals for which we're striving – and to the extent that I can, I welcome that. I am grateful for every opportunity I have to partner with those of differing ideologies in order to achieve common policy goals.
But at some point, the fact that we're seeking two different social visions will become evident, just as it did at the Harvard conference last week. And when those differences do become apparent, it's appropriate to talk about the differences in our ultimate goals, because calls for "equity" or "social justice" depend on a vision of the social good that at some point has to be defined.
Instead of merely calling for (and maybe even making) personal self-sacrifices for a vaguely defined greater social good of "equity" or "justice," we have to ask ourselves: What is the ultimate social good for which I consider these sacrifices of personal liberty worthwhile? Is it merely an expansion in the number of people who enjoy personal autonomy and individual freedom? Or is it something higher – something such as the promotion of the intrinsic worth of human beings and the cultivation of human character in relationship to something timeless and eternal? How we answer that question will determine which type of social justice and equity we envision.