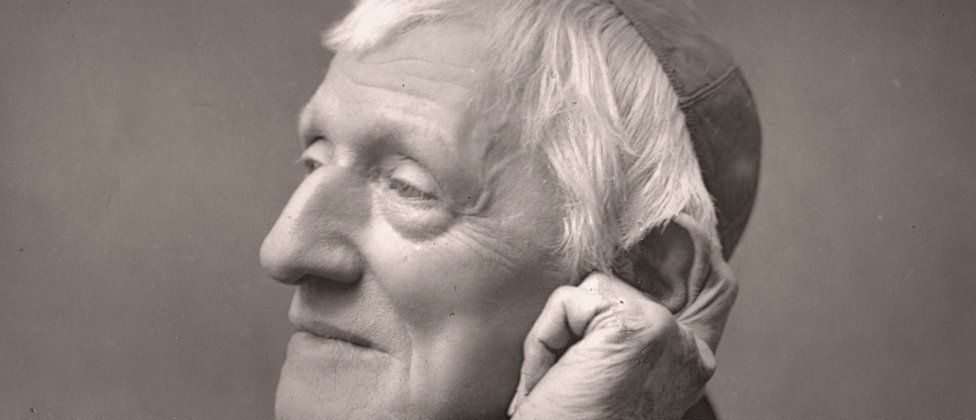 Once again I am teaching "Created and Called for Community," Messiah University's first-year core course. Today I taught an excerpt from John Henry Newman's 1852 book The Idea of a University. If you are a longtime reader of this blog, you might remember that this is not the first time I have done a post on teaching Newman. Much of what follows below draws heavily from this piece.
Newman wrote The Idea of a University while serving as rector of Catholic University of Ireland. (today it is known as University College Dublin), a school that he helped found. We started our conversation, as we always do, by sourcing the document. Who was Newman? Several students found it interesting that Newman was not welcomed to teach at Oxford University, an Anglican institution of higher learning, after he converted to Catholicism. This was a great opportunity to think about previous course readings.  As we learned earlier in the course, Christian colleges and universities often place boundaries on faculty and students. These boundaries are usually defined by belief and behavior rooted in the particular school's mission and understanding of Christian faith. In 19th-century England, Oxford was a Protestant institution. I pointed out that Oxford was not as inclusive as present-day Messiah University, a Christian college that hires Protestants, Catholics, and Orthodox believers.  Other Christian colleges such as Wheaton College, Liberty University, Gordon College, or Calvin University do not hire Catholic professors.  If Newman were teaching at one of these colleges at the time he converted to Catholicism, he would need to leave.
We also thought together about Newman's book in its 19th-century context. Students noted that Newman was writing in a world where only men attended university.  His understanding of "diversity" was limited when compared to our modern understanding of "diversity." For Newman, diversity meant different kinds of white men. A few students thought that the Newman's concerns about the carriage, gait, address, gesture, courtesy, conversation, taste, and propriety of the British gentleman under his care were not gender-specific character traits. (There are six female students and one male student in the class). One student thought we needed more of what Newman described as "the power of conversating [and] the talent of not offending." Other students wondered if Newman's 19th-century ideas about a Christian university were practical today. More on that below.
At this point I paused and explained how I might teach this document differently in a history course.  I imagined teaching Newman's ideas in a course on 19th-century British history.  In such a course my primary goal would be to get students to think about what Newman's essay teaches us about his world.  But in Created and Called for Community, my primary goal is less about getting my students to understand the "foreign country" of 19th-century Great Britain and more about trying to get them to think about whether Newman has anything to offer our understanding of Christian higher education today.
This semester I am asking students to come to class with a question to get the conversation started. Sarah asked her classmates to consider Newman's idea that the university is a place–a real, flesh and blood, place.  Newman writes: "The general principles of any study you may learn by books at home; but the detail, the colour, the tone, the air, the life, which makes it live in us, you must catch all these from those in whom it lives already."  In an age of online learning, virtual reality, and the internet I wondered if my students thought Newman's call for face-to-face learning was still relevant?  I was surprised that so many students seemed to agree with him here. Our conversation moved to whether a place like Messiah is defined by what Newman describes as a "congregation of intellect." In an Enlightenment model of education, ideas and books can take readers to far-away places, even if such travel only occurs in the imagination. Newman writes how students can "go…to the ends of the earth by means of books." But at the same, such intellectual travel must always be rooted in the "fulness" of "one place alone." For Newman, the university is a place–a thick culture of learning defined by a particular theological or religious tradition. It is place where "inquiry is pushed foward…by the collision of mind with mind, and knowledge with knowledge."
Again, most of my students were attracted to this vision. A lot of them did not like the online learning they had to endure during COVID-19. Many of them preferred the more evangelical version of community articulated by Messiah alum Ernest L. Boyer over the rich Catholic tradition of Newman's world, but I left the conversation encouraged that these eighteen-year-olds were clearly longing for a college experience that was not entirely focused on obtaining a degree and jumping through the requirements to get there. They want a real "congregation of the intellect."