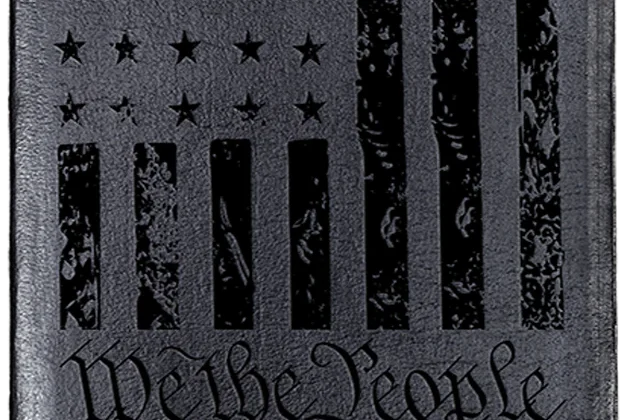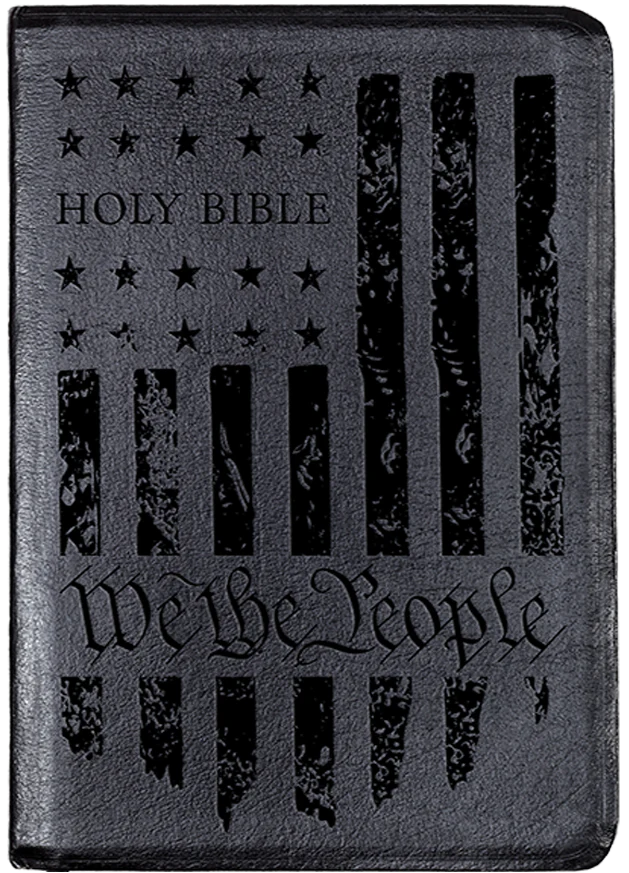 Act quickly. I imagine these "We the People" Bibles will sell out faster than the Trump digital trading cards and the Trump-King Cyrus prayer coins. 😉
Here is Donald Jr.:
For $69.99 you can buy a King James Version of the Bible with an extra canonical (at least for Christian nationalists) testament that includes the United States Constitution, Declaration of Independence, Bill of Rights, and the Pledge of Allegiance. You can also buy "bundle" packs that include the "We the People" Bible, a bookmark, an American flag lapel pin, a "challenge coin," and "We the People" hats and t-shirts.
According to the website:
The We The People Bible was designed with the patriot in mind and features a vertical reversed American flag design that represents a country in distress. Our bible is proudly made in the USA and has been designed with large print that delivers an easy reading experience to anyone looking to explore the tried-and-true King James (KJV) translation.
The "We the People" Bible is also a red-letter edition." This means the words of Jesus are highlighted in red. I wonder if Donald Jr. has a favorite highlighted part of his Bible? Maybe it's from the Sermon on the Mount. Or maybe it's Matthew 19:20-24.
Former member of the House of Representatives Adam Kinzinger had some thoughts on the "We the People" Bible:
This is not the first time in recent years that a God and country Bible has been published.
In May 2021, Jay Green wrote about "God Bless the USA Bible."
David Barton, the GOP political activist who uses the past to promote his political agenda, produced a "Founder's Bible." Watch:
And let's not forget The American Patriot's Bible, published in 2009 by Thomas Nelson:
Last year I received a copy of the American Bible Society's Faith and Liberty Bible." Here is a description:
As a study Bible, the Faith and Liberty Bible includes thematic content alongside the biblical text, offering further reading on biblical values and American history. In total, there are more than 810 articles and quotations from people throughout American history, from Colonial times to the present day. These Americans—including William Penn, John Quincy Adams, Harriet Beecher Stowe, and Dr. Martin Luther King Jr.—drew from the Bible in their work, writings, and personal lives. Dozens of Americans are featured from a variety of backgrounds, affiliations, and confessions, celebrating the freedom and diversity of thought we enjoy as Americans. Each article is connected to Scripture and organized by six biblical values of faith, liberty, justice, unity, hope, and love—values that are increasingly lacking in our culture, political system, and even our churches. Ten study tracks guide exploration of topics like Liberty, Education and Virtue, and Slavery and Abolition throughout the Scriptures.
The Faith and Liberty Bible serves as a comprehensive point of reference for Americans who want to understand how a history built on God's Word influences our lives today. In its pages, readers will encounter the inspired truths of Scripture that point them to salvation through Jesus Christ as the only source of hope. They will also be guided by examples from American history that challenge them to consider their own role in shaping America's future.
I haven't had time to dig into this Bible yet, but it worth noting that it is a product of the American Bible Society's turn toward conservative evangelicalism in the 1990s. I chronicled this shift in my book The Bible Cause: A History of the American Bible Society.