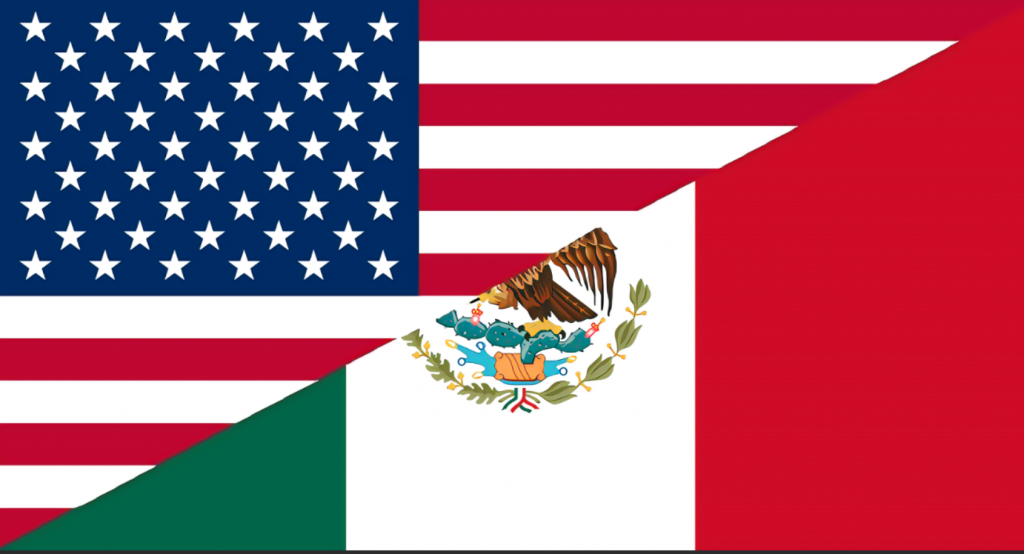 A case for a modest American patriotism (with some help from Mexico)
Long Form features spill out a little more slowly, making possible a deeper encounter with the essay's central themes—and with the author, too. Pour a cup of coffee, settle in, and enjoy. It will be worth your while.
*
I believe that to be an American—or a citizen of any nation, tribe, or religion, for that matter—is to take ownership of an ancestral narrative, to be part of an act of epic storytelling. I have this predilection for stories on a grand scale because I was raised as the child of American missionaries in Mexico, where we lived amid a maze of competing stories—a "garden of forking paths," to borrow a phrase form Jorge Luis Borges. With paths converging and diverging all around, citizenship never felt to me like some predetermined fate. It was more a matter of existential choice: to be (or not to be) part of a particular saga; to take (or not to take) this particular fork in the road.
One of the choices I made was to return to the United States and become a full-fledged American citizen. Nevertheless, the fifteen years I spent in Mexico left an indelible mark. Mexican patriotism, for those who've seen it up close, is a singular affair. At once fervent and modest, it makes room for both a deep pride in the country's grandeur—its pyramids, its plazas, its public art—and a clear-eyed realism that acknowledges the ongoing violence, the unfulfilled dreams, and the tragic imperfections that plague all human enterprise.
It is this form of patriotism, a patriotism modest, realistic, even ambivalent, that we, north of the Rio Grande, would do well to emulate.
As a first grader I learned to sing the Mexican national anthem in a patio damp with the smell of moss, not far from the muffled din of Insurgentes Avenue, one of Mexico City's main thoroughfares. I learned of the Aztecs and President Benito Juarez long before I knew much about Abraham Lincoln or the Declaration of Independence. And I absorbed this Mexican narrative as one of epic, but also tragic, grandeur. As for the anthem we sang, I understood little of its martial pomp, and perhaps it's just as well. I recall that the line al sonoro rugir del cañón ("to the resounding roar of the cannon") got refracted through the prism of my first-grade brain to read al salon va a ir el camion ("to the classroom goes the school bus")—all this as I stood, in stiff posture of salute, giving furtive glances at the lizards scampering among the vines of the patio walls. And I was oblivious, even as I'm sure our elders were, to the political tumult and violent repression that were happening not far from where we stood. We were living in the aftermath of the 1968 massacre at the square in Tlatelolco and the one-party state media of the time gave no hint of what was going on. It would be decades before these things were widely known and explored, thanks to the work of intrepid journalist/writers like Elena Poniatowska and films like Alfonso Cuarón's Roma.
Even though there was always a part of me that felt like an expatriate, there at Instituto Concordia I was drawn into a compelling national saga. Its central protagonist, hands down, was the nineteenth century president Benito Juarez: he who'd fought the last vestiges of colonial rule, established separation of church and state, and made it possible for Mexicans to be evangélicos (as we Protestants there referred to ourselves), or Mormon, or Marxist, or just about anything else. And its main illustrator was Diego Rivera. Even if we schoolchildren never saw Rivera's work first hand, his images (colorful, heroic, graphic-novel style) would find their way into our imaginations.
Juarez might have been the central actor, but none of the images were quite as captivating to me as the weird and wonderful (and sometimes frightful) Aztec deities. There was Quetzalcoatl, the Feathered Serpent, imparting knowledge of art, architecture, and maize cultivation. There was Tlaloc, the god of rain and life-sustaining water, with perfectly-round goggle-eyes and precise rectangular features, like some primitive robot carved in volcanic stone. And there was Huitzilopochtli, wizard and god of war, leading his nomadic tribe to found their capital at the spot where an eagle, perched on a cactus, held a serpent in its mouth. El águila y la serpiente: the image at the center of the Mexican flag.
Whether or not I remained Mexican, these things were bound to have an enduring hold. How could it be otherwise?
When I was in the third grade, sometime in the fall of 1970, my brothers and I came home to our apartment just off Insurgentes Avenue to the news that we would be transferring to Greengates, the city's elite English-speaking (British) school. Mom had just been offered a job there, earning us free tuition.
At Greengates we were thrown in with the rich expatriate set. It was a milieu in which we fared quite well, except that we always felt like the poor cousins in the house. It wasn't, of course, that we were poor per se. It's just that we suffered by comparison. While our classmates lived in upscale or lavish homes behind high walls (their parents being diplomats and corporate executives), we lived in a small spartan apartment. Where they had spacious yards, we learned to kick a soccer ball in an open-air garage that was shaped like a handball court, and we had to practice our running on a sidewalk crowded with pedestrians. To cap it off, our ride to school took us through a grim expanse of cinderblock, a grayish color that always seemed choked in smog and diesel fumes. Mexico had its grandeur, to be sure, but it was not much in evidence on this ride.
It was at Greengates, in this elite international milieu, that I began to think of myself first and foremost as an American. I have no doubt that I was, at least at some level, compensating for my spartan economic conditions and capitalizing on the cachet that American culture held among the students. Who, after all, didn't love Archie comics, Sweet Tarts, Charlie's Angels, and the Dallas Cowboys? But there was also much more to it than simple cachet. I'd spent a number of summer vacations in the U.S., most of the time in southern Illinois, where my maternal grandparents lived. I loved the vast open spaces we traveled through to get there—the prairies and Great Plains of the American interior, which have a hold on me still. After the crowded sidewalks of Insurgentes there was much to be said for these open spaces. After all, weren't these the sorts of fields out of which Dorothy had been whisked off to Oz, and in which Jim Ryun had trained to become an Olympic runner? And then there was the simple joy of arriving at our grandparents' place: the toys that waited us, the mom-and-pop store whose wooden floors creaked, the malt-flavored penny-candies, and the packets of baseball and football cards.
And of course, southern Illinois was also the land of Abe Lincoln.
In the fourth grade our teacher, an expatriate Englishwoman whom I always suspected of disliking Americans in general, asked all of us to do a short presentation on a historical figure we considered important. Of course, I chose Abraham Lincoln. I was fresh from a visit to Illinois and New Salem National Park, where I'd bought a small copper bust as a souvenir.
I forget just what I said in front of that class, all clad in green cardigans and lion badges, like a scene out of Hogwarts, but I do remember uttering the word "emancipation." I was nervous and, judging by the vacant expressions on my classmates' faces, suspect that much of what I said was inaudible and inarticulate. The distant, contemptuous look on my teacher's face (as I remember it) was no help. But the experience clarified something for me, if for no one else: I knew that I was first and foremost (and for better or worse) an American. If England had King John signing the Magna Carta, and if Mexico had Benito Juarez, the U.S. (and I) had Lincoln. I must have sensed, as I do now, that Lincoln was the central actor in an American saga—one whose main storyline is emancipation and enfranchisement. And I'm sure I knew then, as I know now, that the U.S. is still a work in progress, with promises and ideals yet to be fulfilled.
Outside the classroom, I gravitated towards football (the American kind, fútbol americano). How was I going to resist its appeal—the speed, the precision, the elliptical ball spiraling through the air like a spinning top, and the players with their gleaming helmets like knights-in-formation? A new obsession developed: to attend high school in the U.S. and become a football player. I even dreamed of playing in college and then for the Dallas Cowboys. Alas, I was to be no taller than 5'6'', and possessed no formidable strength and speed to overcome that handicap.
I got part of my wish, though. In the fall of 1977 as a high school sophomore I arrived at French Camp Academy (FCA), a Christian school with boarding facilities in Mississippi (my father's home state). I was well-suited to life there. A missionary upbringing, an earnest Christian conviction (which had yet to be tested), and a nascent desire to continue the Lord's Work in some far-flung corner of the globe were all tailor-made for the strictures of this high school. As the dream of heroism on the football field waned, another emerged, inspired by the global vision of Operation Mobilization, my parents' organization. I began to nurture the dream of traversing the former Ottoman Empire like an evangelical Lawrence of Arabia, bearing the words of the Gospel like a clandestine code.
But to my surprise, homesickness overtook me. Beyond the fact that I missed my family, I felt an intense nostalgia for the world of that international school I'd left behind. In spite of the fact that FCA was the only racially-integrated Christian school that at the time I knew of, and the fact that there were a handful of Spanish-speaking Honduran students in the dorms, the setting was isolated and provincial. The culture shock (if I can call it that) that I experienced had nothing to do with going from Mexico to the U.S. It had more to do with going from an urban setting to a provincial one. I was an American, yes, no doubt about that. But I was an internationally minded one, with special ties to Latin America.
I was, in short, an immigrant of sorts.
In college, my interests migrated from science to literature. I consumed a lot of great novels as an undergraduate, and none were as delightful as those of the new Latin American authors who were enjoying an international vogue, and whose work I was able to read in Spanish: Gabriel Garcia Márquez, Carlos Fuentes, Mario Vargas Llosa, and Isabel Allende. In a plain dorm room in Stillwater, Oklahoma, I was able to savor Spanish prose like fresh corn tortillas.
Of this group of writers, Carlos Fuentes was both the most challenging and the most intriguing. He wrote like a Spanish-language version of William Faulkner, and the effort he demanded paid off. I had a ready-made interest in the issues he took up in his writing: the relations between Mexico and the United States, the persistence of Mesoamerican culture in modern Mexico, and the country's failure to live up to the social democratic ideals that came out of the Mexican Revolution (1910). His novels are populated with subterranean ghosts from Aztec times, and with emblematic modern oligarchs who fought for the Revolution and then betrayed it. They weave together grandeur and failure, civilization and barbarism. More importantly, his patriotism is broad enough to take in all of these contrasting realities and embrace the tension between them.
In his voluminous historical work The Buried Mirror, Fuentes refers to the nations of the Spanish-speaking world as "unfinished business," citing Antoni Gaudi's great Sagrada Familia Cathedral as emblematic: "a project, a promise, like Spain herself, like Spanish America." And he could have been speaking of the U.S. as well. All the nations of the Americas have yet to live up to their ideals. Fuentes' modest and realistic Mexican patriotism involves recognizing that his nation (along with the rest of the Spanish-speaking world) is a work in progress.
A modest American patriotism, in emulation of this, would honor the United States' achievements—emancipation from colonial rule, emancipation of slaves from Southern plantations, and the enfranchisement of ever widening circles of citizens who are not white, male ,or Protestant—without glossing over its grave failures an injustices. Like Fuentes, it would steer a middle course between the twin perils of blind patriotism and cynical pessimism.
It was the 1980's, the Reagan years, when I first encountered these Latin American writers, and I did so amid what I regarded (and still regard) as a blind and overly optimistic patriotism. I felt out of touch with the Cold War language of the time in part because I had come to know too much about the brutal regimes we were relying on to defeat Communism. And in the two decades that followed, as we geared up for war in Iraq, I couldn't help but notice the havoc that was being wreaked on working-class communities (like in my grandparents' hometown) by the globalization process both parties had been boosting.
But at the other end of the pendulum, over the last few years I've watched a cynical brand of pessimism take hold. Where the naïve patriotism of the Reagan-Bush years refused to acknowledge the bad, this more recent turn refuses to acknowledge the good. It draws a lot from Friedrich Nietzsche (plus some forms of postmodernism) and precious little from the great emancipators like Martin Luther King, Jr. Steeped in Nietzsche's notion of the "will to power," it is quick to dismiss the ideals in the Bill of Rights and the Constitution as nothing more than masks to perpetuate new forms of oppression. It refuses to see the promise embedded in these founding documents, and the greatness in which Americans can take legitimate pride.
Our unfinished business depends on avoiding these two poles. Our common project is not the creation of a utopia but a republic, one in which groups of all types—ethnic, religious and ideological—can flourish and meet as equals in some iteration of the public square. I believe a modest and realistic patriotism is what we need if we are to hold together.
Mark Griffin is Professor of Spanish at Oklahoma City University. He was born and raised in Mexico, where his parents served as career missionaries. He is co-author of Living on the Borders: What the Church Can Learn from Ethnic Immigrant Cultures (Brazos Press, 2004) and has written articles on modern Latin American and Spanish literature.