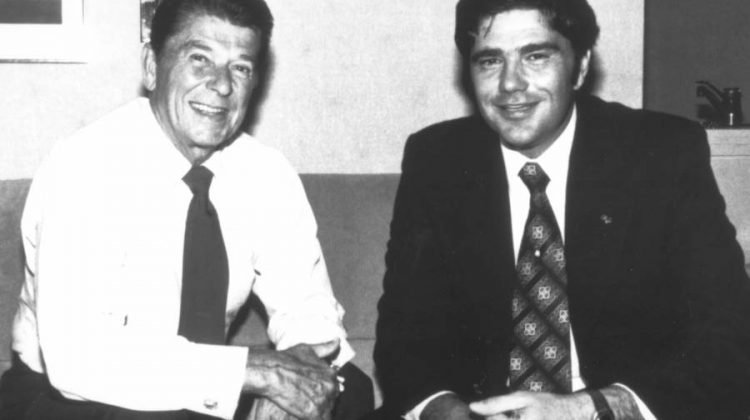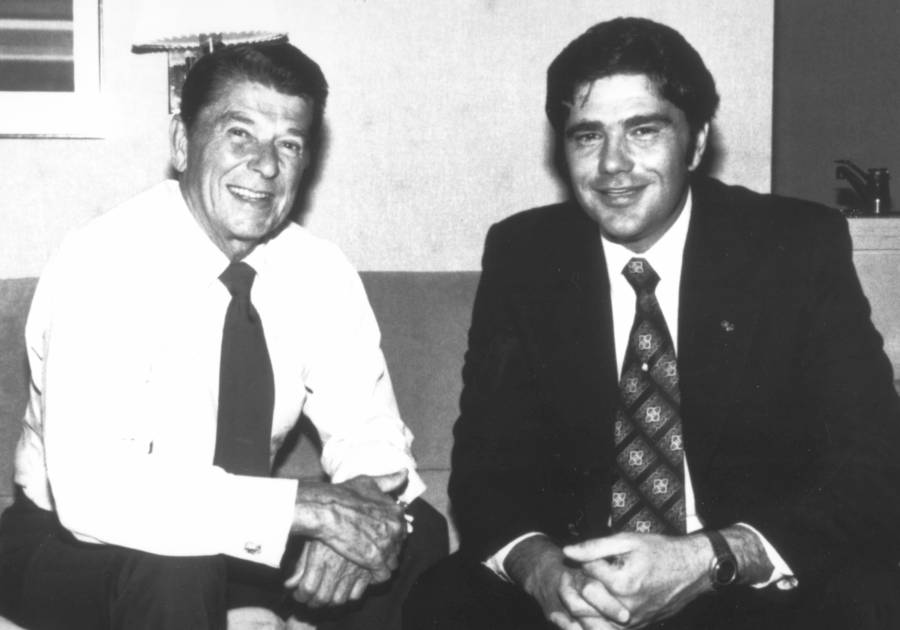 The Washington Post is covering a speech by the seventy-nine-year-old James Robison at the November 16 meeting of the National Association of Christian Lawmakers. Read the Post piece here.
According to its website, the National Association of Christian Lawmakers (NACL) was formed "to bring federal, state and local lawmakers together in support of clear biblical principles by meeting regularly to discuss major issues, propose model statutes, ordinances and resolutions to address major policy concerns from a biblical world view." The association believes that "America would be better off if more Christians would run for elected office at the local, state, and federal levels. The Bible says in Psalm 33:12 'Blessed is the nation whose God is the Lord." We need to elect more godly leaders in our national at every level." The NACL is "committed to abolishing abortion in our nation, to restoring marriage between one man and one woman, standing up for religious liberty in every venue, to promoting universal school choice and championing the right to introduce our young people to the importance of God in their lives – we are doing everything we can to restore the Judeo-Christian foundation of our nation."
In other words, the NACL is a Christian nationalist organization. Its board of advisors includes Mike Huckabee, Texas Lieutenant Governor Dan Patrick, Family Research Council president Tony Perkins, Wallbuilders president Tim Barton (son of David Barton), Seven Mountain Dominionist Andrew Wommack. Liberty Fund lawyer Mat Staver, and Christian Right "historian" William Federer.
Watch.
Robison comes on around the 1:00:58 mark:
Robison is pretty calm until the 2:04:00 mark when he starts talking about how "God uses imperfect people to accomplish his perfect will." His voice raises, he points to the crowd, and yells, "I suggest you go out of here with that reality."
Robison continues:
The Bible is written by imperfect people. How are some of them still in the Bible? Answer that question. You don't tell God who he can use. As an imperfect person following the one perfect person, let's show them what the body of that person looks likes. That's called the church of the living God and the gates of hell cannot stand against that force. Do you understand that?
Everyone in the room knows Robison is talking about Donald Trump. The idea that "God uses imperfect people" is the necessary context for what he will later say about Trump.
At the 2:12:00 mark, Robison starts talking about how he has mentored Christian Right politicians and pundits such as Michael Brown, Mike Huckabee, and Rafael Cruz (Ted Cruz's father). He then tells the audience that Ben Carson urged him to endorse Donald Trump after Trump secured the GOP nomination in 2016.
Robison told Carson he would not endorse Trump unless the candidate met with him for "at least an hour." Trump invited him to New York and Robison flew there on Kenneth Copeland's private jet. Robison claims he talked to Trump for 90 minutes. His speech gets a bit confusing at this point, but it appears Robison later brought-up his conversation with Trump in a conference room with Franklin Graham, Paula White, Jerry Falwell Jr,. and Samuel Rodriguez. Trump was also present for this meeting.
From this point forward, Robison claims, Trump always answered his phone calls.
Robison then tells the NACL crowd what he once said to Trump (at this point Robison is again yelling and pointing): "Sir, you act like a little elementary school child, and you shoot yourself in the foot every morning when you get up and open your mouth. The more you keep your mouth closed. the more successful you're gonna be." I don't think we should suggest from this, as some outlets have done, that Robison is somehow breaking from Trump. The speech's context does not permit such an interpretation.
At the 2:16:30 mark, Robison calls the nation to come together in "supernatural unity." He says:
If Mr. Trump can't stop his little petty issue, how does he expect people to stop major issues. You say 'you talk him that way?' YES! As surely as Daniel talked to four kings, I've talked directly to four kings. And when they listen to the truth, the people are blessed. When they don't we're all hurt…You keep praying for me, because these lips will never silence. And I will never choose a side. I will never be partisan. I will never be somebody's policy. I will never be sectarian. I will never be denominational. I will not follow personalities. I am totally committed to the principles of Almighty God found in his word and confirmed by all of history.
If Mr. Trump can't stop his little petty issue, how does he expect people to stop major issues. You say 'you talk him that way?' YES! As surely as Daniel talked to four kings, I've talked directly to four kings. And when they listen to the truth, the people are blessed. When they don't we're all hurt…You keep praying for me, because these lips will never silence. And I will never choose a side. I will never be partisan. I will never be somebody's policy. I will never be sectarian. I will never be denominational. I will hot follow personalities. I am totally committed to the principles of Almighty God found in his word and confirmed by all of history.
2:42:00: Near the end of the talk, Robison says he is exhausted because he has spent so much time in the past weeks, prior to the 2022 midterm elections, talking to Christian Right politicians. He then starts speaking to Rafael Cruz, who is in the audience: "I love your son. I text him all the time. And you know what I tell him? I say "Ted, you get better, smarter, wiser, and more teachable every day.' I tell him that."
I wonder if this is what Robison means by "smarter, wiser, and more teachable":
At the 2:43:00 mark Robison says that Sarah Huckabee Sanders is going to be the first woman president. He believes that she is "stronger than Trump." He then says that Mike Huckabee, a young aide to Robison at the time, "set up the meeting that literally gave Ronald Reagan the presidency. I just had the blessing to have been given a vision from Billy Graham and from God."
Robison is correct about the role he played in introducing Reagan to evangelicals, although his claim that he "literally gave Ronald Reagan the presidency" is debatable at best. Here's the story:
In August 1980, GOP presidential candidate Reagan came to the Reunion Arena in Dallas, Texas to give a speech at the Religious Roundtable's National Affairs Briefing. The Religious Roundtable was founded by conservative Christian activist Ed McAteer to give voice to conservative evangelical leaders concerned about the fate of Christian America. Reagan's invitation letter was signed by McAteer and two other Dallas-area evangelicals: Robison (Mike Huckabee helped organize the event) and Dallas Cowboy's coach Tom Landry, a popular spokesperson for evangelical causes. The invitation said that when Reagan came to Dallas he would gain insight on "the domestic crisis that is morally enslaving our country." Speakers at this event included Adrian Rogers, the pastor of the Bellevue Baptist Church in Memphis and one of organizers behind the conservative takeover of the Southern Baptist Convention; Paul Weyrich, a longtime conservative political organizer; D. James Kennedy, the pastor of the Coral Ridge Presbyterian Church in Fort Lauderdale who was widely known in evangelical circles for the Evangelism Explosion; Virginia Beach broadcaster Pat Robertson who was known best around the country for hosting the 700 Club; Bill Bright, the founder of the evangelical ministry to college students known as Campus Crusade for Christ; and U.S. Senators Bill Armstrong of Colorado and Jesse Helms of North Carolina. Jimmy Carter, the sitting President of the United States and a self-professed Born-Again Christian, and John Anderson, a U.S. Representative from Illinois and a member of the Rockford Evangelical Free Church who was mounting a 3rd Party run for the presidency,. were also invited to speak. Both declined the offer.
Robison introduced Reagan to the crowd of over 15,000 expectant evangelicals with the fervor of a revival preacher delivering an altar call. The Baptist preacher said that America was the greatest country in the world "because of its heritage and its foundation." He quoted Proverbs 29:2: "When the righteous are in authority, the people rejoice. But when the wicked beareth rule, the people mourn." For those gathered in Reunion Arena, there was no mistaking who were the "righteous" and who were the "wicked." Robison thundered on: "There is no way you can separate God from government and have a successful government. God is the ultimate authority." Robison railed on the idea of "separation of church and state," calling it a "godless interpretation" of the Constitution that Jesus Christ would never have endorsed. By this point he was screaming into the microphone and waving his Bible. This was a jeremiad disguised as an introduction of a presidential candidate. Reagan was seated behind the podium next to D. James Kennedy and he was loving every minute of it. He leapt to his feet when Robison hammered home his points and clapped and cheered as the Texas preacher condemned the overreach of the federal government–a Reagan campaign talking point.
12 minutes later, when Reagan finally got up to the speak, he began with a story about his recent campaign speech to the Veterans of Foreign Wars." "A few days ago I addressed a group in Chicago and received their endorsement for my candidacy," he told the Dallas faithful, "Now I know this is a non-partisan gathering and so I know you can't endorse me, but I only brought that up because I want you to know that I endorse you and what you are doing."
The crowd went wild, but what most people don't know was that Reagan's famous line about the endorsing the Christian Right was not his own. Robison fed it to him on the car ride from the airport with former Texas Governor John Connally. As Robison would later tell the story: "I told [Reagan] that . . . it would probably be wise if his opening comment would be, 'I know this is non-partisan, so you can't endorse me, but I want you to know that I endorse you,' " "Oh he loved that," Robison added. [Reagan] wrote that down and said, 'That's great. I'm going to use it.' "
For more on this I recommend Randall Balmer's Redeemer: The Life of Jimmy Carter and Rick Perlstein's Reaganland: America's First Right Turn, 1976-1980. The bottom line: Robison has always been a political partisan.
A few more comments on Robinson's NACL speech:
Robison seems to believe that he is something akin to an Old Testament prophet–God's kingmaker who speaks truth to power. But you will not find a better living example of someone who thinks that the best way to advance God's purposes (as Robison understands them) is through power politics.
Finally, I have no doubt that James Robison believes he is a national unifier. I think he really sees himself as nonpartisan and non-sectarian. Indeed, he wants to unify America as a Christian nation "under the guidance of the Holy Spirit. Consider:
Robison endorsed Eric Metaxas's conspiracy theories and a book that attacks Tim Keller, Andy Stanley, and Rick Warren:
He believes the media 'bears false witness":
He founded a website, The Stream, that publishes pieces defending Steve Bannon and criticizing evangelicals who support Liz Cheney and Adam Kinzinger, both members of the January 6th Select Committee.
He jabbed at Biden and the Democrats a week after the 2021 inauguration:
He believes that Satanic forces are behind social media companies and they are trying to silence him.
Here is Robison on December 1, 2020, less than a month after the 2020 election:
In light of the prosperity and benevolence of our nation, respected spokesmen have said, "Second only to the birth of Jesus Christ was the birth of America." Nothing can actually compare to the birth of Christ, but the miraculous birth of America is undeniable. In light of our present election dilemma, if truth does not prevail, the future is dismal. It can easily prove to be the certain end of hope, peace, security, stability, and life, with all the blessings freedom makes possible. Freedom as we have known it will be tragically limited, not only here at home but around the world. This does not have to happen on our watch—it must not happen!
Prior to the 2016 election, FBI agents and others within government actually set in motion methods by which they would defeat, impeach, and do whatever was necessary to destroy Trump, if and when he won the election. It's hard to believe that some bureaucratic agencies established to help protect freedom would become agencies of a horrific assault on freedom. The individuals and agencies committed to overthrowing the election results found whole-hearted, unwavering support by what seems like 90 percent of all national media sources. They refused to report or acknowledge many undeniably positive achievements during President Trump's entire term. It is difficult to imagine something happening like this in America, "the land of the free and the home of the brave."
Here is Robison on November 17, 2020:
I believe that the assault on true freedom and the blessings it provides is greater than at any time in history. I'm talking about freedom, not only here, but around the world. I believe the stage was set this time, the door was open for fraudulent acts and deception to prevail. All I want us to do is to find the truth. How can any freedom-loving American not want to know that every vote that is a legitimate vote is counted? And every dishonest, fraudulent, deceptive vote is not counted? Pray "God we want your will to be done. However long it takes, we want to know the truth."
Here is Robison after Trump lost in 2020:
Apparently before Trump lost the 2020 election the battle WAS NOT the Lord's:
Here is the "non-partisan" Robison on the day before the 2020 presidential election. He wants Americans to vote for the "future of freedom." He believes that "miracles" were happening in America until Satan sent the pandemic and ruined it all:
About a week before the 2020 election:
Here is Robison saying that evil principalities and powers are at work to undermine Donald Trump's 2020 re-election bid:
Here Robison somehow manages to turn an encouraging word to his followers suffering from COVID-19 into a screed in defense of Confederate monuments, Donald Trump, and Christian nationalism. Satan, in the form of "the Left," needs to be removed from the United States! :
Nonpartisan? Not taking sides?
Addendum (10:00pm): In 2010 Robison organized a meeting of evangelicals leaders–many of them future Trump court evangelicals–in Dallas to discuss the best way to keep Barack Obama from winning a second term as president. Why would a "non-partisan" Christian leader who doesn't "take sides" convene such a gathering?