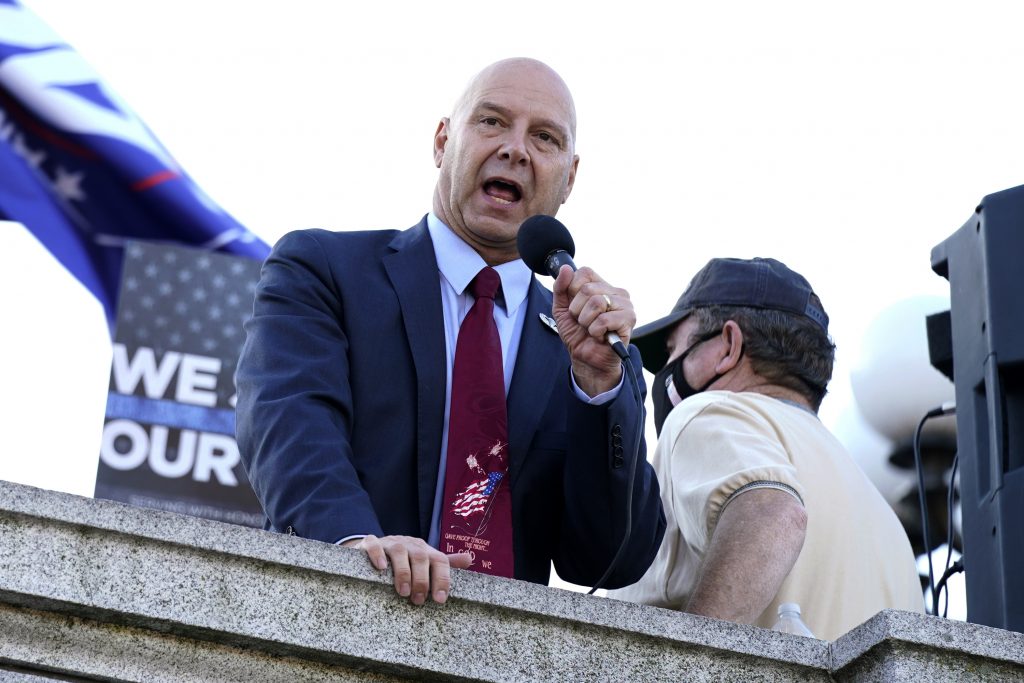 Bonnie Kristian, author of the recent Untrustworthy: The Knowledge Crisis Breaking Our Brains, Polluting Our Politics, and Corrupting Christian Community, has a well-researched piece at New York Times on Doug Mastriano's connection to a conservative Mennonite church. Here is a taste:
Former President Donald Trump lost Pennsylvania in 2020 by just around 80,000 votes out of more than 6.9 million cast for president. This year, in the background of the state's governor's race — in which Attorney General Josh Shapiro is expected to best State Senator Doug Mastriano — there's a tension playing out among an unlikely group of voters with the potential to change future elections there: the tens of thousands of Pennsylvania Amish, Mennonites and other Christians in related sects who have traditionally refrained from voting.
It is the unusual campaign of Mr. Mastriano — a retired army colonel involved in efforts to overturn the 2020 presidential election — that has raised the possibility of an increased Amish vote in particular, starting with the white bonnets and Shenandoah beards that dotted the crowd at his primary victory party. Mingled among ordinary political revelers in campaign regalia, these plainer people may have been some variety of Amish or members of the CMC, a denomination formerly known as the Conservative Mennonite Conference, to which Mr. Mastriano himself has been repeatedly linked.
The candidate's own religious beliefs have proved difficult to nail down. The Mastriano campaign has a practice of ignoring almost all media requests; the CMC congregation in question did not respond to my repeated requests for comment.
But a debate about political participation — once sharply limited or entirely forbidden by strong religious convictions about violence, power and the state — increasingly involves the Amish, Mennonite and related communities, conservative and progressive alike. A permanent plunge into politicking would be a major break with longstanding belief and practice for these Christians. It could also have long-term political implications for the whole country, beginning in Pennsylvania but in nearby Ohio, too.
The umbrella term for these groups is Anabaptist. The Amish and Mennonites are the best known. Some Anabaptists are Plain or Old-Order, known for their distinctive dress and low-tech lifestyles. Others, like the congregation I joined as a young adult uncomfortable with flag-and-country evangelicalism, wear modern clothing and happily use the internet.
Linking these groups are a handful of historical-theological distinctives, especially rejection of violence and coercive power as incompatible with the Christian life. Anabaptism doesn't require adherents to be apolitical or as separate from mainstream society as the Amish have tended to be, though Anabaptists have generally avoided military service. Christians may not "employ the sword," and it "is not appropriate for a Christian to serve as a magistrate," declared the Anabaptist Schleitheim Confession of 1527. Jesus rejected political power and violence, the confession said, and so must his followers "so shall we not walk in darkness."
Especially in the last decade, however, that tradition has begun to fray. Amish, Mennonite and other Anabaptist Christians are debating and practicing political engagement to a degree that once would have been unthinkable.
Mr. Mastriano's possible ties to the CMC are a good case in point. An Associated Press photo of the victory party pictured the pastor of a CMC church where Mr. Mastriano's wife, Rebbie, has reportedly held membership. People who appear to be Anabaptist appear in footage of campaign events where Mr. Mastriano has rallied alongside Mr. Trump and Representative Marjorie Taylor Greene of Georgia.
His candidacy has raised controversy among Pennsylvania Anabaptists, and the CMC, in its Statement of Practice, still officially rejects involvement in "any office, career or organization that requires us to employ the use of force, military service or retaliation to accomplish its objectives," a traditional Anabaptist perspective.
Read the rest here.