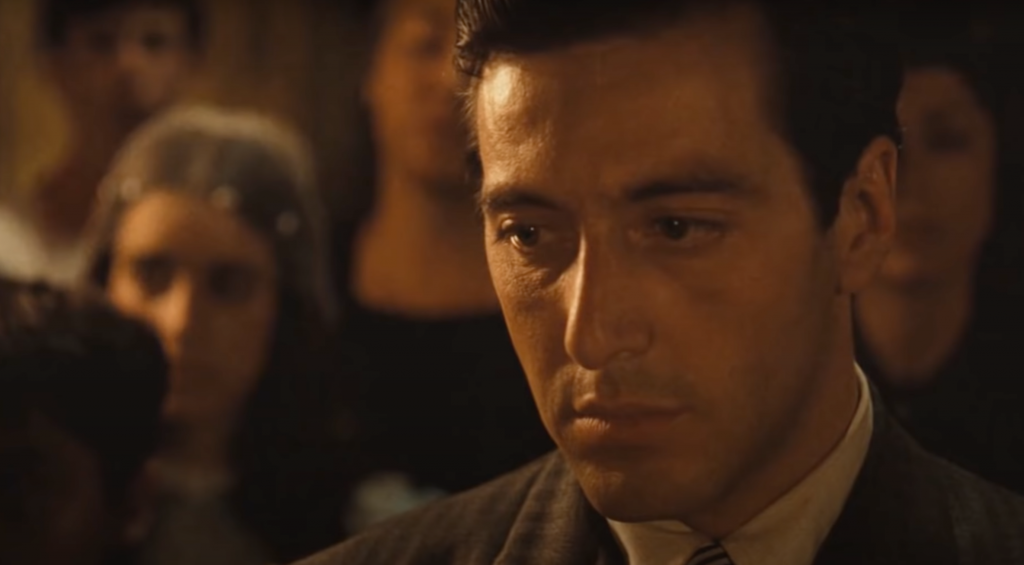 The crisis of leadership in contemporary religion and politics is rooted not in hypocrisy but in nihilism
It's been a hard summer for fans of the fictional American mafia. Actors James Caan (Santino "Sonny" Corleone from The Godfather), Tony Sirico (Paulie "Walnuts" Gualtieri of The Sopranos), and Paul Sorvino (Paulie Cicero from Goodfellas) have all died over the past month. These deaths, accompanied by last spring's tributes marking the fiftieth anniversary of The Godfather's release, have left me waxing nostalgic over these essential, ever controversial classic pieces of Americana.
So I watched Francis Ford Coppola's 1972 masterpiece again (admittedly, it never takes much coaxing). Set in the 1940s and 1950s, The Godfather tells the story of the Corleone family, a fictional Italian mafia organization in New York, and its uneasy transfer of power from one generation to the next. Based on Mario Puzo's bestselling novel, it's a tale of succession in which the youngest son, Michael (Al Pacino), a decorated World War Two veteran who, initially reluctant to enter the "family business," not only descends into willful crime and bloodshed on his family's behalf but is ultimately transformed into the cold-blooded, steely-eyed heir apparent of his father, Don Vito Corleone's (Marlon Brando).
The emotional and dramatic climax of the film is contained in a five-minute sequence in which Michael consolidates power and eliminates threats arising from opposing families in the criminal underworld. A cross-cut piece of editing genius (studied in film schools everywhere), the sequence weaves together one scene set at an elaborate church ceremony in which Michael stands as godfather at his baby nephew's baptism with multiple scenes in which Michael's gangland rivals are assassinated one at a time at his command, the events all seeming to occur simultaneously.
As Michael participates in this purest and holiest of Catholic sacraments, reaffirming his own baptism and vowing to renounce the dark works of Satan, the heads of the other four crime families—along with another key rival—are murdered in gruesome, operatic fashion, one by one. Don Victor Stracci is ambushed in an elevator; Casino mogul Moe Green is shot in the eye while getting a massage in Las Vegas; Don Carmine Cuneo, also ambushed, is trapped and murdered in a revolving door; Don Philip Tattaglia is shot while in bed with a prostitute; and Don Emilio Barzini is gunned down by a beat cop pretending to write him a parking ticket, tumbling down the marble front steps of a majestic government building to his death.
The sequence is powerful, arresting, ingenious, and devastating, a glorious and sensual feast. It explores the darkened and gilded interior of a Catholic church, the priests' vibrant silk and linen robes flowing, and the urgent rendering of an ancient Latin liturgy underwritten by the insistently swelling chords of a pipe organ. All of this is cast against a staccato of methodical, murderous violence.
"Michael Francis Rizzi: Do you renounce Satan?"
"I do renounce him."
"And all his works?"
"I do renounce them."
"And all his pomps?"
"I do renounce them."
"Michael Rizzi: Will you be baptized?"
"I will."
I haven't been able to stop thinking about this sequence and its implications for this moment in American public life. While it affords a rich space for exploring the interplay between the "sacred" and the "profane," I don't believe it offers contemporary audiences the same insights it did to viewers fifty years ago. The changing relationship between the sacred and profane in America today needs our attention, and Michael Corleone can help.
The sequence has been decoded in multiple ways over the past half-century, but two interpretations stand out. The first reads it as a cynical Vietnam-era commentary on religious hypocrisy. It posits a world of objective right and wrong, good and evil. Powerful men like Michael make pious displays of religiosity that are empty of real content and genuine devotion. They give lip service to high-minded principles they neither believe nor plan to observe. While the soaring ideals of Christianity's moral vision remain intact, men like Michael have neither the will nor courage to embody them. Michael's renunciation of Satan is hollow and insincere. The American gospel is tarnished.
A second interpretation reads the sequence as an exposition of American folk religion, a superstitious faith aligned more with magical thinking than moral inquiry. It ignores contradictions between Michael's profession of faith and his homicidal directives, focusing instead on the mystical powers of Catholic ritual to inoculate its participants against evil. By engaging in this ancient ritual Michael is cleansed of the sins he at that moment is committing. The Roman Catholic Church here functions as a repository of spells and curses rather than a moral arbiter of good and evil. Michael's renunciation of Satan is sincere, but it functions more as an incantation than an act of repentance. The American gospel is amoral and superstitious.
The difference between these two ways of reading the sequence is stark. The first pictures the church as laying forth a set of standards Michael knowingly violates. As such, he is in league with Satan and his profession is a sham. The second pictures the church as indifferent to standards of conduct but capable of unleashing its magic if assenting to the right combination of words and gestures. Michael does battle with Satan by means of medieval wizardry.
When I rewatched The Godfather this summer with the January 6 Congressional hearings and the rise of "Trump 2024" as the backdrop, the baptism sequence read differently to me: It fit neither interpretation. At a moment when American Christian leaders cheerfully contort the tenets of Christian morality beyond recognition to meet the insatiable demands of political power, Michael's affirmations and denunciations took on a new and sobering resonance. This time I saw neither a man acting as religious hypocrite nor a believer in magic spells. Instead, I saw a man willing to remake the meaning of the entire Christian tradition to suit his unique quest of raw power. His affirmations were sincere. But they had no necessary relationship to the theological or moral tenets of the faith. He baldly affirmed them as if they could do nothing but lend support to his thirst for supremacy.
In this reading I finally recognized that Michael is a Nietzschean nihilist, wholly unconcerned with the purported boundaries of good and evil supplied by the Christian tradition and instead committed fully and solely to enlarging his power. He gladly and sincerely takes the vows provided by the priest, but creates his own "reality" and manufactures his own "truth" in doing so. Truth is whatever suits his present needs. Satan is whatever hurdle he encounters along the way. When Michael renounces Satan, he does so earnestly. And the cold-blooded murder of his enemies is the demonstration of his sincerity. The sacred and profane embrace. The American gospel is transformed.
We can't begin to understand this moment in American public life until we contend with the shameless nihilism that runs through its core. A generation of political and religious leaders is rising, all eager to make us offers we can't refuse. 
Jay Green is Professor of History at Covenant College. His books include Christian Historiography: Five Rival Versions and Confessing History: Explorations of Christian Faith and the Historian's Vocation (edited with John Fea and Eric Miller). He is Managing Editor of Current.