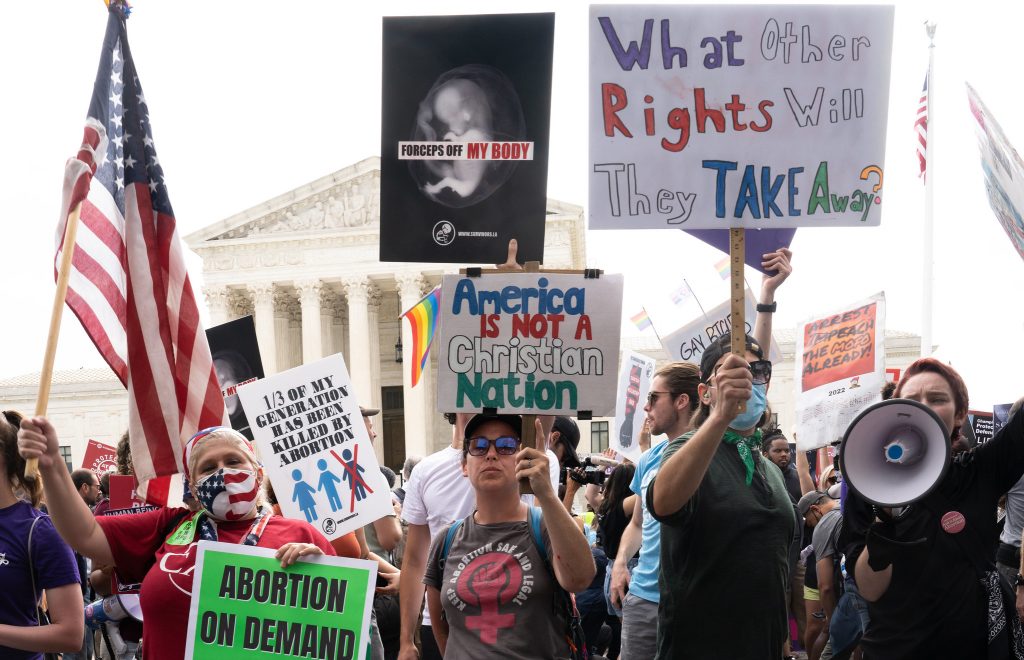 We would like to think of ourselves as a unified nation. Our laws tell a different story.
Was the Supreme Court's decision last month that reversed Roe v. Wade and gave state and national legislatures the power to set abortion policy an assault on democracy, as some critics have charged?
Critics believe that it was an attack on democracy for the nation's high court to take away a right that American women exercised for forty-nine years and that a majority of Americans wanted to remain intact.
But many conservatives believe that Dobbs furthered the cause of democracy: Dobbs did not reverse a single legislative action by any elected representative body, nor did it use judicial power to impose an abortion policy on America. Instead, it expanded the power of voters and state legislatures to create an abortion policy of their own choosing.
Both of these characterizations of the Supreme Court's decision contain at least a grain of truth. The court did give voters more power in setting abortion policy—thus expanding democracy. Yet it simultaneously challenged a framework that has been central to liberal notions of equality and that most liberals believe to be essential for a national American democracy.
The result will almost certainly be a nation that is less homogenous and more fragmented than we have seen in more than half a century. And yet the Dobbs decision itself can hardly be blamed for this. It merely ratifies and exacerbates political and regional polarizations that were already underway.
Dobbs did not overturn any laws, but it did reverse a seventy-five-year trend of Supreme Court expansions of human rights through liberal interpretations of the Constitution. Think of this new interpretative framework as the Supreme Court's mid-twentieth-century liberal revolution. Most of the legal gains of twentieth-century rights-oriented liberalism were accomplished not through constitutional amendment or even through federal law but rather through court decisions that relied on a reading of the Constitution that became popular only in the mid-twentieth century.
Before the Supreme Court adopted its new interpretative framework in the 1940s and 1950s, policies on matters of civil rights varied widely by state. The federal government did not interfere with southern segregation laws, voting restrictions, and the exclusion of African Americans from juries. In some northern states interracial marriage was legal, but in southern states (as well as many in the Midwest and West), marrying across prohibited racial lines could lead to a jail sentence.
State laws varied widely in other areas as well, depending on the local religious and political culture. While many states had no religious test for public office, Maryland prohibited atheists from running for election until the Supreme Court struck this law down in 1961. While birth control pills and condoms were available in most states in the early 1960s, they were illegal in the heavily Catholic states of Connecticut and Massachusetts until Griswold v. Connecticut overturned these laws in 1965.
The Supreme Court of the mid-twentieth century disrupted these regional variations in state laws and imposed a legal homogeneity on the nation through an expansive reading of the Constitution, one that required the protection of minority rights in every state. Under Earl Warren's leadership (1953-1969), the Supreme Court struck down school segregation, local obscenity laws, religious tests for public office, classroom prayer in public schools, and state laws against contraceptives. It upheld the rights of religious minorities, criminal defendants, and conscientious objectors.
Under Chief Justice Warren Burger (1969-1985), the Supreme Court continued this expansive reading of the Constitution by upholding the right to sexual privacy and reproductive freedom, and by striking down the death penalty as "cruel and unusual punishment" (though the Supreme Court later reversed this decision). When the feminist movement's campaign to ratify the Equal Rights Amendment (ERA) failed, the Supreme Court did an end-run around opponents of the ERA by using a series of court decisions on gender equality in the 1970s to enforce most of the principles of gender equality in the legal code that would have resulted from passage of the ERA.
Yet this expansion of human rights through judicial fiat was not without its problems. For those who agreed with the Supreme Court's liberal vision, the court's rulings were cause for celebration. But for those who did not agree, they looked like judicial tyranny. Seventy percent of Americans objected to the court's decision on school prayer. Nearly half of Americans in the 1970s wanted to overturn Roe v. Wade, which had ruled that the abortion restrictions of forty-six out of the fifty states were unconstitutional. Progressives hoped that on matters of controversy, a national consensus in favor of the court's liberal interpretation would eventually emerge, but on some topics, including abortion, it did not.
Conservatives hope that by giving states the power to decide some of these matters of controversy they will defuse the cultural tension and expand democracy at the local level. Liberals fear that this move will result in an oppression of human rights, with the federal government unable to intervene.
One thing is clear, regardless of what we think about abortion or Roe v. Wade: The Supreme Court's recent action will result in a greater division between state policies than we have seen in more than half a century. For decades Americans have been secure in the belief that an American who accepts a job transfer from Denver to Dallas will be able to enjoy approximately the same rights in their new location as they did in the old. But when it comes to voting rights, health policies, and abortion, that is no longer the case.
A nation in which people can receive a ninety-nine-year prison sentence in one state for an action that's perfectly legal and publicly funded in another is not an ideal outcome, and it's easy to blame the Supreme Court for this. But in reality, the United States was already moving in this direction before Dobbs, as different state policies on abortion access, COVID protections, marijuana, healthcare, the death penalty, car emissions, and a host of other issues had already made clear. Even if the Supreme Court had not reversed Roe v. Wade, deep cultural fissures were already straining an attempt at national policy on abortion to the breaking point. But Dobbs accelerated this process of regional and cultural polarization and gave it official imprimatur.
The real problem confronting the critics of the Supreme Court's decision is that we as Americans are culturally and regionally divided on some of the most basic issues of human rights. We would like to think of ourselves as a unified nation, but no attempt at legal homogenization has yet succeeded in bridging divisions that are only becoming more pronounced. The Supreme Court's attempt to create a homogenous legal culture of human rights and equality in the mid-twentieth century was a noble attempt that almost worked. Now that it has failed, it is up to us to use the democratic process to promote a vision of human rights and equality amid the regionally polarized political landscape in which we find ourselves.
The Supreme Court has given all Americans the right to set abortion policies through majority vote. But that's the problem: We can no longer arrive at a majority consensus on some of the most important issues facing the nation, and we don't have faith in our fellow citizens to protect our rights. In fact, when it comes to abortion, we can't even agree on which set of rights-claims involved in the debate should really matter. And if that's the case, our real problem is not the Supreme Court. Our problem is ourselves and our fellow Americans. After all, if we can't reach a cultural consensus on even the most basic principles regarding human rights, equality, and the meaning of democracy, can we really expect the court to settle the issues for us and protect us from the votes of our neighbors? 
Daniel K. Williams is a professor of history at the University of West Georgia and the author of several books on religion and American politics, including God's Own Party: The Making of the Christian Right and The Politics of the Cross: A Christian Alternative to Partisanship. He is a Contributing Editor at Current.