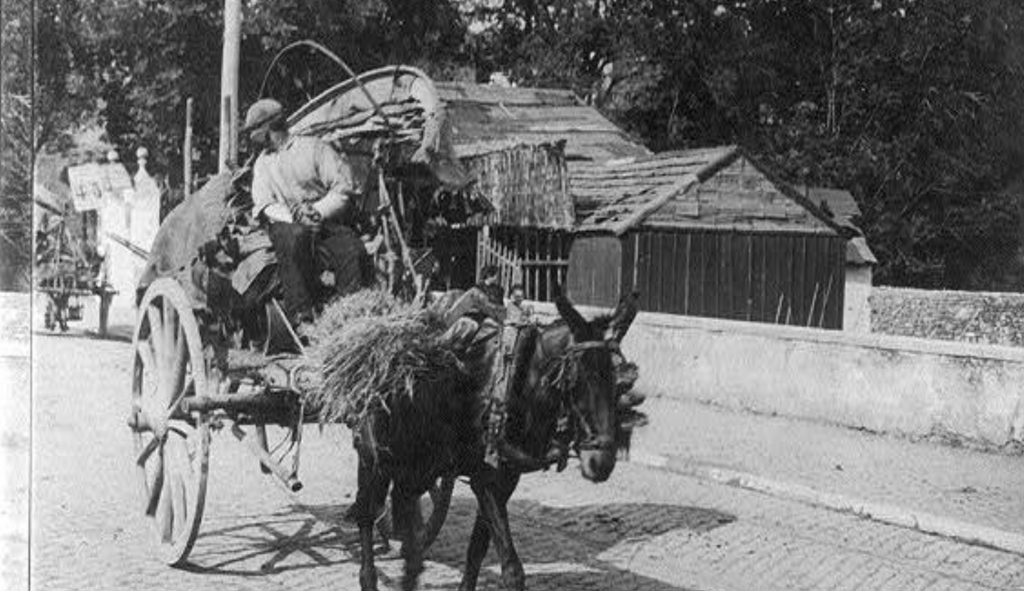 The third in a series of meditations on Ignazio Silone's Bread and Wine
Don Paolo was walking through Piatresecca when he noticed a bare-footed, shabbily dressed young man who did not appear to be listening to the stories and jokes told by his fellow peasants as they returned to the village after a hard day of work. He exchanged a smile with the man and then, sensing an opportunity to win a convert to his radical ideas, followed him back to the "hovel" in which he lived. "I should like to hear what you think about certain things," Don Paolo asked, "I would like to talk to you as man to man, forget for a moment that I'm wearing this habit and that you're a simple cafone." The man's home smelled of "manure and filthy rags" and when he offered Don Paolo some of his evening meal of bread, onions, and tomatoes, prepared with hands still soiled from the fields, the priest "shut his eyes and tried to swallow the food to avoid offending him."
Don Paolo proceeded to tell the young man about a place where peasants "struck up an alliance with the workers in town." But before he could get deeper into his story Don Paolo was interrupted by the owner of the inn where he was staying; she had been out looking for him. "Your dinner has been ready for an hour," she said," I was afraid something had happened to you." "I'm not hungry," replied Don Paolo, "Go back to the inn, because I want to go on talking to this friend of mine." The woman responded in shock. "Talking to him?" she exclaimed. "But haven't you noticed that the poor lad is a deaf-mute and only understands a few signs?" Don Paolo realized the innkeeper was right, smiled at his new friend, and returned to the inn for dinner.
The story of Don Paolo's encounter with this deaf-mute peasant, told so eloquently in Ignazio Silone's novel Bread and Wine, speaks volumes about the difficulties intellectuals face in their work of mobilizing uneducated people to become agents of social and political change. As we saw in our last installment in this series, Pietro Spina, a socialist fugitive fleeing Mussolini's fascist police, is hiding out in Pietresecca disguised as the priest Don Paolo. In the course of his stay, he begins to see the virtues of an older, more rooted way of life. But he never loses interest in his radical activism. As an intellectual embedded in a community defined by the ancient practices of Italian agrarian life, Spina/Paolo learns that it is one thing to feel a sense of solidarity with a particular place and its people and quite another to get them to abandon the myths, prejudices, and superstitions that encompasses their worldview and make them incapable of understanding the oppression under which they live. Such work can feel like talking to a man who cannot hear or speak.
In another telling scene from the novel, Don Paolo asks a peasant named Daniele to give him a "better idea of your way of thinking."
We "are just tillers of soil," Daniele responds, "and don't have much to think about."
"Even a cafone thinks sometimes" Don Paolo says. "To begin with, why don't you tell me what you think about the situation, Daniele?"
"What situation?" asks Daniele.
"The general situation."
"The general situation of Pietresecca? Are you asking whether I think Pietresecca would be better off it were situated somewhere else? I must admit I've never considered it. This village has always been here."
"You haven't understood me," says Don Paolo, "I was referring to living conditions in general, here and elsewhere in Italy. What do you think of them?"
"I don't think of them," replies Danielle, "Of course, everyone has his own worries."
At this point two other peasants, Sciatap and Grascia, enter the conversation: "Everyone is plagued by his own fleas, Sciatap says. "Are you saying we should worry about other people's too?" Grascia chimes in: "All we can do with our little brain is to think about our own bit of land." And sometimes, Sciatap adds, "our brain isn't even big enough for that. And in any case what's the good of thinking? Hail comes just the same."
Don Paolo grows frustrated. Couldn't these peasants understand that he is talking about the militarism, inflation, taxes, and suppression of free speech in Mussolini's fascist regime? Why did they continue to remain obedient to such a government and resigned to such oppression?
"We are born with and grow up with the same ideas," Sciatap says.
"But don't you think that one day your troubles might end?" Don Paolo asks.
"Are you talking about the next life, about life after death?" Grascia responds.
"No, I'm talking about this world . . . Don't you think that one day the landowners might be expropriated and their land given to the poor? Don't you think that the country might be run by people such as yourselves? Don't you think that your sons and grandsons might be born free?"
"Yes, we know that dream," Grascia says, "Every so often we hear about it. It's a beautiful dream, there's none more beautiful."
"But unfortunately it's only a dream," another peasant adds.
Frustrated and angry, Don Paolo returns to his room in the inn and turns to a page in a notebook where he had written, "On the inaccessibility of the cafoni to politics." After sitting for a few minutes staring at the page, he writes, "Perhaps they are right."
Bread and Wine is filled with scenes like this. The village peasants mock a visiting schoolmistress when she tries to inform them about what is happening in Rome. The same peasants fail to grasp the injustice of Mussolini's 1935 invasion of Ethiopia apart from the fact that the war could result in the fascists coming to Pietresecca to requisition their donkeys. As the peasants drink their wine and eat their bread, they wonder if Mussolini's use of a supposed "death ray" on the Ethiopian people will have the undesired effect of destroying seeds in the ground. Don Paolo, ever-aware of the oppression the fascists would bring to the people of the Abruzzi, asks, "Have you understood anything of what is going on?"
For Spino/Paolo, and most intellectuals who share membership in a community that seems incapable of understanding its own anti-intellectualism or state of oppression, the work of bringing moral transformation requires winning people over to ideas they are either incapable of grasping or unwilling to accept because they challenge time-honored traditions and myths. This is why the activist intellectual must always be prepared for a long battle of position rather than a sudden revolution. And for many, such a battle often takes place among friends, or at least those who share a social kinship based on a common history, experience, or religious faith.
Such work requires patience. It is born of a sense of calling. It breeds loneliness and isolation. But it is a burden some of us must bear.
John Fea is Executive Editor of Current