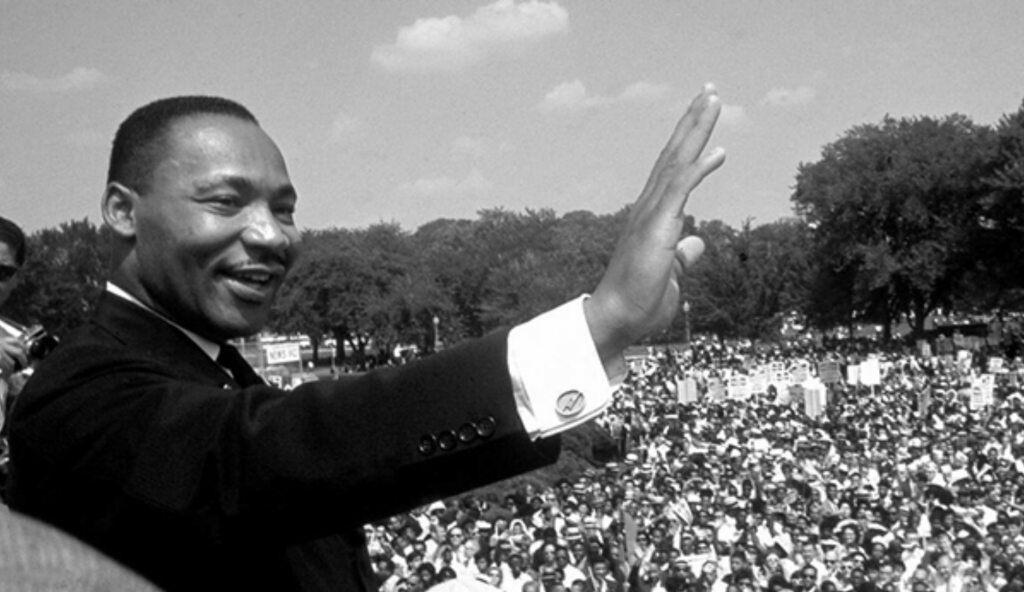 Christians who use Martin Luther King, Jr. to fight secularism may be the kind of Christian he preached against
Should white conservative evangelical Christians point to Martin Luther King Jr.'s Christian faith as an argument that religion, and especially Christianity, belong in politics?
For many white conservative evangelicals, the Reverend Dr. Martin Luther King Jr. has become a trump card in their arguments against advocates of church-state separation because, the argument goes, if secular progressives want to purge religion from the public square, they'll have to oppose King—and who wants to do that, now that King has become the closest thing we have to a national icon?
Headlines such as "Martin Luther King Jr. Was a Man of God. Why Is the Secular Media Ignoring It?" proclaim what many conservative white evangelicals want to remind their fellow Americans of each MLK Day: King was a politically active Christian, the civil rights movement was grounded in Christianity, and secular people who want to keep Christians from invoking their faith in politics today are therefore standing against Martin Luther King.
Much of what conservative white evangelical Christians have claimed about King's faith is true. But that should not give them comfort. To the extent that they appropriate King's legacy, his life and words offer an indictment of the very political platform too many white conservative evangelicals have assumed is Christian.
There is no doubt that King's Christian faith was a central motivating force in his life. Like many African American Christians of his day, King believed that the God who delivered the ancient Israelites from Egyptian slavery was reenacting the Exodus story in his own time through a nonviolent movement of resistance against injustice. The civil rights movement was therefore a religious pilgrimage in which he and others were sustained by the belief that even if they had to die for the cause, God would ensure that justice would prevail in the end. This was the theme of King's final speech, delivered in Memphis the night before his assassination. "I just want to do God's will," he told the assembled crowd, who had come to hear him proclaim his support for an economic boycott and a garbage workers' strike. "And He's allowed me to go up to the mountain. And I've looked over. And I've seen the Promised Land. I may not get there with you. But I want you to know tonight, that we, as a people, will get to the promised land!"
But for King, Christian imagery in politics could never be separated from justice because, like many other liberal Protestants of his day who believed in the Social Gospel, he thought the creation of a just society was God's ultimate concern. If King was a "man of God," he envisioned his ministerial calling primarily in earth-centered prophetic terms: He believed he was given a divine mandate to preach the message of justice to an unjust society so that legal and economic systems could be changed.
"Somehow the preacher must have a kind of fire shut up in his bones," King declared. "And whenever injustice is around he tells it. Somehow the preacher must be an Amos, and saith, 'When God speaks who can but prophesy?' Again with Amos, 'Let justice roll down like waters and righteousness like a mighty stream.' Somehow the preacher must say with Jesus, 'The Spirit of the Lord is upon me, because he hath anointed me,' and he's anointed me to deal with the problems of the poor."
Indeed, it was the poor who especially concerned King. Near the end of his life he came to believe that the only hope for eradicating structural racism in American society was to create an interracial coalition that would seek to change America's economic structures, lifting the poor out of poverty and ensuring that they were treated with dignity. He called for a guaranteed income for the poor and a "Marshall Plan for the cities" that would infuse billions of dollars into low-income areas so that the poor would be able to find meaningful jobs.
Large numbers of Christian leaders had abandoned the poor, King believed. In his final speech he retold one of Jesus's most familiar parables—the story of the good Samaritan, which was among King's personal favorites. But when telling the story, King did not devote much attention to the Samaritan or to the injured man by the side of the road. Instead, he focused on the two religious leaders, the priest and the Levite, who had bypassed the man because, King speculated, they were likely afraid to help—like many of their twentieth-century white Christian counterparts.
King lived through national debates about secularization. Yet the problem of the nation becoming too secular did not seem to concern him. When the Supreme Court ruled against recited classroom prayers in public schools in 1962, some pastors were outraged. But King endorsed the decision when he was asked about it by a reporter. "In a pluralistic society such as ours, who is to determine what prayer shall be spoken, and by whom?" King said. "Legally, constitutionally, or otherwise, the state certainly has no such right. I am strongly opposed to the efforts that have been made to nullify the decision."
Instead of raising alarms about secular threats to the nation, he showed far more concern about the threat that came from religiously devout Christians who were not committed to racial justice. His most critical remarks in his "Letter from Birmingham Jail" were addressed not to champions of secularism but to "my dear fellow clergymen" who viewed his civil rights marches as "unwise and untimely." "I am in Birmingham because injustice is here," King told them. "Just as the prophets of the eighth century B.C. left their villages and carried their 'thus saith the Lord' far beyond the boundaries of their home towns, and just as the Apostle Paul left his village of Tarsus and carried the gospel of Jesus Christ to the far corners of the Greco Roman world, so am I compelled to carry the gospel of freedom beyond my own home town."
If the advocates of Christian faith in the public square today are championing the causes of the poor and the marginalized, and if they are seeking fair wages, expanded healthcare, and protection of voting opportunities for people of color, they can legitimately claim to be following in King's footsteps. But if they are more concerned about the right of retail clerks to say "Merry Christmas" than their right to be paid a living wage or receive adequate healthcare, it's highly questionable that King would approve of their priorities, were he still with us.
Yes, King believed in a politically active Christianity. But if a person's religion does not manifest itself in advocacy for social justice, it probably bears more resemblance to the theology of King's opponents than to any form of Christianity that King ever endorsed. Those who are not prepared to embrace King's commitment to justice should not pretend they share his faith.
Daniel K. Williams is a professor of history at the University of West Georgia and the author of several books on religion and American politics, including God's Own Party: The Making of the Christian Right and The Politics of the Cross: A Christian Alternative to Partisanship.