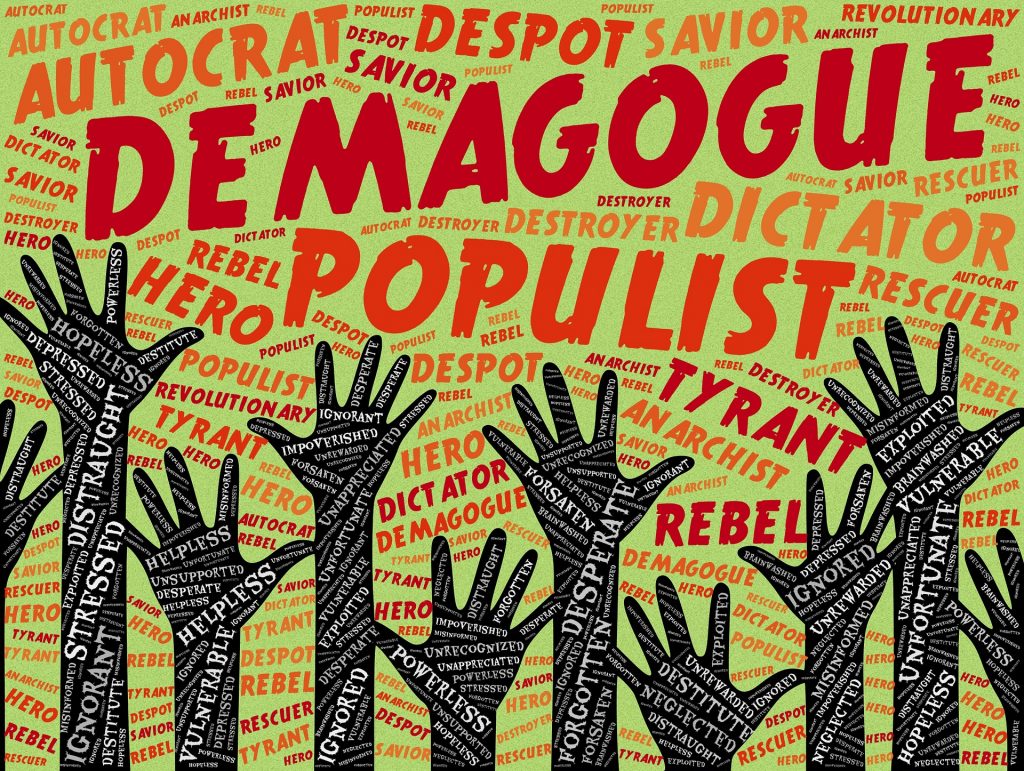 Does one form of authoritarianism justify another? The Claremont Institute seems to think so.
John Eastman has been in the news a lot lately, as details continue to emerge about the memo he wrote for President Trump explaining how Vice President Pence could help overturn the results of the 2020 election. Pence did not take the advice, but Eastman has come in for much criticism for offering it. It has also brought the Claremont Institute a new burst of attention. Eastman is the Founding Director of the Institute's Center for Constitutional Jurisprudence, and the Institute has defended him.
The Institute's defense may arise simply from loyalty to a friend. But it might also be recognition that Eastman's memo follows from some of the arguments about the authoritarianism of the left that the Institute and its associated scholars, board members, and fellows have been making for some time, in book after book after book after book. In that case, one might be tempted to dismiss Claremont's argument. That is a temptation, however, that I believe should be resisted. Claremont has developed a case against progressivism that all Americans should consider, even if it contributed to a misguided effort to subvert an election.
Why in Claremont's view are progressives authoritarian? Claremont's argument begins by emphasizing how completely late-nineteenth-century progressives repudiated the principles of the American founding that Lincoln had returned to preeminence during the Civil War. Claremont notes that in 1903 the progressive Charles Merriam reported that progressives denied that humans were equal and free by nature, that they had natural rights, and that they consented to form government so that they can protect these rights. Denying these principles, progressives, as a consequence, also denied that unalienable natural rights set limits to the power of government. Consequently, they did not see the separation of powers, checks and balances, or federalism as just and necessary bulwarks of freedom but rather as impediments to effective government. Progressives believed that rights, being legal only, arose out of circumstances during the course of national development and were the gift of the state. Uninhibited by the idea of limited government, progressives argued that industrial society required powerful executive government as a balance to concentrations of private wealth, and in particular, required administration by experts if it were to achieve the expansive goals government should aim for.
In the Claremont view, progressivism gained control of the federal government and of American politics under Franklin Roosevelt. In a campaign speech in 1932, FDR said "under such a contract [as formed government, according to the Declaration] rulers were accorded power, and the people consented to that power on consideration that they be accorded certain rights. The task of statesmanship has always been the re-definition of these rights in terms of a changing and growing social order." This remark showed Roosevelt cleverly reinterpreting the Declaration so that the rights it speaks of are not natural, but rather created by the state as historical circumstances change. On this view, it is the job of statesmen, preeminently the president as the tribune of the people, to articulate these new rights, and of administrative experts and judicial experts (judges) to implement them. Since Roosevelt, the number of new rights or entitlements has steadily grown, as has the power of the administrative and judicial state, eclipsing the fading power of Congress, the representatives of the people.
As Merriam recounted, progressives thought history was marching all of humanity in the direction of the Anglo-Saxon or Teutonic world, and that Teutons (roughly speaking, white northern Europeans) thus had a historical right to rule others. The world wars and the Holocaust made such a view untenable. It was replaced, according to one Claremont writer, with a moral claim to rule: Power is justified only by the intention to help the least advantaged. Those who serve the least advantaged, therefore, have the right to rule and to the benefits of rule.
The progressive claim of a moral right to rule explains an odd remark of President Obama's in 2014 after the midterm elections in which Republicans took control of the Senate and built their largest majority in the House since World War II. Obama said "To those of you who voted, I hear you. To those who didn't vote, I hear you too." In other words, the actual outcome of the vote was less important to Obama than his preference for the least advantaged, especially those so "disadvantaged" that they didn't bother to vote, rather than for those greedy millionaires and billionaires. Of course, Obama was elected president, but in the progressive view elections transfer power, but not the right to rule. In the Founding, elections were viewed as a kind of reenactment of the consent that equal and free individuals had originally given to form a government to protect their rights. This understanding legitimated election results. But, according to Claremont, progressives reject that explanation. What legitimates election results now is whether they bring to power those who will serve the interests of the least advantaged. If they do not, then they need not be accepted. "Voter suppression" is a rhetorical expression to justify rejecting the election.
In this construction of the Claremont view, progressives are moral authoritarians. Privileging, as they say, the least advantaged is a decayed version of Christianity, and progressives share a self-righteousness with their predecessors, the abolitionists, some of whom were willing to destroy the Constitution in order to get rid of slavery. In their self-righteousness, progressives ignore the Constitution to serve the least advantaged. According to the Claremont view, the result of the progressive revolution is that constitutionalism "is no longer meaningful in our politics."
If our politics is post-constitutional, what should one do? Judging by the Eastman memo and Claremont's support of the stolen election myth, we might say that the Institute decided to fight authoritarianism with authoritarianism. If our politics are post-constitutional, our choice would be either anarchy or authoritarianism. Better authoritarianism aimed at restoring "the principles of the American Founding to their rightful, preeminent authority in our national life," than either anarchy or the evolving moral authoritarianism of progressivism, Claremont might say. A memo proposing pseudo-constitutional means to overturn the results of an election that cost conservatives power would make perfect sense in this view. After all, we live in a post-constitutional age, so why not skirt the Constitution? Holding strictly to constitutional norms the left abandoned long ago would be foolish. This is especially so when those who voted for the winner are not real Americans, as a Claremont author claimed.
Declaring un-American those who disagree with you seems a fitting companion to a memo suggesting ways to overturn an election that did not turn out right. But those who find compelling Claremont's account of the post-constitutional authoritarianism of progressives should not support the Institute's apparently authoritarian response. Doing so helps discredit Claremont's account. Public opinion will always see Claremont's actions more clearly than its argument. For this reason, it is hard to see how authoritarianism can be defeated by advocating authoritarianism, and how constitutionalism and the rule of law can be upheld by undermining elections. If the constitutional situation were as desperate as some Claremont writers have claimed, this counter-intuitive approach might make more sense. But the Constitution (i.e., federalism) gives conservatives electoral advantages. Neither are the courts universally hostile to individual rights. The courts like these rights so much they occasionally make some up! Unlike progressives, the courts still support the principle of the separation of powers. If none of this is as good as it should be from Claremont's point of view, how will abandoning it improve that?
Claremont's support for subverting an election was worse than foolish, of course. But any moral indignation at Claremont's actions should not discourage us from considering its argument about the authoritarianism of progressivism and, if persuaded by it, opposing this authoritarianism constitutionally.
David Tucker is a Senior Fellow at the Ashbrook Center. He received his Ph.D. in history at the Claremont Graduate School. His most recent publication is "Benjamin Franklin, Democratic Statesman," in American Statesmanship: Principles and Practice of Leadership (University of Notre Dame Press, 2021). The views expressed here are his own.