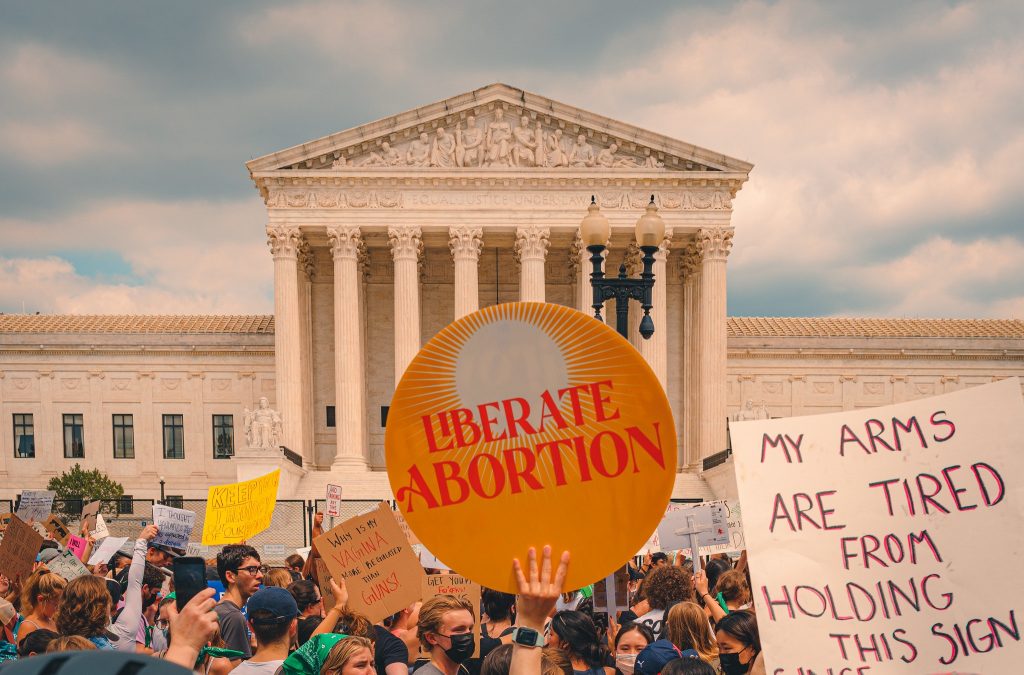 A time to listen
This past Friday afternoon, as the tidal wave of the Dobbs decision was washing over us all, the editors put out a call to friends of Current for brief responses to the moment—responses that might range from the personal to the analytical, from the prophetic to the meditative, from the left to the right. Hoping for two days' worth of submissions, we received way more—a windfall of wit and wisdom, layered in no small amount of anguish.
Our forum "The End of Roe" will run through Thursday of this week. It will feature reflections from scholars, writers, pastors, professors, and activists who have been engaged in this most divisive and personal of issues for many years, some since the Roe decision itself. We hope that amid your own responses to this moment you will find this forum an aid to deepening understanding and fruitful action.
Please note that we've removed our paywall for the site through the end of this forum—The Editors.
***
Haunted
As a young person I was taught that being a Christian meant being a single-issue voter. Upon hearing the news of the Supreme Court's overturning of Roe v. Wade, I wondered how this day must feel for so many American Christians who have stood firm against broader cultural norms and sustained a political commitment to being pro-life. It must feel like a moral V-Day after so many years of trying to live faithfully, by casting votes to employ one's political agency so that the "right" person would be in the White House, so that the "right" justices would be appointed to the Supreme Court, so that this very day would come to pass. And however unfathomable it is for those of us born into a Roe v. Wade world, here it is. And here we are.
But in response to what I imagine to be a largely uncomplicated experience of elation is a haunting fragment of a Bible verse: ". . . what is a man profited, if he shall gain the whole world, and lose his own soul?" (Matt. 16:26 KJV). And I can't help but feel deep sorrow for what has already been lost in the fight to gain this particular Supreme Court outcome, and what will continue to be lost in years ahead.
To gain this victory so many Christians have had to repress what dismay they might have had about the ways former President Trump's moral character and behaviors ran contrary to historical Christian teachings about the good, truth, and love, and then construct elaborate self-justifying narratives to make acceptable our role in the ascendancy of a man who would use the office of the presidency to legitimize an ugly mocking spirit towards those who are not in his favor, promote blatant forms of disinformation, and eventually encourage the use of citizen violence to perform dominance and power.
To gain this victory, relationships have been bargained away in a failure to care about the vexing reproductive inequities, dangers, and adversities disproportionately experienced by women marginalized by economics, race, and/or the law because of their immigrant status.
To gain this victory, young Christian women have been regularly dismissed when they express genuine pain, fear, and confusion about how to grow free from the legacies of historical patriarchy and negotiate the ambivalences of prizing personal freedoms and rights, while staying true to commitments taught and held by their religious communities.
To gain this victory, many of us became so wholly focused on winning that the nuances of the human condition—in all of its glory and horror, beauty, and brokenness—have been sheered away. And sadly, in this raw desire to win, we incur the most profound loss: distorting the public witness of Jesus Christ by reducing the Christian faith to a mere form of sectarian triumphalism. So yes, American Christian pro-lifers may celebrate the winning of this battle. However, I fear that not only has irreparable damage and harm been done but that a larger war has already been lost—the one within our very selves.
Felicia Wu Song is Professor of Sociology at Westmont College. Her book Restless Devices: Recovering Personhood, Presence, and Place in the Digital Age was recently released by InterVarsity Press Academic. She is associate editor of Current.
***
A moral issue, not a legal issue
On an occasion as momentous as the overturning of Roe v. Wade, I think it's instructive to look at historical precedents and context.
The historical precedent that immediately comes to mind is the ratification of the Eighteenth Amendment on January 16, 1919, which represented the culmination of efforts on the part of evangelicals (and others) to prohibit the manufacture and distribution of alcohol. Prohibition, however, proved impossible to enforce, and it led to rampant lawlessness and the expansion of organized crime. The parallels are not exact, of course, but I've long argued that abortion should be treated as a moral issue, not a legal issue. Another way of saying this is that I have no interest in making abortion illegal; I would like to make it unthinkable. If the antiabortion folks believe that the Dobbs decision will significantly attenuate the incidence of abortion, I fear they are mistaken. The real battleground over abortion is, and always has been, moral, not legal.
Second, context. Let's remember that evangelicals regarded abortion as a Catholic issue until the late 1970s, long after the Roe v. Wade decision of January 22, 1973. Following a conference jointly sponsored by Christianity Today and the Christian Medical Society in 1968, twenty-three evangelical theologians issued a statement saying they could not agree that abortion was sinful, "but about the necessity of it and the permissibility for it under certain circumstances we are in accord." Two successive editors of Christianity Today concurred. Southern Baptists, meeting in St. Louis in 1971, called for the legalization of abortion, a resolution they reaffirmed in 1974, the year after Roe, and again in 1976. Jerry Falwell, by his own admission, did not preach his first antiabortion sermon until February 26, 1978, more than five years after Roe, and James Dobson acknowledged in 1973 that the Bible was silent on the matter and therefore it was plausible for an evangelical to believe that "a developing embryo or fetus was not regarded as a full human being."
The antiabortion movement is celebrating the Dobbs decision, but I believe the real struggle to limit the incidence of abortion lies outside of the legal and judicial process.
Randall Balmer is the John Phillips Professor in Religion at Dartmouth College and the author of Bad Faith: Race and the Rise of the Religious Right (Eerdmans).
***
Beware of court-made law
When thinking about Roe v. Wade and Dobbs, we might consider this passage from Robert Dallek's biography of Lyndon Johnson. After pushing the Civil Rights bill through Congress in 1964,
Johnson remained concerned that the South might resist the law. He feared it would lead to violence, bloodshed, public anarchy, economic dislocation, and defeat for his administration and the Democratic party in the 1964 campaign. In fact, nothing of the kind occurred, as Richard Russell [a Democratic senator from Georgia] predicted . . . after his defeat on clôture. Because the civil rights bill was an act of Congress rather than "judge or court made law," Russell expected the South to accept the outcome with little trouble. It did. By the 1980s access to public facilities across the South for Black Americans was so commonly accepted that youngsters born in the 1970s could not imagine the segregated society of pre-1964.
Roe closed the road toward an accommodation achieved democratically, as Justice Ginsburg argued. Perhaps Dobbs will reopen it, and the optimistic among us will be pleased to think that in twenty years or so youngsters born in the 2030s will have trouble imagining the political controversy over abortion.
The second thought is of a speech given by Justice Antonin Scalia in 1988, in which he warned of a danger in judicial interpretation that keeps the Constitution current with the temper of the times. It was a mistake, he said, to assume that this was a one-way street. It was an assumption of dogmatic progressives, now outraged, that what the court gave through judicial decision it could not take away.
David Tucker is a Senior Fellow at the Ashbrook Center. He received his Ph.D. in history at the Claremont Graduate School. His most recent book is United States Special Operations Forces (Columbia University Press, 2020).
***
Utterly unequal to the task
My thoughts at this moment are inchoate and disjointed. What they have in common is that I think scholars who are also people of faith should bring their minds and efforts to bear on working the following reflections through.
1. A very short time ago, historically speaking, women and the children they bore were not persons but property. If we now want to believe that they instead possess full human dignity (and it is not at all clear everyone wants to believe this), we're talking about a profound existential, ontological transformation we have not yet begun to understand. It is no surprise that the current legal system is utterly unequal to the task of dealing with women as full persons.
2. I am uncomfortable with the absolute quality of my own tradition's condemnation of abortion. (I should note that I am also uncomfortable with saying that in writing.) As I have reflected on why, I've realized it's because, despite the apparent absolute condemnation in "Thou shall not kill," moral tradition over the centuries has in fact recognized many partial exceptions to this commandment: warfare, capital punishment, self-defense, degrees of homicide or manslaughter, etc. What these examples all have in common is that they have applied historically overwhelmingly to men. Again, are we only at the beginning of a period of moral reflection that brings the same nuanced understanding of the exigencies of human life to bear on women?
3. Whatever my or anyone else's beliefs about abortion, the argument for outlawing it is, inescapably, religious. As a citizen of a pluralistic, self-governing society, I cannot (even according to the teachings of my own tradition) coerce others into following my conscience instead of theirs. But beyond questions of law and prohibition, I believe what I believe about life and law and human society because I am a Christian, because I have responded to the call to love and be loved by Jesus Christ. If I want the prevalence of abortion in society to diminish, I have to rely on that same love transforming others' hearts (including those who consistently deny the most basic social supports to pregnant women and young children). Passing laws destined to increase rather than decrease the number of deaths is not the path to that transformation.
These are urgently pragmatic questions, but also ones calling for long-term scholarly research and reflection in multiple disciplines. I hope enough of us respond to that call.
Una M. Cadegan is Professor of History at the University of Dayton and author of All Good Books Are Catholic Books: Print Culture, Censorship, and Modernity in Twentieth-Century America (Cornell University Press, 2013).
***
Pro-their-lives
We organize our perceptions around our commitments, and never more so than when we argue abortion. The procedure, the mother and her life, the unborn child, solid things all, melt into air. Only argument remains.
The fact of a life, or a potential child (or whatever you wish to call it) is an inconvenience for the defender of the Roe-Casey status quo. Its dignity, its trajectory, the future it might enjoy: These are bothersome details, advantages to the other side, that need swatting away lest a weakness be exposed.
The fact of a person with hopes, needs, vulnerabilities, is hardly visible, should not be visible, if I truly feel the barbarity of the act, my pro-life friends tell me. I get it. What's a dream, deferred or even denied, compared to a life? This woman, or girl, or mother isn't the first and won't be the last person to hurt.
For more than fifty years I've thought and argued abortion, often zealously, but I can't anymore. I want to keep all my sympathies alive. Maybe it's a personal failing, but I can't argue this issue and feel as fully for all involved as I think I am obligated to. I can't. I have to discount someone to free myself to do battle, and I don't want to discount anyone.
I'm not recommending my attitude to anyone else. It's just where I am. I want to wish well to all concerned. When I feel it, when I hear a real story, I want that 17-year-old to graduate, to go to college, to become a doctor if she wishes, or a cosmetologist, or a mechanic.
Just as much I want the life within her to emerge and see the sunshine and feel the breeze and catch a fish and coach little league and vote and pray with her children at the end of the day.
Is this cowardice? A refusal to make the hard choices ethics requires? Maybe. The thing is, I know as much as anyone, I suppose, about the arguments and data and preferred maneuvers of each side. But I don't know the individuals in all their messy and unique details. Their lives are lived in their details, not in my arguments. I want to be pro-their-lives, all of them. I'm trying to find a way to do that.
John H. Haas teaches U.S. history at Bethel University in Indiana.
***
What will we do?
The reversal of Roe v. Wade presents followers of Jesus with opportunities for private and public witness. Of the second greatest commandment in Romans 13:10, Paul says "Love does no harm to its neighbor." Amid the continued polarization and intense activism, Christians face the opportunity and challenge to consider and develop ways of showing a commitment to the good of all people, particularly women in crisis pregnancies. One of the most important things is showing genuine commitment to pregnant women as well as their unborn children; sometimes the pro-life commitment seems more focused on the unborn than on the mother. It is vital to demonstrate a commitment to the flourishing of mother and child together.
In a time like this it is important to learn from organizations like ProGrace. It has been focused on emphasizing the mother as well as the child and on building bridges where there has often been division. We can also get behind organizations like The Center for Public Justice, whose statement encourages the pursuit of policies that address the complexities and challenges for those who face crisis pregnancies.
At the personal level, each of us ought to consider how we can learn to love all of our neighbors, at the very least in terms of striving for a posture that blends compassion and humility with deeply held convictions. The temperature is high and the opportunity is great for a Christian witness that actively seeks to demonstrate the good for all, even amid disagreement about what comprises and expresses "good." What will we do? I hope we will turn to God for wisdom and power to seek to be at peace with everyone (Rom. 12:18) and to "do good to all people" (Gal. 6:10).
Vincent Bacote is Professor of Theology and Director of the Center for Applied Christian Ethics at Wheaton College (IL). His most recent book is Reckoning with Race and Performing the Good News: In Search of a Better Evangelical Theology.