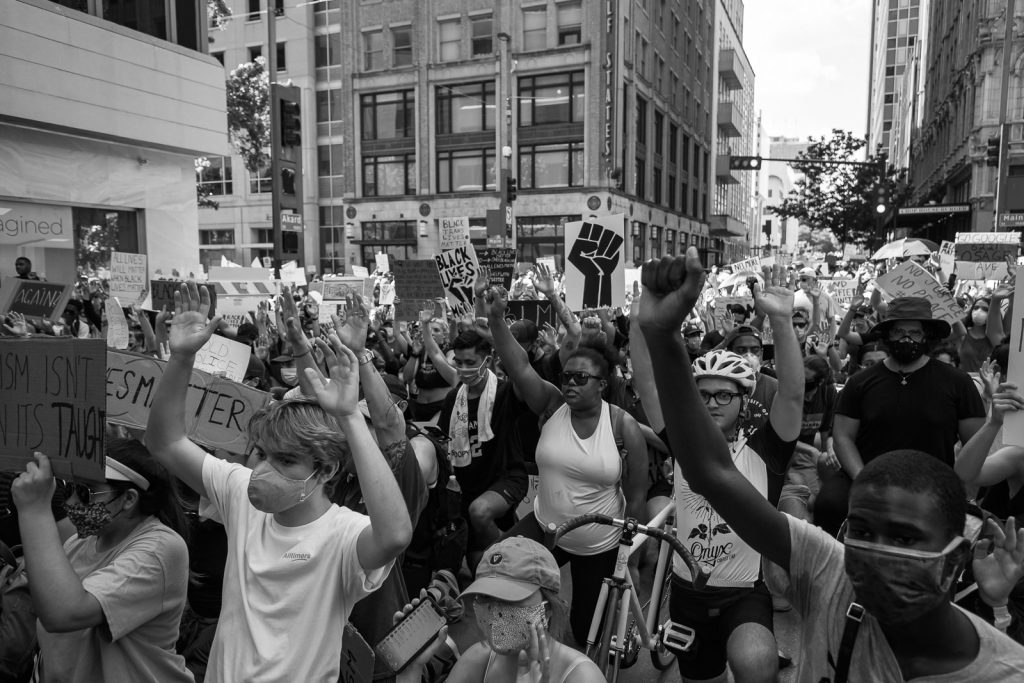 A lot can happen at protests—especially to you
Earlier this year, a friend and I were going to a rally here in DC and she asked me, "What are these good for? Why do we protest?"
There are a lot of good jargon-filled reasons why someone might go to a protest: It is a way to show you are a good citizen! Dissent is the heart of America!
But as someone who tries to get people to go to things for a living, I do have three very practical reasons why you should go to a protest. And two reasons why you shouldn't.
First, you go to a protest for you—well, you and the other participants. A protest builds solidarity. When the participant can see everyone who cares about the same things they care about, it builds enthusiasm to take risks and energy to do even harder things. There is energy and power in a crowd that is hard to argue against, and this energy continues even past the moment of the rally. One recent study of pro-life activists found that most people became committed activists only after they took part in an action.
A protest, or a rally, is more than just about solidarity and enthusiasm. Depending on exactly what happens, it is also a place where people build knowledge. Here you don't learn in the same way you might on YouTube or in a lecture hall; rather, a rally exposes you to real conditions in the streets, and to speakers addressing those conditions on the spot. You can believe the cops are generally peaceful until they kettle you and tear gas you. You know you are in a struggle together with others when people make sure you have enough water on an August afternoon or encourage your feeble chanting.
Second, you go to a protest for the public. A protest is a way of forming a public space or interrupting existing spaces to bring attention to a certain set of problems and a certain set of solutions. In DC, this dynamic is especially clear as I pass protests in which I have no stake. On my commute home during non-COVID times, I bike past the embassy of Nicaragua, where there are often protesters. Even this small group of twenty to thirty people is letting me know about problems in their country and trying to broadcast solutions.
These public interventions are magnified when the media—whether social media or traditional media—get involved. The Black Lives Matter movement is a large-scale example of this. These activists have changed the narrative about the problems in the United States and forced everyone, from politicians to Big Business, to engage the injustice of the criminal justice system in ways they didn't have to a decade ago.
Third, you go to a protest for people in power. A protest applies pressure to them. Whether they be politicians, bureaucrats, managers, or business owners, they are pressed to change their behavior. On a superficial level, this is because it is simply very unpleasant to be yelled at. On a deeper level, the power of an assembled people shows those in power how tenuous their power is. If you are an elected official, you need the votes of others. If you are a business owner, you need the labor of others, and you need customers, too. Regardless of how powerful someone seems to be, mass mobilization is a key means of weakening or degrading them. Alinsky was right: Power comes from money and people. If you don't have the money, you need the people.
And now, two reasons not to go to a protest.
First, don't go to a protest to become famous. That isn't going to work. And it is disrespectful toward everyone else who is there. When ego gets in the way, progress stalls. This is one reason the Black Lives Matter movement, for the most part, has no primary leaders. Instead, the movement keeps authority and power close to the people in a "leaderful"—rather than a leaderless—model.
Second, don't go to a protest expecting that you will fix everything by showing up once. The Montgomery bus boycott lasted almost a year and that didn't fix racism in Alabama. Change never comes all at once but may, with hope, come eventually.
And that is, ultimately, why we protest. Change never comes by sitting back and hoping that it arrives. When injustice happens, the appropriate response is to act. Protest will change you, it will change the public, and it will change people in power. That is how it changes the world
Greg Williams works in digital politics at Faith in Public Life (although opinions are his own). You can yell at him on Twitter @gwilliamsster but he'd prefer if you were kind.