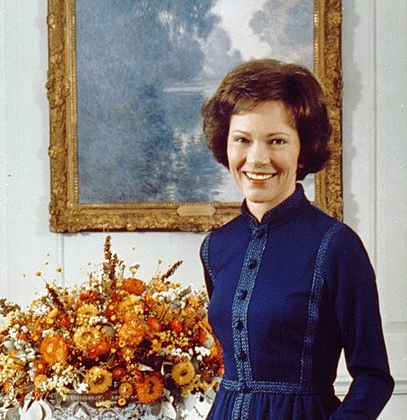 The longest-lived presidential marriage in history just ended this week with the death of First Lady Rosalynn Carter, who was married to her husband Jimmy for 77 years.
On the whole, twentieth-century presidents were not necessarily exemplary models of lifelong marital faithfulness. Of the ten presidents who occupied the White House from Franklin D. Roosevelt to Bill Clinton, five had extramarital affairs.
But the Carters broke the mold not only by remaining committed to each other in an exceptionally close, loving relationship but also by modeling a joint political partnership that set a pattern for future presidential couples. Yet forging this bond did not necessarily was not necessarily easy for them at first.
When Jimmy and Rosalynn were married in 1946, Jimmy was a naval officer with a promising career ahead of him, and Rosalynn shared his eagerness to leave Plains. Both were top students with the ambition of transcending the confines of their tiny south Georgia town, so they may have seemed naturally suited for each other. And in the prevailing American practice of the 1940s, Jimmy expected Rosalynn to mold her life around his – which, at first, she seemed happy to do. She traveled to each of the naval bases where Jimmy was stationed, giving birth to four children along the way. She managed the household while he was away at sea. And she conformed to Jimmy's denominational preferences, joining his Baptist church even though she was raised Methodist.
But what she described as the sharpest disagreement of their marriage came in 1953, when Jimmy abruptly decided to leave the navy and return to Georgia to take over the family's peanut farm after the death of his father. Rosalynn erupted in tears. She could not imagine returning to the rural, racially segregated South after living in Hawaii, Connecticut, and elsewhere, and she was angry that she had to go.
But she decided to make the best of a situation she didn't choose, and in the process, the transition unexpectedly became the gateway to a new shared project in her marriage.
Rosalynn proved to be a better bookkeeper and farm manager than Jimmy was, and she earned his respect. When he began to think about a political career, she realized that public policy could be a way to help other people – and she therefore supported her husband's political ambitions, with the expectation that she would be working alongside him, just as she had on the farm. This time, he was ready to welcome her help. When Jimmy was governor of Georgia, Rosalynn was, in her own words, "more a political partner than a political wife."
By the time Jimmy ran for president, he had come to respect Rosalynn as an equal partner in politics, and he entered the White House with a determination to give her as much access as possible to the information he had, so that she could advise him on policy. Some of his aides even referred to her as a "co-president." No longer did Jimmy assume that she would simply mold her life around his interests. Instead, he eagerly sought her advice on almost everything. She attended Cabinet meetings and National Security briefings – an unprecedented role for a first lady. She chaired a national commission on mental health, which was her signature cause as first lady. She was also an outspoken advocate for the Equal Rights Amendment.
Yet she did not identify as a feminist. She did not run for office in her own right. She saw her own future as inseparable from that of her family – which is why she spent as much time as possible with her daughter Amy (who was 9 years old when Jimmy became president), even bringing her to White House dinners and other public functions while simultaneously seeking to shield her from the attention of the press.
Like Jimmy, she was focused on others, with the intention of treating the presidential office as a means of public service, not personal honor or enrichment. Reflecting her husband's message of closely managed budgets, she frugality a guiding principle for her actions as first lady. Although many previous first ladies had ordered designer gowns for the inaugural ball, Rosalynn chose instead to re-wear a dress she had purchased six years earlier for her husband's gubernatorial inaugural ceremony in Georgia. She discontinued the practice of serving hard liquor at White House dinners – a practice that she justified as a way to save taxpayer dollars. And she paid for the family's own clothes, food, and dry cleaning during her husband's time in the White House. Instead of sending their daughter to a private school during their time in the White House, she and Jimmy sent Amy to a public school in Washington, DC – the last presidential family to do so.
But most of all, she focused on helping Jimmy use his presidential authority to help other people. She convinced him to expand the quota on Cambodian immigrants, so that more refugees from that country could enter the United States. She helped to create mental health legislation that her husband signed into law. And she set a vision for mental health coverage that was finally at least partially realized decades later, in the 21st century.
Before Rosalynn Carter entered the White House, most first ladies (with the exception of Eleanor Roosevelt) devoted their attention to social activities or other projects that were not directly connected to their husbands' policy initiatives. After Rosalynn, first ladies with strong political interests sometimes chose to pursue independent political careers, as Hillary Clinton did when she became a US senator, secretary of state, and presidential candidate after her service as first lady. But Rosalynn Carter modeled a rare third option: a joint political partnership in which her public service and policy work would be inseparably linked with her husband's.
At the time, the country was polarized over second-wave feminism, with some Americans believing that ambitious women should put their own career goals ahead of their marriages, while others said that a wife should give up her career ambitions in order to honor her husband and care for her children. Rosalynn Carter did neither.
Instead, as a politically ambitious woman married to a politically ambitious man, she found a way to make Jimmy's political projects her projects as well and to join with him in the shared goal of helping other people through public policy. In doing so, she probably made the United States (and the world) a more humane and compassionate place. But she also made her marriage a strong, lasting, and happy one. In serving the world together as partners, Jimmy and Rosalynn discovered the secret to a long and happy marriage – and in the process, accomplished far more than either one would have been able to do alone.
Daniel K. Williams is a historian working at Ashland University and the author of The Election of the Evangelical: Jimmy Carter, Gerald Ford, and the Presidential Contest of 1976.
Image from the United States Library of Congress's Prints and Photographs division, digital ID cph.3b47932