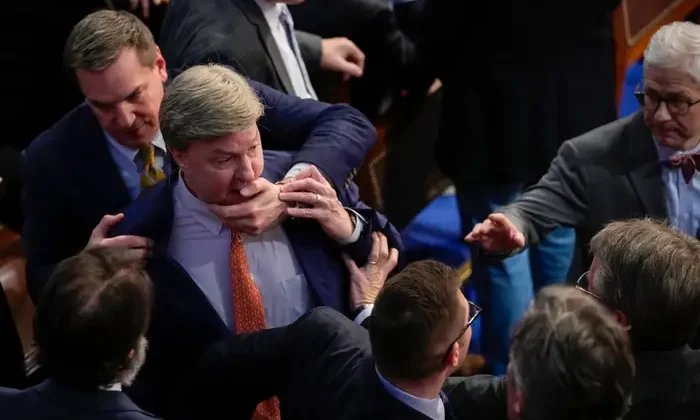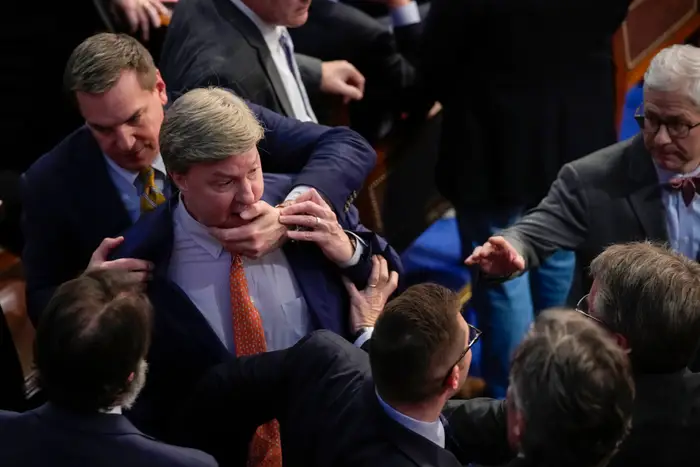 Two fights almost broke-out this week on Capitol Hill. You can read all about them here.
The most famous fight in congressional history happened in 1856 when Preston Brooks of South Carolina caned Charles Sumner of Massachusetts in the Senate chamber. The fight was over slavery. Today at Forbes, Conor Murray has the undercard.
A taste:
On Feb. 15, 1798, Rep. Roger Griswold of Connecticut repeatedly struck Rep. Matthew Lyon of Vermont with a cane, angered by the House of Representatives's failure to expel Lyon for spitting tobacco juice at him, and Lyon defended himself with fire tongs, though a resolution to expel both failed.
In one of the most famous acts of congressional violence, Rep. Preston Brooks (D-S.C.) attacked Sen. Charles Sumner (R-Mass.) with a cane on May 22, 1856, bloodying and nearly killing him, because of Sumner's anti-slavery "Crime Against Kansas" speech in which he criticized slaveholders, calling out several Democratic senators.
On Feb. 5, 1858, Rep. Lawrence M. Keitt (D-S.C.) lunged for Rep. Galusha A. Grow (R-Pa.) after the two exchanged insults after Grow stepped over to the Democratic side of the House floor, started a massive physical fight involving at least a dozen northerners and a dozen southerners.
Sen. Ben Tillman (D-S.C.) accused Sen. John McLaurin (D-S.C.) of a "willful, malicious, and deliberate lie" on Feb. 22, 1902, after McLaurin decided to stand with Republicans in supporting annexation of the Philippines, prompting McLaurin to punch Tillman in the face and causing injuries to other senators who tried to break up the fight.
Rep. Robert Dornan (R-Calif.) accused Rep. Thomas Downey (D-N.Y.) of grabbing him by the shoulder on March 4, 1985, days after Dornan gave a speech calling him a "draft-dodging wimp," after which Downey said Dornan grabbed him by the collar of his shirt, though Dornan said he was just straightening the knot in his tie so he could look "elegant."
Rep. Mike Rogers (R-Ala.) lunged at Rep. Matt Gaetz (R-Fla.) on Jan. 6, 2023 after Gaetz voted to block Rep. Kevin McCarthy (R-Calif.) from becoming the next House speaker in what was already a lengthy speaker election, prompting Rep. Richard Hudson (R-N.C.) to restrain him and other representatives shouting at them to "be civil."
Read the entire piece here.