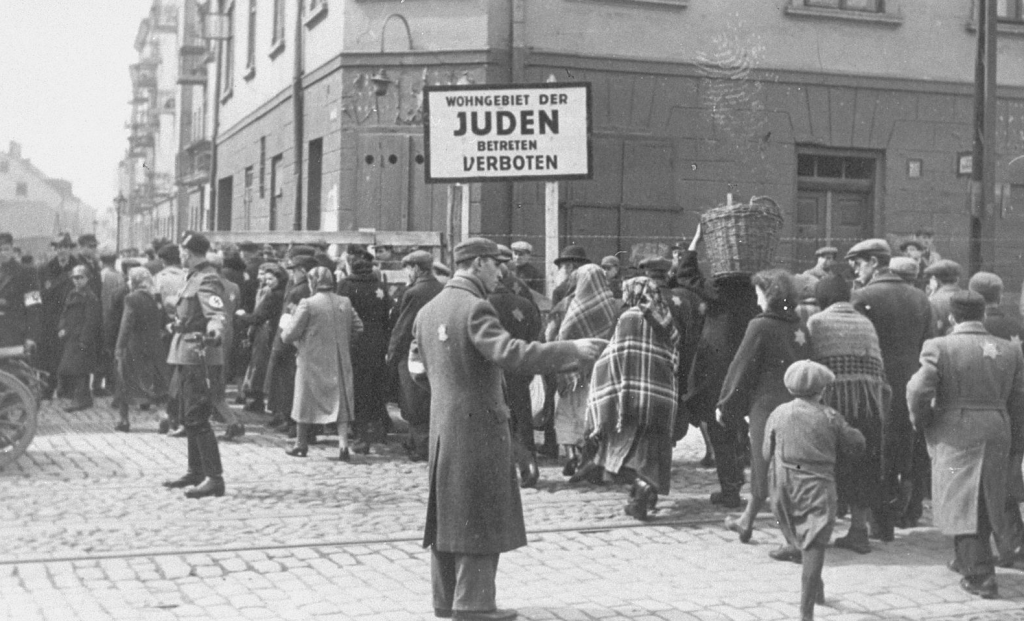 The Holocaust seems suddenly near
On an otherwise perfectly ordinary July day in 1941, one half of a small Polish town herded all the Jewish neighbors—the other half of town—into a large barn and set it on fire. Decades later, historian Marci Shore notes, the next generation of locals still used the barn's old location when giving directions, as casually as one might with any ordinary landmark—"just take a right at the barn where we burned the Jews."
How did this happen? Could neighbors who lived side-by-side with each other for decades really do this—kill their own neighbors, people they knew by name, in cold blood? Yes, says the Holocaust historian Jan Gross, who documents this massacre in his horrifying and necessary book Neighbors: The Destruction of the Jewish Community in Jedwabne, Poland.
As massacres of neighbors by neighbors have been unfolding both in Israel and in the U.S., Gross's book has been on my mind of late. On October 7th, Hamas operatives attacked both a festival and peaceful kibbutz settlements within walking distance from Gaza, deliberately targeting civilians during a national holiday. They not only slaughtered entire families in cold blood, they also tortured many civilians in unspeakable ways. And, of course, they kidnapped hostages, including small children and the elderly.
Israel's response of shelling Gaza incurred no less horrifying tales of civilian deaths among Palestinian civilians, including hundreds of children. But things have escalated to a yet more alarming note in the U.S. in the wake of these events. A landlord brutally stabbed a Palestinian child to death in Chicago. A Jewish woman who was a synagogue leader in Detroit was murdered right outside her home. And through it all, global antisemitic protests are ongoing. Some neighbors put the Star of David graffiti on Jewish homes in Berlin. Yet more neighbors targeting neighbors, killing them or expressing the wish for their violent death.
Whenever we think about violent crime and the hatred that fuels it, our assumption usually is that this evil can only be the doing of outsiders'—hence the common opposition to immigration, out of fear that these immigrants would commit violent crimes against others. Surely neighbors would not slaughter their own neighbors, goes the assumption. It seems safer to think along these lines. It makes us feel better about our neighbors—these people who live on our street or the next, our block or the one just over. But if we're honest, we also cling to this assumption because it makes us feel better about ourselves: Surely we are not the kind of people who would ever hurt someone just because they happen to be Jewish or Palestinian or any other category. We would never hurt a fly. No, this kind of evil is something only outsiders could conceive of.
And yet, both 1941 and 2023 urge us to reconsider. It is neighbors who hate their own neighbors the most, and this realization should make us mourn and repent. "Where everyone knows your name" is meant to be a slogan of welcoming comfort, not the reality of a place like Jedwabne—where everyone knew each other by name and used that knowledge to separate those to kill from those to spare.
It is no wonder that seeing antisemitism arise so openly right now strikes fear as well. For those like me—a Jew by birth, though I have been a Christian for over a decade—the Holocaust suddenly doesn't seem so buried in the past. Per the Nuremberg Laws of 1935, one Jewish grandparent qualified someone as a Jew and, therefore, subject (eventually) for the death camps. It seems grim to admit, but I have thought about this on a regular basis all my adult life. Not only would I qualify, my children would as well.
On the one hand, I feel safe and welcome in my small midwestern town, where everyone knows everyone else. The locals still refer to my house of three months by the name of its previous long-time owner, as perhaps they will continue to do so for another decade or two. Community memory runs deep and long in places like this. Does neighborly love? It seems so. And yet, didn't the Jewish residents of Jedwabne believe they were safe?
On the other hand, I think of the parable of the Good Samaritan in Luke 10:29-37. A man was robbed and brutally beaten, then left for dead by the side of a busy road. Others pass him by in succession—as we would expect of that busy road—but no one stops to help him.
We think perhaps of modern roads, with people zooming by at sixty or more miles per hour, encased in metal. It is easy to keep one's eyes on the road and overlook anything out of the ordinary. But this is not the case in this parable. The passersby were on foot. This means that each walker would see a large object on the road from afar. Approaching closer and closer, they would have seen the vultures circling around. With a start, each passer-by would soon have realized that the object lying still was another human being. At least some of the passersby in this fishbowl of a world, where most people knew each other as the neighbors that they were, would have recognized the hurt man. He was a stranger from a distance, perhaps not even recognizable as a human being, but he grew less so with each step toward him.
It did not matter. The only one to help him and save him from certain death was a Samaritan—the only one who did not know the hurt man by name, guaranteed.
Casual cruelty, it seems, can take the shape not only of attacking one's neighbors but of simply ignoring hurting neighbors, near and far, and deciding that their pain, even as we see it in front of our very eyes, does not concern us. We have, after all, plenty of other things to do, and it's always a mess somewhere overseas or in Detroit or New York
There is, it seems, more than one way to condemn people to death. In a world of bad neighbors, be a good Samaritan.
Nadya Williams is the author of Cultural Christians in the Early Church (forthcoming Nov. 2023 from Zondervan Academic). Her next book, Priceless, is under contract with IVP Academic. She is Book Review Editor for Current, where she also edits The Arena blog.