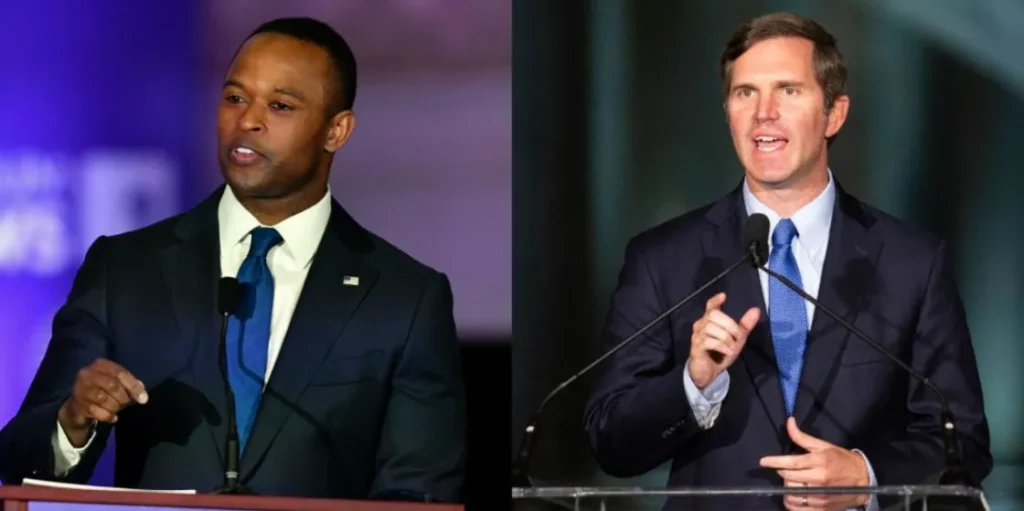 I'll have my eye on several elections and referenda tonight. I am interested to see what happens with abortion in Ohio and I will be voting in the Pennsylvania state Supreme Court race. But I am most intrigued by the Kentucky governor's race between incumbent Andy Beshear and Daniel Cameron. Can a moderate Democrat win again in a deeply red southern state?
Here is Russell Berman at The Atlantic:
The GOP controls nearly everything in Kentucky, a state that Donald Trump carried by 26 points in 2020. Republicans hold both U.S. Senate seats and five of Kentucky's six House seats; they dominate both chambers of the state legislature.
What Republicans don't occupy is Kentucky's most powerful post. The state's governor is Andy Beshear, a Democrat elected in 2019 who is hoping to win a second term tomorrow. Operatives in both parties think he might, but the governor's in a close race with his Republican opponent, Daniel Cameron, the state's 37-year-old attorney general. Whether Beshear can stave him off will determine if Democrats maintain one of their most surprising footholds in southern politics.
Beshear, 45, owes his success in a deep-red state to a combination of competent governance, political good fortune, and family lineage. His father, Steve, was a popular two-term governor who governed as a moderate and won the admiration of fellow Democrats for implementing the Affordable Care Act in the face of conservative opposition. The Republican governor whom Andy Beshear defeated in 2019, Matt Bevin, was widely disliked, even by many in his own party. Soon after taking office, Beshear earned praise for his steady leadership during the coronavirus pandemic and then later in his tenure during a series of natural catastrophes—deadly tornadoes, historic flooding, and ice storms. The crises have made the governor a near-constant presence on local news in the state, where allies and opponents alike usually refer to him by his first name. "I joke that Andy Beshear has 150 percent name ID" in Kentucky, Representative Morgan McGarvey, the lone Democrat in the state's congressional delegation, told me. "It's because everybody knows who he is. And they actually know him."
Major economic-development and infrastructure projects have also boosted the governor's reelection bid—Beshear has taken advantage of billions in federal dollars that have flowed to Kentucky from legislation signed by President Joe Biden and backed by the state's most powerful Republican, Senator Mitch McConnell.
Cameron is a onetime McConnell protégé who would be the state's first Black governor if elected. In the campaign's closing weeks, Cameron has touted an endorsement by Trump and tried to tie Beshear to Biden, who is deeply unpopular in Kentucky. The governor has endorsed Biden's reelection, though he's generally kept his distance from the president. At the start of one debate, Beshear, who had recently signed legislation legalizing sports gambling, "wagered" that Cameron would mention Biden's name at least 16 times in their hour together onstage. Cameron was either unfazed or unable to improvise: He mentioned Biden's name four times in the next 90 seconds.
Read the rest here.
Polls show a close race.