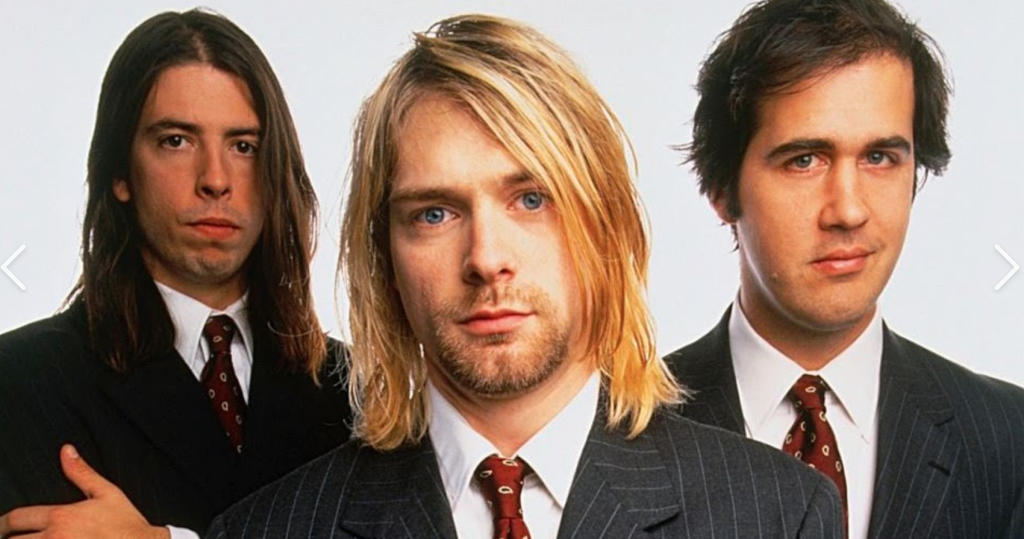 On the illusion of self-salvation 
I'm listening to "Sliver" by Nirvana. It's so different from any of their other songs. It's a straight-ahead narrative. But maybe "narrative" is too grand a descriptor. Maybe it's just an accounting of an unremarkable set of ordinary events in one kid's life. His parents are going out on a date. They drop him off at his grandparents' house. The kid has dinner, rides his bike, watches TV, falls asleep, and when he wakes up his parents are back. To pick him up, to take him home.
Kurt Cobain sings the first two verses in a low drone. "Mom and Dad went to a show, dropped me off at Grandpa Joe's." But for the third verse he switches to his head voice, this high tattered timbre. "Why don't you stop your crying? Go outside and ride your bike." At the end of the fourth verse, which begins "Woke up in my mother's arms," the words melt into lyrical slag. Cobain's voice becomes a primal scream. By the end the whole song has distilled itself into a terrifying question. "Does anybody care about me?" And nobody—not Grandpa Joe, Grandma, Mom, or Dad—answers the kid with, "No, kid. Nobody does." They wouldn't say that. It's just that nobody answers him at all. They haven't even heard his question.
Remember Holden Caufield? I barely do. I haven't read The Catcher in the Rye since high school. But isn't there a part in the book where Holden has a vision? Or maybe a fantasy? Children are playing in the rye fields that grow on top of a cliff. And doesn't Holden misstate a line from a Robert Burns poem? The line is supposed to be, "If a body meet a body coming through the rye." But Holden's accidental version is, "If a body catch a body coming through the rye." In his vision/ fantasy, he's catching the children, saving them before they fall off the cliff, before they even know they're in danger. Nobody, he feels, has ever done that for him.
A friend of mine, the singer Reid Paley, has a blistering tune called, "Take What You Want." One of the lines is, "Might find a friend, who might lead me home again. Might find a savior, might wanna say." Once, though, I asked him, "Does it go, 'Might find a savior, might wanna say'—or 'Might find a savior, might wanna save'?"
"It's 'say,'" he said, "But people hear what they want to sometimes."
Awhile back, I was driving home from work. I came to this intersection that I always come to, but this time I got there just after a wreck had occurred. No cops yet, no paramedics. Traffic had just begun to work its way around and through the scene. A lady from the car with the most damage stumbled out and stood in the street, weeping. Not weeping, but something like it, I guess. There were tears, but mostly gasps and ragged moans. I don't think she was hurt—shocked, stunned, and freaked out, though. And she stood there by herself. But by herself for only a second. This other lady, who wasn't involved in the wreck, a passerby like me, pulled over and jumped out and dashed to the moaning lady, arms out from the get-go, like, "Here I come, here comes somebody, here to hold you when you most need held." I don't know if you're allowed to do it or not, but I snapped a picture of the two of them as I drove on home.
I was and still am jealous of the lady who jumped out of her car to embrace the lady who'd just had the wreck. But I cover the jealousy by tweaking my memory of the event with rational justifications. "I got there just a little too late." "It happened so fast. I didn't have a chance." "What if I'd caused another wreck if I'd just suddenly stopped in the middle of traffic and got out of my car?" "Somebody is already doing what I would've done." My feeling of jealousy is, of course, an outward facing version of my inward facing and ever-present willingness to delude myself.
And then this: Another while back I was having dinner with my in-laws. My father-in-law had grilled steak. I sliced off a piece, put it in my mouth, chewed once, maybe twice, tried to swallow it but didn't. Instead, I started choking. The real kind. No coughing, no sputtering. No air at all. I'd completely stopped-up my windpipe. I stood and stumbled backward. Balled my hands under my sternum. Squeezed my sides tight with my forearms and yanked my fists as hard as I could up into my rib cage. The steak chunk shot from my mouth with more force behind it than I expected and it hit the floor with a wet smack. It was all fast, gross, automatic, and disturbing.
But I'm alive, yeah? I saved my own life. So, what's that mean then? That I can save people? I might be the teen in the rye field. I might be your hero. Line up and I'll catch you, easy.
But hold on. Remember "Sliver," the Nirvana song? What's that other thing Cobain—I mean the kid—says? "Had to eat my dinner there. Mashed potatoes and stuff like that. I couldn't chew my meat too good." God. Damn. Save me. 
Paul Luikart is the author of the short story collections Animal Heart (Hyperborea Publishing, 2016), Brief Instructions (Ghostbird Press, 2017), Metropolia (Ghostbird Press, 2021) and The Museum of Heartache (Pski's Porch Publishing, 2021.) He serves as an adjunct professor of fiction writing at Covenant College in Lookout Mountain, Georgia and lives in Chattanooga, Tennessee.