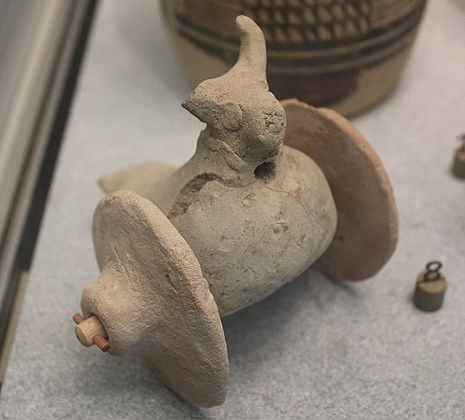 From ca. 3,300-1,300 BCE, a highly developed urban civilization, the Harappans, flourished in the Indus River Valley. We know very little about the Harappans, but archaeologists studying their cities have noted one curious discovery: toys. An abundance survives of tiny terra cotta animals, dolls, game pieces, and more. Why is this significant? It is one sign of a flourishing society if children are allowed at least some time to be children. By contrast, it is a sign of a society under extreme stress, if children are not allowed time and resources to play.
What kind of stresses might require children to grow up faster, bypassing or significantly shortening the period of childhood? War historically has been the chief of these, but so have seasons of prolonged disease and systemic poverty, when children had to begin working to support their family early, losing their childhood years to necessity. Just think of the novels of Charles Dickens, whose many youthful protagonists face dreadful necessity when orphaned in horrific poverty, living in a society utterly lacking all trace of compassion for their plight.
So, what is at stake when children are not allowed some years to be children and to enjoy time to play? Through play, modern studies note, children learn and develop in ways that they might not, if deprived of such opportunities. To be a well-adjusted adult, in other words, a child must first have sufficient time to be a child. This reality has significant implications for our own society. While few American children today face circumstances as adverse as what Dickens's Oliver Twist or Little Nell experienced (although the foster care system is in crisis in many states, it is important to note!), they do feel significant stresses. In fact, ironically, the privileged childhood that typical American middle-class families try to provide for their children presents a crushing level of pressure—usually from demands for academic excellence. No wonder that child and teen anxiety and depression just keep rising.
I thought about it this past Thursday, as I was handing out candy to exuberant trick-or-treaters. A word of explanation is necessary, though, before we go further. In our new town of Ashland, Ohio, trick-or-treating does not happen on All Hallows' Eve. This has something to do with high-school sports, I've been told—maybe ensuring that nothing interferes with the hallowed game of football. Whatever the reason, at any rate, this is just what it is. And so, this past Thursday was the designated date.
We live on a walking-friendly block that gets a lot of trick-or-treaters, we were warned. Predictions proved true. A steady stream of trick-or-treaters over the course of three hours nearly emptied out the prepared stash of 1,000 pieces of candy and 80 little boxes of temporary kid tattoos (our allergen-free and sugar-free option). Afraid that our house might get TP'ed, I vetoed my beloved's suggestion of handing out apples.
Much of the process was predictable: dozens upon dozens of Disney princesses, Paw Patrol characters, Marvel superheroes, and Addams family members streamed up and down our walkway to participate in the ritual: smile, declare "trick or treat," receive some compliments on their costume, collect candy, and move on to the next house. But there was one aspect to this evening that caught me by surprise: while there were quite a few little kids out, there were also plenty of high-schoolers, mostly roving in packs—some taciturn, some giggly, but all uniformly excited about candy, and clearly enjoying this ritual.
Each year I hear at least some people complain about the phenomenon of high-schoolers trick-or-treating. Those kids are surely too old to be doing this, some claim. Some towns and cities in the U.S. go beyond merely complaining, a recent NPR story reports, and have fairly harsh laws on the books that ban trick-or-treating for teenagers. The most extreme examples?
Chesapeake, Va., until recently had a 1970s law on the books threatening any teen caught trick-or-treating with up to six months in jail. The city changed the law after a massive backlash. But its statute still says kids over 14 who trick-or-treat are guilty of a misdemeanor. Other towns have similar laws, from Jacksonville, Ill., to Rayne, La., both of which bar kids who are 13 or older from trick-or-treating. In Belleville, Ill., a law on "Halloween Solicitation" forbids anyone above eighth grade from going trick-or-treating. The city also requires anyone over 12 years old to get "permission of the Mayor or Chief of Police" if they want to wear a mask or disguise on days other than Halloween.
These are quite extreme crackdowns that reveal a genuine and vote-approved hostility towards teenage trick-or-treaters in some towns. And yet, in the same breath, many of the same people who complain about teenage trick-or-treaters also bemoan the increasingly curtailed childhood in our society. Kids grow up too fast, we hear and say.
What we overlook is that these two statements and the overall philosophies they represent are opposites of each other. We can condemn seventeen-year-olds trick-or-treating or we can bemoan that they feel like they have to be grownups already, carrying upon their shoulders excessive burdens for which they are decidedly not ready. But I contend that if we feel sorrow for the latter, perhaps we should encourage the former. As long as they are out trick-or-treating with friends, they are not "bowling alone." They are not doing a number of worse things they could be doing, as they try to stave off depression, anxiety, and pressure from all sides.
Historians sometimes talk about measuring the resilience of empires and institutions. For instance, it is an example of the high resilience of the Roman Empire that it made it through so many crises and still kept on limping along into the fifth century—and, in a curtailed form, beyond. But resilience for individuals, while indicating their ability to keep on carrying on, does not erase trauma. Today's high-schoolers spent at least some of their middle school years in pandemic conditions, living through significant disruptions, fear, confusion, and insecurity—on top of all the regular stresses that have always been the purview of their age. For some of them, trick-or-treating again this year may be a partial recovery or redemption of the years the locusts have eaten.
And so, as this fall holiday season progresses on from Halloween that has just passed and on to Thanksgiving and Christmas—all those holidays that have so many childhood traditions and memories associated with them—let kids be kids. Set aside extra candy for them. Encourage them to play with toys and younger siblings. Decorate cookies together. Help them build memories of joy that they will associate, decades later, with a childhood well lived.