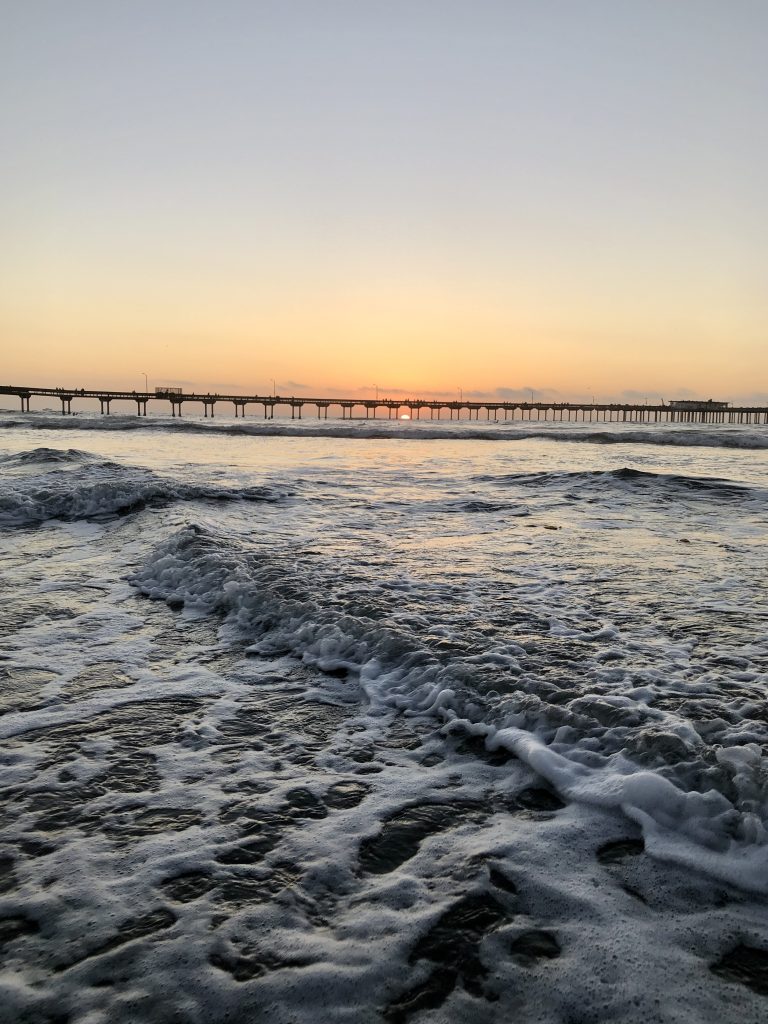 The Western Regional Conference on Faith and History met at Point Loma Nazarene University in San Diego this month for its biennial conference. Under the theme "Hope and the Historian" a call for papers encouraged exploration of the "complicated relationship between those who study the past and the nature of hope in the future—particularly from a Christian perspective." The warmth of the PLNU History Department's hospitality, coupled with a spectacular natural setting of Southern California's Pacific sunsets and palm trees, stood in contrast to the heavy and often bleak dimensions of the human (and environmental) pasts explored, discussed, and confronted in the sessions.
Former CFH President and Baylor professor Dr. Beth Allison Barr headed west to join the gathering of academics, undergraduate and graduate students, and history educators–and to give the plenary address. Barr drew from her recent unearthing of new dimensions related to decades-old sexual abuse scandals through work at the Southern Baptist Historical Library and Archives in Nashville. That this occurred in real time as the SBC's 2023 Annual Meeting at which the denomination voted to uphold its expulsion of women-ordaining congregations was not lost to Barr. Admitting that it is difficult – although not impossible – to speak of "hopefulness" in history without short-circuiting lament, Barr's address resonated with a tone reiterated throughout the conference sessions that interrogated all manner of challenging historical terrain: a clear-eyed recognition that it is this type of necessary historical work often puts historians and history curricula in the crosshairs of powerful agendas committed to obscuring the truth of uncomfortable pasts.
Notably, the conference included dialogue beyond the immediate terrain of academic history with presentations by a literary scholar, a social theorist, and a Canadian high school teacher (me). Literary scholar Dr. Haein Park (Biola) presented on evangelical "embattlement" in Marilynne Robinson's novel Gilead. In my own presentation, I reflected on the "apocalyptic" (i.e. revelatory/truth-telling) nature of historical thinking pedagogy. This was not even the only Canadian presentation: Drs. William Van Arragon and Mark Sandle from the History Department at The King's University in Edmonton, Alberta ensured that perspectives from north of the 49th parallel also spoke to hope and history.
UCLA social theorist Dr. Jason Sexton joined CFH veteran Dr. Rick Kennedy (Point Loma) and urban historian Dr. Megan Kendrick (Pepperdine) for a panel on the legacy of the late California historian and state librarian Kevin Starr. This was in advance of next month's release of Redemptive Dreams: Engaging Kevin Starr's California from Routledge Press. Sexton, the project's editor, stated that the Conference on Faith and History was particularly well-suited to take seriously Starr's Catholic imagination including sin, hope, and pilgrimage. The panel discussion confirmed that the upcoming book project is not without some critique of Starr's work and social location in "speaking" of and for a California that is more diverse and disparate than ever. Kennedy, very much in his CFH element and with his usual flair, situated Kevin Starr within the historical context of "older" American Studies with its grand vistas of thematic history and symbolism versus the poststructuralist turn in "New American Studies." Look for contributions from all presenters in Redemptive Dreams.
By far, the panel that generated the most discussion was the "Experiences and Reflections on Hope and History in a Teaching Environment" roundtable featuring Drs. Timothy J. Orr (Simpson University), Beth Allison Barr (Baylor), and Kelli McCoy (Point Loma). Amid the barrage of challenges for the contemporary history classroom, a source of hope remained the relationship dynamic with students in-person and in physical classrooms, particularly in the wake of a disruptive global pandemic. The panel refused to let alarmism over generative AI, in particular, overwhelm even as seismic shifts in history education appear inevitable in the wake of ChatGPT. Hearing from panelists and audience members alike amid their array of history teaching and learning contexts was itself an enactment of the very best of in-person learning.
Totaling seven sessions over two days, the 2023 Western Regional CFH conference at Point Loma signals that there is an appetite for meeting in smaller, regional settings that supplement national gatherings of historians and history educators. Beyond the CFH 2024 national conference in Birmingham, AL next autumn, stay tuned for a 2025 WRCFH expected to be held in the Vancouver, British Columbia area in a couple of years.
David McFarland is current President of the Western Regional Conference on Faith and History and Social Studies Department Head at Pacific Academy in Surrey, BC.