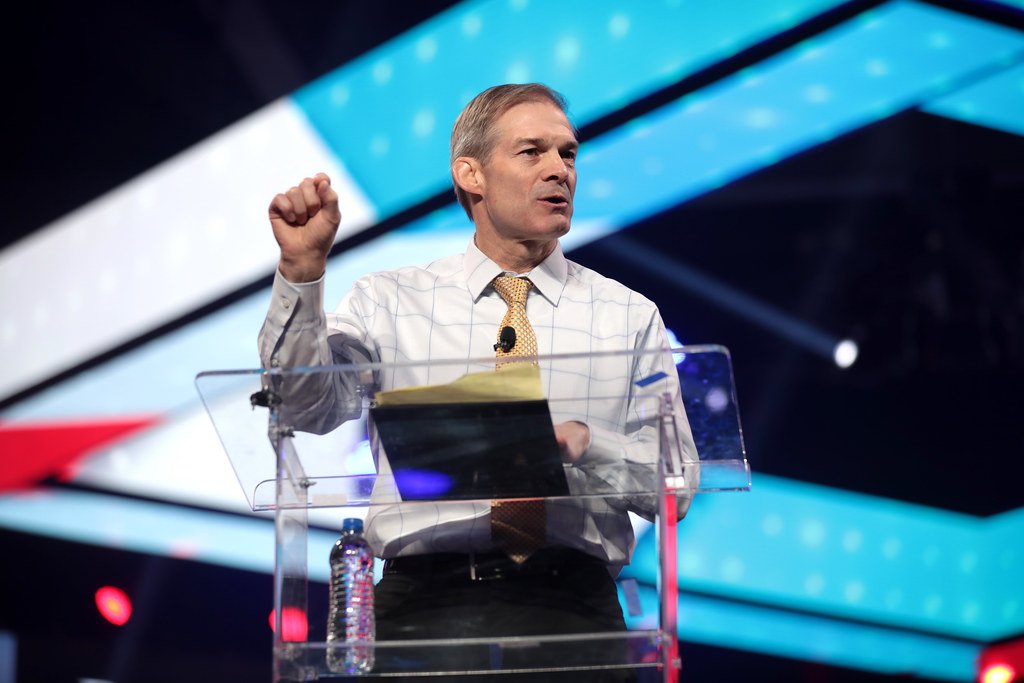 As I type, the House of Representatives is about to consider Ohio Congressman Jim Jordan's candidacy for Speaker of the House. On the first vote, Jordan was unable to garner the 217 votes he needed. 20 Republicans voted against him. On the second vote, 22 of his fellow Republicans voted against him. It is likely that he will lose even more Republicans today.
The bottom line is that Jordan is not going to be the next Speaker of the House. The Republicans who refuse to vote for him are probably aware of these things:
According to the House Select Committee on January 6, Jim Jordan was "a significant player in President Trump's efforts" to over the 2020 presidential election.
He wants to drag the country through an impeachment of Joe Biden with no evidence.
He has voted against additional military aid for Ukraine.
Ohio State University wrestlers have claimed that Jim Jordan knew about sexual abuse in the program and did nothing to stop it. This happened when Jordan was an assistant coach at Ohio State.
He led a conference call with Trump and other members of Congress on January 2, 2021 to discuss ways to delay the January 6 certification of the 2020 electoral college votes.
He refused to comply to a subpoena to appear before the House Select Committee on January 6.
He has not sponsored a successful bill in his 16 years of Congress.
See Anna Canizales and Ian Ward's Political piece: "55 Things You Need to Know About Jim Jordan."
Now Jordan is dragging the House and the American people through another vote. At this point, one needs to wonder if this is about finding a new Speaker of the House or feeding Jim Jordan's reputation as a "fighter."
Whatever the case, Jordan gave a press conference this morning in which he invoked the Wright Brothers, Neil Armstrong, and 2 Timothy 4:7. Watch:
In case you don't want to watch this speech, here is the gist: The Wright brothers were great American innovators. There would be no moon walk without the Wright brothers. The Wright brothers "fought the good fight, "finished the race," and "kept the faith" and this was why Neil Armstrong was able to walk on the moon. Jim Jordan, like the Wright brothers, will fight the fight for the American people, finish the race for the American people, and keep faith in American ideals.
I wonder if Jim Jordan, an evangelical Christian, would also affirm 2 Timothy 4:8 in the context of his speakership candidacy: "Now there is in store for me the crown of righteousness, which the Lord, the righteous Judge, will award to me on that day—and not only to me, but also to all who have longed for his appearing?" I really believe he thinks God is on his side and will one day reward him.
Jordan may want to read 2 Timothy 4:4-5: "They will turn their ears away from the truth and turn aside to myths. But you, keep your head in all situations, endure hardship, do the work of an evangelist, discharge all the duties of your ministry."
Or maybe 2 Timothy 4: 2-3: "In the presence of God and of Christ Jesus, who will judge the living and the dead, and in view of his appearing and his kingdom, I give you this charge:  Preach the word; be prepared in season and out of season; correct, rebuke and encourage—with great patience and careful instruction.  For the time will come when people will not put up with sound doctrine. Instead, to suit their own desires, they will gather around them a great number of teachers to say what their itching ears want to hear."