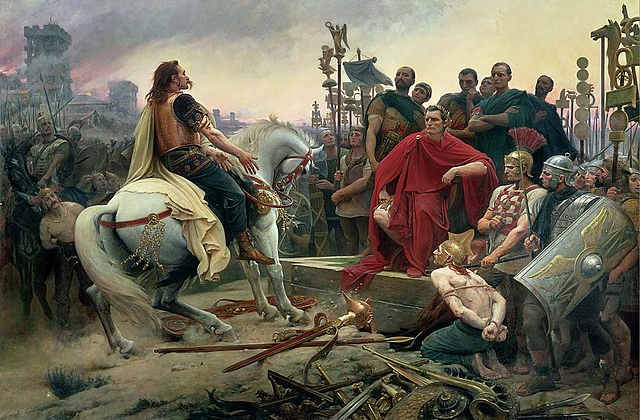 Around 400 BCE, the first catapult in the Greek world was invented and changed the experience of war for the worse for one group of people in particular: civilians. This is not to say that civilians in the Greek-speaking world were not already targeted in all kinds of horrific ways before then—this is a mournful aspect of war that we see already in the Homeric epics. Homer's Iliad opens, after all, with a desperate plea of a father trying to ransom back his daughter, who had been kidnapped by the marauding Greeks who have come to besiege Troy but are also happy to ravage the surrounding countryside in the meanwhile.
Still, the invention of the catapult made for much easier targeting of civilians in war: shooting projectiles from outside a walled city under siege into the interior made everyone within a target in a way that was not quite so possible before. Now it did not matter whether you were a warrior or not. So what did the Greeks think about the ethical dilemmas involved when war stepped off the battlefield and involved the vulnerable—women, children, the elderly?
Some, like the retired general Aeneas the Tactician, assumed that this brutality, while sad, was simply a fact of life in his day and time. Around 350 BCE, after a successful career spent besieging and destroying cities, he decided to write a manual How to Survive Under Siege, specifically giving advice to those who might find themselves inside a city under siege. Basically, here's a teach-yourself-how-to-survive manual, and good luck.
I'm over-simplifying, of course, but there is also a certain element of shock, if we think about it, in the very existence of this sort of how-to manual. It's the ancient equivalent of looking up a YouTube tutorial while in the middle of a siege. You know that no one is coming to help. You're on your own. So this is just the best you can do. Get some cattle drunk, put bells on them, and drive them out of the city gates at night to scare the enemy off. Yes, this is real advice in this manual. Perhaps it worked sometimes. And then there were the various ancient means of waging biological and chemical warfare that did not discriminate between civilians and military personnel–I highly recommend Adrienne Mayor's masterful book on the subject, Greek Fire, Poison Arrows, and Scorpion Bombs, now out in second and updated edition.
So why does it hit us in the gut to think about this kind of treatment of civilians in war? Simple: because whether we are Jews or Christians or not, we have been living in a world saturated by Judaeo-Christian values for the past nearly two thousand years—a concept Tom Holland makes abundantly clear in his book Dominion: How the Christian Revolution Remade the World. And chief among these values, I would argue, is the concept of the imago Dei—the scandalously unique and revolutionary idea that every human being is made in God's image and is, therefore, precious.
Currently going through the editorial process at IVP Academic is my finished book manuscript, Priceless, which examines the unfortunate similarities in the devaluing of human life in our society and in the pre-Christian Greco-Roman Mediterranean. My focus is, in particular, on how our society talks about the value of mothers and children, but this discussion has military implications that I also bring in. In all periods of world history, mothers and children were the civilians, the ones who were not military personnel, yet were inadvertently victimized by wars–whether kidnapped for sale into slavery, raped and abused in various ways, or killed outright. They were the ones whom one Byzantine military manual matter-of-factly describes as "the worthless ones"–for that is what they were, from the perspective of contributing to the war effort.
When Roman generals looked at civilians on the enemy side, they did not see human beings, precious and priceless in God's sight. Rather, they saw beings comparable to cattle: ones who could be slaughtered indiscriminately, if need be, although they were also valuable for potential profit when sold into slavery.
I worry, when I see discussions in the news right now that appeal to Just War Theory, that these discussions verge on the pagan view of war in the language that they use to speak of civilians, these image-bearers of God who happen to be on the "wrong" side of the war. Do their lives matter? To the pre-Christian Greeks and Romans, they did not. In our discussions of civilians in war, whenever we start sounding like Julius Caesar writing about the Gauls, in terms utterly devoid of all sympathy and compassion, this should give us pause.