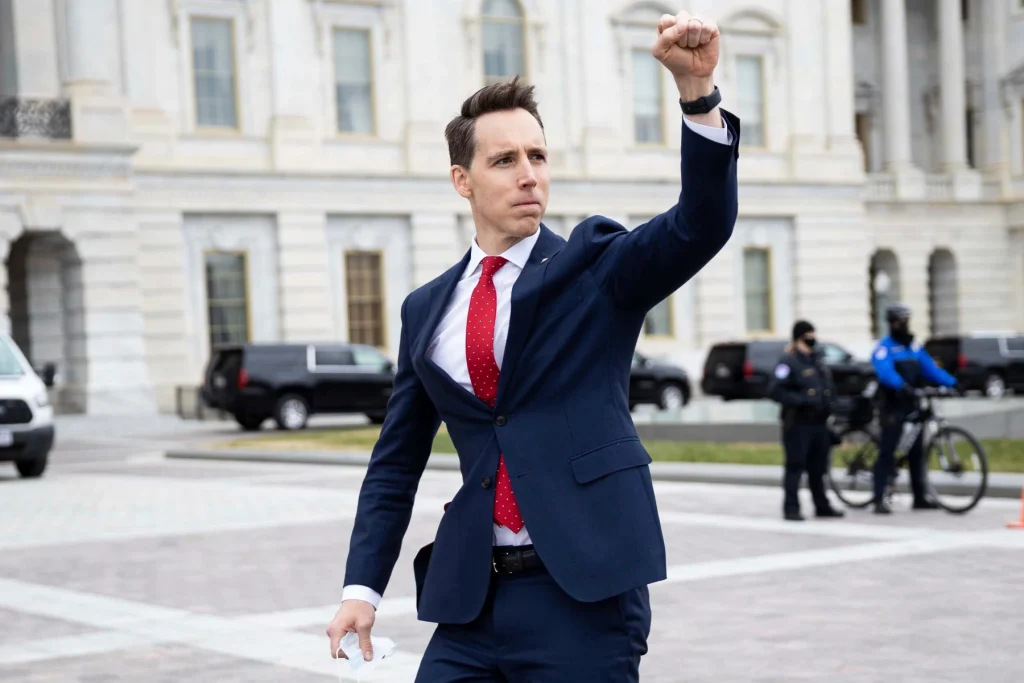 Josh Hawley believes that America was founded on Judeo-Christian principles. He supported the insurrectionists on January 6, 2021 and then tried to raise money off it. He is a regular speaker at Christian Right and political conferences. And he supports the United Autoworkers against the "woke capitalists" who are keeping them, and other workers, down. (He also promotes false Patrick Henry quotes). In the course of a recent piece on "Christian democracy" at Compact he invokes both Pope Leo XIII and Abraham Kuyper:
The national auto workers strike that has idled plants in 21 states and counting, including my home state of Missouri, is an opportunity for conservatives to do some soul-searching. Will they stand with American workers in their struggle to earn a decent wage? Or will they line up with the woke executives of the C-Suite?
The auto workers' demands are hardly extreme. Not long ago, I stood with them on the picket line in Wentzville, Mo., and heard their asks firsthand. Better wages. Time off for family. And some assurance that what's left of the manufacturing jobs in this country won't be shipped to China tomorrow in the name of the liberals' climate religion.
But thus far, the conservative response has been muted, perhaps because the establishment right has supported too many of the policies that have gutted blue-collar jobs for decades, including radically unbalanced trade deals and giveaways to global capital. Conservatives could clear their minds—and find their voice—by doing something conservatives are supposed to do: consult tradition, in this case, a Christian tradition on labor, capital, and self-government that was once called "Christian democracy."
The phrase first appeared in a 1901 encyclical by Pope Leo XIII, in which he recommended Christian democracy—or "beneficent Christian action in behalf of the people." He defined it as an alternative to socialism, which he and the Church firmly condemned. Other Christians agreed. From the beginning, the Christian-democratic movement was ecumenical, drawing inspiration from Catholic and Protestant leaders, including the evangelical prime minister of the Netherlands, Abraham Kuyper.
"Men and women who work with their hands aren't deplorables—or disposables."
The movement's cornerstone conviction was this: The fin-de-siecle industrial economy had become unsustainable, because it was unjust. It treated working people as utterly disposable, instruments to be plucked up and used by elites when they were productive and then casually tossed aside when they became too sick or too old or too wedded to jobs the ruling class decided were no longer needed.
Sound familiar? It should. Things aren't so different today. Today's ruling class, composed of a highly educated elite, has molded America's economy to its maximal advantage. Neoliberal elites tore down the old production economy, with its well-paying blue-collar jobs, in favor of the free flow of global capital, as demanded by banks, hedge funds, and private equity. Studies estimate that the United States has lost nearly 4 million jobs since China was admitted into the World Trade Organization 20 years ago. Not, I hasten to add, the finance and information jobs preferred by the privileged class for their own children, but blue-collar jobs in manufacturing that once maintained working families and towns.
They have embraced cheap labor practices for decades, endorsing trade deals that force American workers to "compete," if that is the right word, against slave labor in China and elsewhere. Compounding the ravages of free trade has been de-unionization: Union membership has dropped to 6 percent of the private-economy workforce today, down from a third in 1945, predictably resulting in a dramatic decline in workers' bargaining power.
Read the rest here.