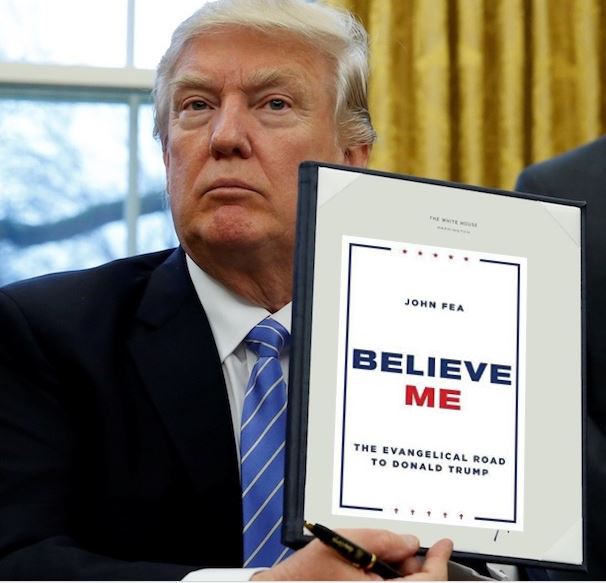 Back in 2015 I started collecting quotes from Christian leaders who made bold statements about presidential character during the 1998 Clinton impeachment and then seemed to ignore their own principles when Donald Trump was running for president. I called attention to some of these statements in my 2018 book Believe Me: The Evangelical Road to Donald Trump and will probably use some of them in the book I am currently writing.
In the last several days, a tweeter named Josiah Hawthorne has reminded us of the inconsistencies between Christian Right statements in 1998 and Christian Right statements in the Trump era. Here are the quotes he has gathered and posted: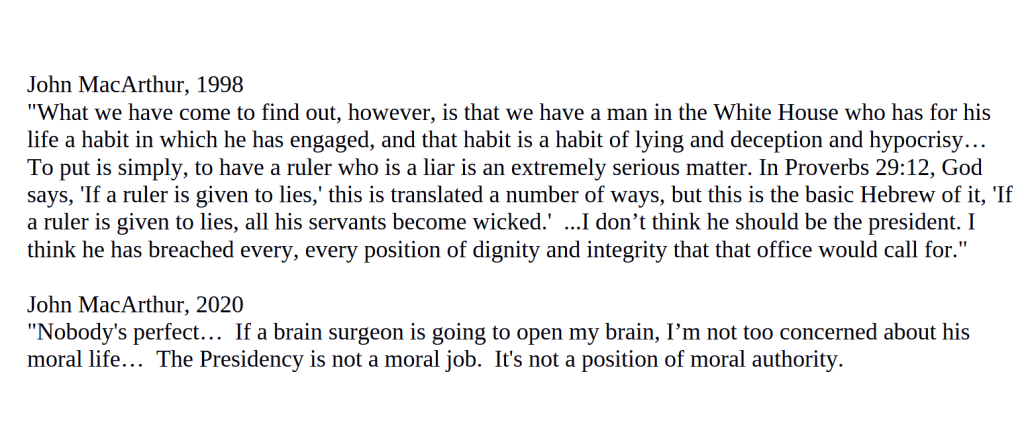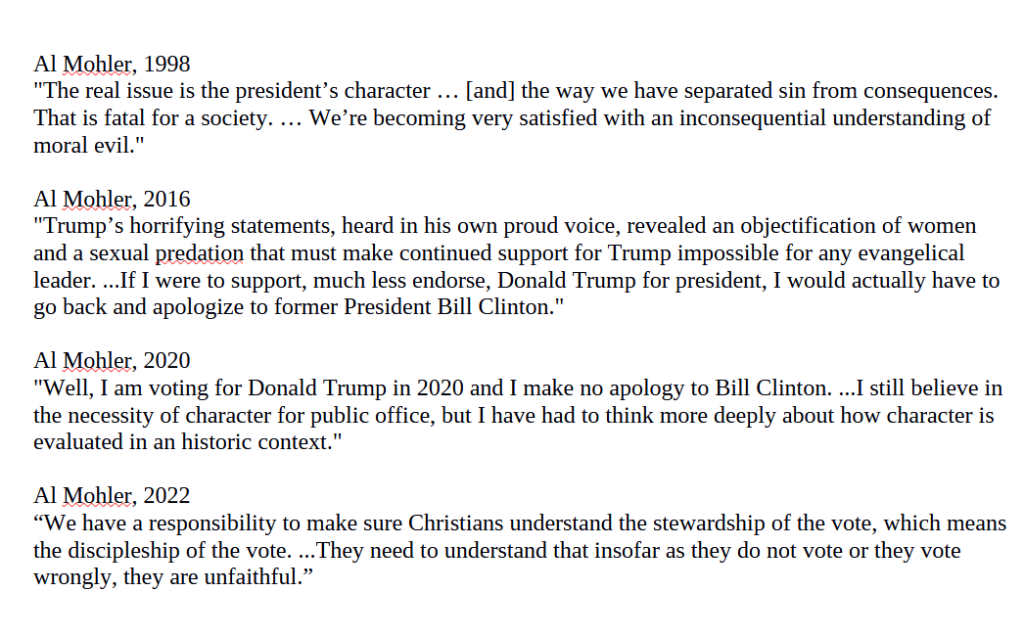 Here is Hawthorne:
Nice work. I want to particularly thank Hawthorne for calling my attention to the 1998 John MacArthur sermon. I found a transcript online. It is titled "The Destructive Sin of Lying." Here is a taste:
It was – well, a number of weeks ago that I had prepared to speak to you on a subject that had arisen in my heart, I think, by the prompting of the Spirit of God because of all that's currently going on in Washington and with our president. I felt like in the midst of all the opinions that are being given, someone should stand up and offer what the Word of God says about such things, and so I prepared a message on the destructive sin of lying.
In the last several weeks, as a nation (and certainly across the world) we have been overexposed to the extensive pattern of deception and lying engaged in by our president. To put it mildly, this is greatly disappointing to all of us who would have hoped that a man of character and a man of conviction and a man of integrity would have arisen to such a prominent and critical place of leadership.
What we have come to find out, however, is that we have a man in the White House who has for his life a habit in which he has engaged and that habit is a habit of lying and deception and hypocrisy. Some of that evidence is known to all of us. There is even other evidence that is known to some of us because of private conversations with people behind the scenes. Suffice it to say everybody across the world now, to one degree or another, is aware that this is a leader who is a liar.
The extent of the lying is amazingly widespread. The president, on a number of occasions, has denied ever encouraging anyone else to lie. And yet, in seeking the aid of everybody close to him to help him carry out the deception, he has brought all the people who touch his life into the potential category of joining him in the lie. His wife has lied for him, his friends, his cabinet, his White House staff, loyalists, the media has lied for him, congressmen have lied for him, senators have lied for him. He has lied and deceived, and he has embroiled all kinds of people in lies and deception.
There has been a great cry in this country about Kenneth Starr – who, by the way, is a very strong and faithful Christian. There has been a cry about the fact that Kenneth Starr has been spending 40 million dollars in this investigation, and we need to be reminded that he wouldn't have had to spend a cent if everybody just told the truth. It's taken 40 million dollars to get through the barriers of deception.
In some cases, the people around the president, I really believe, believed him. And they themselves thought they were affirming the truth. There were others who knew he was lying and they knew they were lying as well, so what you have is a mass of people who, either wittingly or unwittingly, have become co-conspirators in the deception.
Now, the people in this country don't seem to think this serious. But I'm not really interested in their opinion, for the moment. What I would like to know is what does God think about this? What has He said about it? To put it simply, to have a ruler who is a liar is an extremely serious matter. In Proverbs 29:12, God says, "If a ruler is given to lies" – this is translated a number of ways, but this is the basic Hebrew of it, "If a ruler is given to lies, all his servants become wicked." We would put that in the simple category of "birds of a feather" – what?  – "flock together."
When a ruler is given to lies, he will accumulate around him people who can tolerate lying. A corrupt leader draws around him corrupt people. Allow lies, and you will be tolerated and surrounded by liars. It's frightening to think about the possibility that the president might remain in office and then to ask the question "What kind of people, given the knowledge of his deception and lies, would want to be a part of his staff?"
People of truth, people who love honesty, people who have integrity, people who speak the truth, those kinds of people don't tolerate hypocrisy, they don't tolerate deception, they don't tolerate duplicity, saying one thing to one person, another to another, they don't tolerate lying. Proverbs 13:5 says, "A righteous man hates falsehood." A righteous man hates lying. Proverbs 29:12 is very important. A lying ruler accumulates wicked ministers. That's why Proverbs 17:7 says "Lying lips are not fitting for a prince."
It is not appropriate for someone in high levels of leadership responsibility to lie. A known liar, a known deceiver, a known hypocrite, one who can go on an Easter Sunday with a Bible in hand, ostensibly to worship the resurrected Christ in a church, and then return to the White House for an illicit sexual relationship, that's hypocrisy of the worst kind. This is a pattern of deception lifelong. And such a person does not attract around him honest people. So what you eventually have, according to Scripture, is corruption everywhere in association with that deceiver.
And liars always protect themselves at the expense of others. Proverbs 26:28 says, "A lying tongue hates those it crushes." Liars want to crush those who would accuse them. They despise them. They despise those who bare the truth. They despise those who speak honestly. They despise those with integrity.
Now, you ask the question, given the fact that we all know of this kind of character, why is it that everyone is in such favor of this man? How is it that whenever a poll is taken, there is such high approval? Why is it that when interviewing people on the street, they say "We don't care what he does, we don't care about any of that, we think he's done a good job"? Why does this not matter? I think the answer's in Romans chapter 1, I want you to turn to it. Romans chapter 1 and verse 32, we're going to start there and then kind of back up and just get a little bit of an overview here.
I know some of you are sitting and thinking sort of incredulously as you watch this scenario play itself out on every television station, every radio program, every newspaper, news magazine, and in general conversation, and you keep asking the question, "How is it that people can approve of this?" Well, there's a pattern in Scripture that's clearly outlined that leads to this. And Romans 1:32 is where you start. It speaks of people who, knowing the righteous judgment of God – now, we are in a nation that has had a Christian heritage and for the most part, we know the righteous judgment of God.
MacArthur continues:
In fact, I don't want to be unkind, that's not my intention, but I would say that Bill Clinton is the man for this culture in every sense. He is a reflection of the mores of this society. He is the man who represents what these people practice. That's why they're not offended by it. How did we get to this place? Well, because of what it says in verses 24 of Romans 1 down to verse 32. Let me show you how we got here. Verse 24, "Therefore, God also gave them up." Verse 26, "For this reason, God gave them up." Verse 28, "Even as they did not like to retain God in their knowledge, God gave them over" or gave them up.
We've got a problem here. God's given us up. That's what it says. When a society reaches the place where all the sins in verses 29 to 31 are normalized, where all those sins are practiced, even though we know the righteous judgment of God and that those who do those things are deserving of death, we not only do them, but we applaud the doing, and it's not just on the Jerry Springer show that we applaud it, we approve of it in the White House. Why? Because it's a reflection of how we behave.
Read the rest here. It doesn't need any commentary.