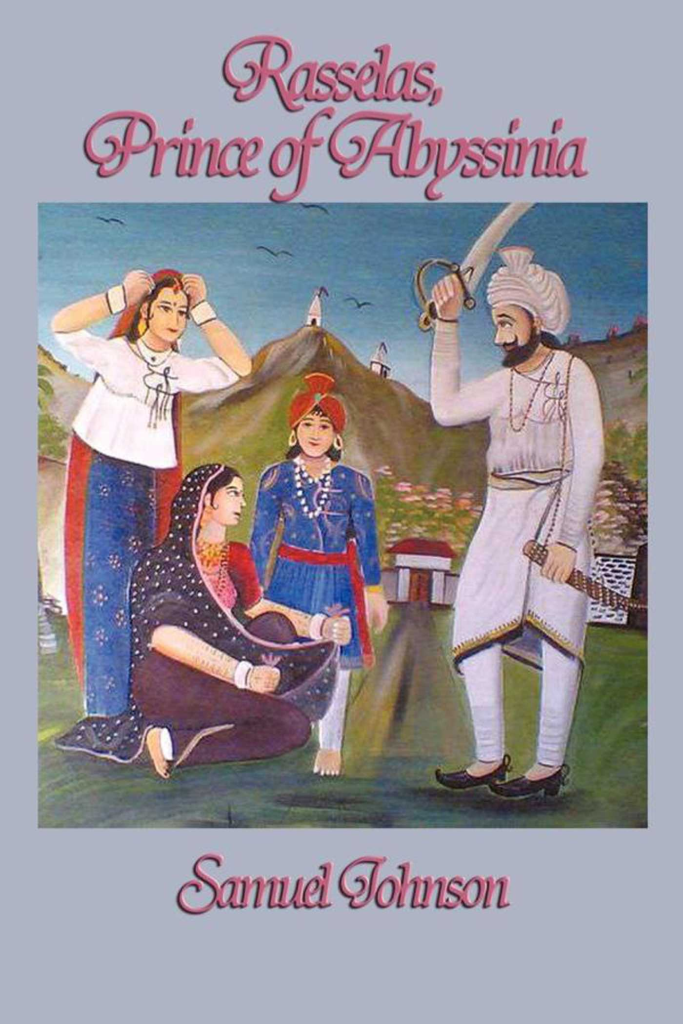 Most fall semesters, I teach a class where students read The History of Rasselas, Prince of Abissinia. It's an interesting tale by Samuel Johnson, which explores the nature of human happiness and one's "choice of life." (Note: spoiler ahead, but book was originally published in 1759, so that's on you.) The main characters, a prince and princess, are seeking the best way of life for happiness out in the real world, so they observe and experiment with many different approaches to life. When we get to the end of the book, the final chapter is "The conclusion, in which nothing is concluded."
My students have mixed reactions on "The conclusion, in which nothing is concluded." Some are annoyed. They want some kind of conclusion. Some just kind of roll their eyes. Based on the previous chapters, it's not the most surprising thing. The conclusion definitely makes them ponder what the book is really all about and what it is saying about the possibilities for human happiness.
This year, as we made our way through Rasselas, I was reflecting on how important it is to sometimes not come to a conclusion. Though it's not the overall point of the book, it is a point made in the book before the final chapter. In chapter 35, Princess Nekayah, who is somewhat responsible for the kidnapping of her maid and friend, Pekuah, "languishes" and grieves and seems unable to move on. She can't enjoy anything or think about anything other than her lost friend and her own guilt.
Nekayah is counseled by Imlac, the philosopher poet who is guiding Prince Rasselas and his sister through the world: "Do not entangle your mind, said Imlac, by irrevocable determinations, nor increase the burthen of life by a voluntary accumulation of misery: the weariness of retirement will continue or increase when the loss of Pekuah is forgotten. That you have been deprived of one pleasure is no very good reason for rejection of the rest."
An endnote in the Oxford World's Classics edition suggests that Samuel Johnson was hostile to the idea of vows, as can be seen in examples from The Rambler. But it seems this point about "irrevocable determinations" can be much bigger than vows. It can also be bigger than the sacrifice of additional pleasures due to the loss of one.
It has long seemed to me, that once we decide "the way it is" about certain things we begin to make mistakes. First, once we come to a conclusion, we often cease trying to attempt understanding. For example, it's an old riddle, but most people choose "free will" or "predestination" and then ignore the fact that there are Bible verses or facts of life that seem to suggest both. The same goes for "nature" versus "nurture." We just settle the matter for ourselves and then proceed to ignore the complexities. The same goes for societal problems and positions on different issues. Once I know "how it is" and "what is right," I have no need to really ponder something. I certainly don't need to evaluate my reasons for thinking that way about whatever it is.
Why does that matter? Well, for some things, there may be a clear "way it is." But that's not true for all things. Some things need to be left a little undecided. Light—particle or wave? Apparently both/either? Think of all the revelations we've had from quantum mechanics. Some things happen to exist in the realm of Heisenberg's Uncertainty Principle. Coming to a conclusion on some things may mean ignoring parts of reality.
What are some day-to-day situations in which an "irrevocable determination" might lead us astray? Well, deciding charter schools are inherently good or bad will certainly cause you to be blind to reality, which is much more dependent on the specific case than a general trend. We can probably say the same about many broad categories that contain multitudes. Who has not had the misfortune of being unfairly judged because someone has already decided "the way it is" about a group we are in?
There are some topics we should leave open for that probability wave. For example, deciding that taxes are either simply "good" or "bad" seems foolish. Deciding that we support them or oppose them automatically without asking what they're for and how much we're talking about and who is paying what… how can that be good? And yet we meet people operating like that every day. We are people operating like that every day in some arena. There are just so many instances in which we need to examine the particular and having a too hastily decided mental rule is a mistake. Sometimes we ought not to conclude anything about broad categories that contain many people or many different types of things.
Secondly, it is my suspicion that we come to conclusions with varying levels of support, but we stop asking questions in almost all cases, regardless of the amount of support a conclusion has. Things we're certain of for good reason and things we're certain of for insufficient reasons, they're all things were certain of, which means we don't really question any of them anymore.
I suspect that in our minds, we don't rank our "irrevocable determinations" based on supporting evidence. We simply believe what we believe. We don't remember the difference between what we believe because it's pretty widely evident or overwhelmingly convincing and what we believe because we simply decided or what we believe because we liked the evidence for our view, though it was scant. And once something becomes a belief, we cling to it very tightly. And if it is threatened, we feel threatened. That is a problem if we are putting things in the belief category that are really only suspicions or possibilities. Now perhaps some part of our identity or understanding of reality hinges on a determination that has little actual support.
"The conclusion, in which nothing is concluded" can be a helpful reminder. It is possible for us to consider or even debate a topic and not come to a conclusion. That won't be appropriate for all topics, but it is certainly appropriate for some. Sometimes deciding not to decide on an issue helps us remember the complexity of that issue and it can allow us evaluate things instance by instance, instead of imposing a flawed rule. Not coming to a conclusion can also help us avoid building on top of a determination that is wobbly at best. It is probably wrong to live your life with "nothing" concluded, but it seems almost as risky to have conclusions about everything.