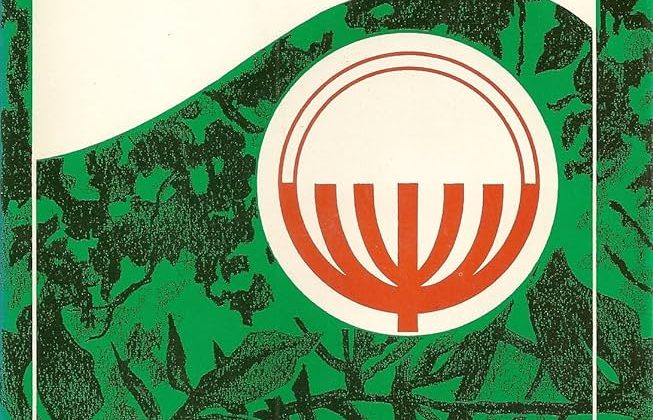 What is going on in Evangelical land?
The number of evangelicals who believe the "earth is in crisis" is dropping.
Italian evangelicals oppose the participation of the World Evangelical Alliance's in a Vatican-sponsored prayer vigil.
Denver Seminary hosts a conference on Christian nationalism.
Evangelicals who champion a better border policy and compassion for immigrants.
Evangelicals support Pope Francis's climate change exhortation.
An evangelical argues that progressives should be pro-life.
The story of an evangelical minister who cared for a deposed East German communist leader. Uwe Holmer has died.
Enrollment at Christian Reformed colleges and universities.
Shane grieves:
Shane shows us how to make a shovel out of a gun barrel:
The legacy of New Testament scholar D.A. Carson.
A New Jersey thrift store meets the spiritual needs of the community.
Russell Moore: Evangelicals should stand with Israel.
A win for an evangelical foster care agency.
Alabama Baptists bring aid and encouragement to Romanian Baptists.
GOP members of Congress fight to keep a German evangelical homeschooling family from deportation.
Evangelicalism on the rise in Brazil:
Oral Roberts University recieves a $2.2. million grant from the Department of Education to help at-risk students.
Evangelical theologian Roger Olson: Christians should not legislate morality.
Loren Cunningham, the founder of Youth With A Mission (YWAM), has died. Rick Warren responds:
Rick Warren remembers Calvary Chapel founder Chuck Smith.
The National Association of Evangelicals on defending democracy.
Blast from the past:
More evangelicals behaving badly.
Southern Baptists continue to criticize Atlanta-area megachurch pastor Andy Stanley and his Unconditional Conference for LGBTQ parents and pastors. Charlie Kirk is also weighing-in:
Preston Sprinkle on Andy Stanley's approach to LGBTQ issues.
Tom Buck: Stanley's soul is in danger:
Faith & Freedom Coalition responds to the Hamas attacks on Israel:
Ralph Reed is apparently working for the Dave McCormick for PA Senate campaign. Also, is a call for peace "an embarrassment?"
Paula White is praying for Israel:
Trump court journalist David Brody of the Christian Broadcasting Network makes the case for Israel:
Here is Brody's entire tweet:
Why supporting Israel is America First: 1) Genesis 12:3 explains how God promised Abram a land, a nation, and a blessing. "I will bless those who bless you, and him who dishonors you I will curse, and in you all the families of the earth shall be blessed." America is blessed because they have blessed Israel. It's that simple. Walking away from Israel is walking away from God's promise. This is a crucial SPIRITUAL element. We discount it at our peril.
2)America and Israel share many of the same enemies especially a Muslim Middle East dominated by the hatred of America and Israel. Remember, you often see violent mobs burning both American and Israeli flags side by side in the Islamic world. We are in this together. Israel is considered, "The Little Satan." America is, "The Great Satan."
3) Israel holds up its end of the bargain when it comes to defending itself. In 2020, Israel spent 5.6 percent of its GDP on defense, compared to 2.2 percent in Britain, 2.1 percent in France and 1.4 percent in Germany. Bottom line: Israel does more, and asks less than many other American allies.
4) Israel is a better, more trustworthy, and more useful ally than most of the NATO countries.
5) We need Israel's democracy in the crazy Muslim hotbed of hatred. Without Israel around, Arab Nations would be warring with each other over the land, leading to a total destabilization of the regime and with that comes a major risk to American National Security and Economic interests. Israel continues to help the United States deal with traditional security threats. Let's remember: the countries share intelligence on terrorism, nuclear proliferation, etc.
And this:
Brody is also retweeting "the great" Stephen Miller:
Lance is prophesying about Israel and the Middle East:
Samuel Rodriguez weighs-in:
I'm guessing this trip will be canceled:
The PR guy who organized Trump's court evangelicals:
Gary Bauer:
Tony Perkins gets political:
Christian Zionist John Hagee:
Ed Stetzer:
Ken Buck and Matt Gaetz, two right-wing members of Congress who voted to oust Kevin McCarthy, just recieved awards from the Family Research Council.
A "Bible thumper" is running for mayor of Franklin, Tennessee.
Conservative evangelicals are gaining power on Saskatchewan school boards.
Trump-supporting Robert Jeffress continues to push a book on the 10 Commandments as the answer for a nation that has "lost its way":
Expect to see the name Joel Rosenberg a lot in evangelical media this week. He is where a lot of pro-Israel evangelicals go for news about the Middle East:
Franklin Graham on Israel:
Jack Hibbs seems to have the Israeli war all figured out:
Rare praise from Huckabee for the Biden administration:
Megachurch pastor Greg Lauri'e's new film is a documentary about Alice Cooper, Darryl Strawberry, Steve McQueen, and Johnny Cash.
Eric Metaxas and Greg Locke talk about casting out demons:
Jack Hibbs is worried about an "AI thing" getting "possessed by a demonic spirit."
Apparently Kenneth Copeland needs a new jet.
What's wrong with making kids brush?:
Jim Wallis on Columbus Day: Christopher Columbus was a white Christian nationalist.
"He Gets Us" billboards in Chicago:
Sean Feucht is still not happy about John MacArthur's "cessationist" conference.