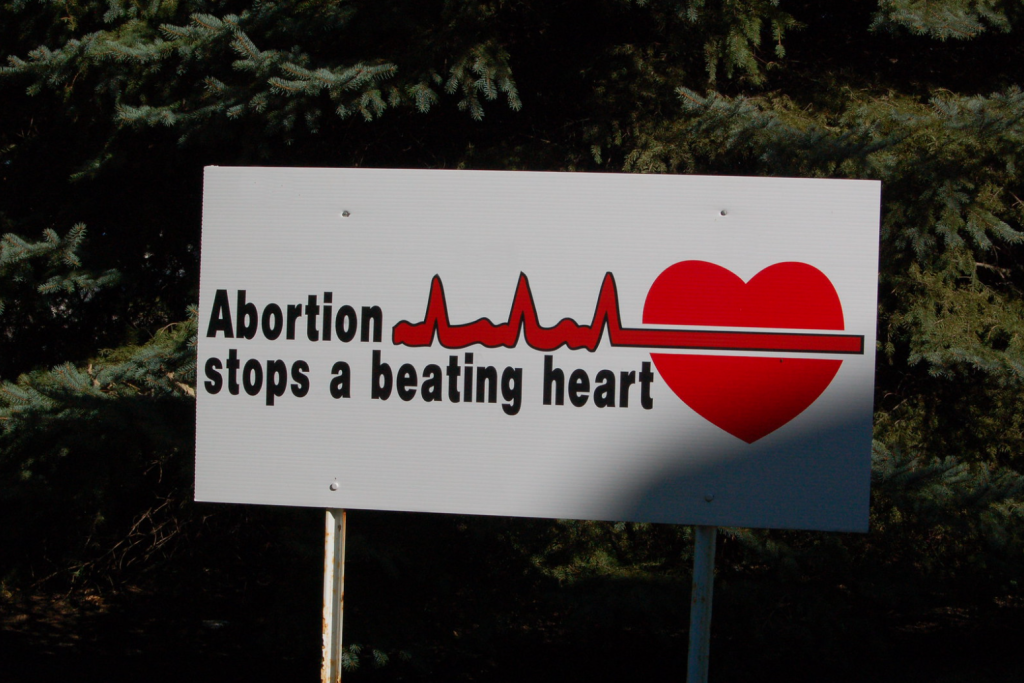 "The United States is a liberty theme park. When we're bullies, we lose."
Today we continue our conversation between Marvin Olasky and Daniel K. Williams. This exchange took place via GoogleDocs earlier this fall. We invite readers to imagine themselves in a seminar room with Professors Olasky and Williams at the front of the room, as they discuss their respective books and suggest some ways forward.
*
Dan Williams: Here's my next question: During the last year, in response to the Supreme Court's reversal of Roe v. Wade, several conservative states in the South, Midwest, and mountain West restricted abortion, but Democratic-leaning states in the Northeast, industrial Midwest, and West Coast expanded abortion availability, and new abortion clinics were constructed in states such as Illinois. It seems to me that Dobbs and its political aftermath made the pro-life cause more difficult in states such as Illinois, New York, Massachusetts, and California.
What would you advise pro-lifers to do in states where Democratic governments have made any restrictions on abortion or abortion funding unthinkable for the foreseeable future? What strategies can they adopt to promote the protection of unborn human life in their own states? Would you agree that Dobbs and its aftermath have made pro-life work in these states more difficult—and if so, how do you think that should influence pro-lifers' political strategy in the future?
Marvin Olasky: Pro-life work in those states has been difficult for decades, and the aftermath of Dobbs, plus the identification of Donald Trump with the pro-life movement, have made that work harder.
The easy answer to your first question is that the compassionate wing of the prolife movement should keep doing what it has for decades: Create and maintain crisis pregnancy centers (also called pregnancy resource centers) that counsel and help women dismayed by pregnancy. In the abortion-supporting city of Austin, my wife started and chaired a center almost forty years ago. It's still going strong, with many lives saved.
As in many other cities, the Austin CPC came under attack from the local newspaper, but it survived. Such attacks will continue, and pro-lifers should continue to be truthful but not heavy-handed. The centers should not get involved politically on questions of having an absolute ban, a six-week or fifteen-week ban, what exceptions are allowable, etc. Their calling is to be micro—the woman and unborn child in front of them—not macro.
The harder questions concern what new strategies to embrace. We know that the Operation Rescue activities a generation ago, while well-intentioned, did not help: They may have saved some lives on the particular days they blocked some women from entering abortion businesses, but they made the pro-life movement look like bullies and probably cost more lives. The United States is a liberty theme park. When we're bullies, we lose. For example, passing a law against abortion-related travel is a terrible idea. (We are on solid ground in opposing government-subsidized abortion travel, and stockholders should oppose corporate-subsidized abortion travel, because there's no reason pro-life taxpayers and owners should be forced to pay for killing the innocent.)
You specifically cite Illinois, Massachusetts, New York, and California. Seems to me in those states pro-lifers should face reality, stop making political announcements, and concentrate on compassion. As people see pictures of unborn children and particularly—through ultrasound—pictures of their own children, hearts can change. Ministers should be willing to speak out in a pastoral, non-hectoring way. Women who have had abortions should tell others about their regrets.
Beyond advocating pictures and one-to-one conversations, I'm not the best person to say what innovations will work now, because I'm 73. People in their 20s and 30s should strategize. In the 1850s, as young men and women flocked to cities, other young men and women set up YMCAs and then YWCAs so newcomers would have an alternative to social pursuits that led to unwanted pregnancies.
That leads into my next question for you, Daniel, which is the same question I'd ask young people: What new institutions do we now need?
DW: I think that we would probably both agree that the institutions that are most needed in the struggle against abortion today are the two that God directly established: the family and the church.
As you've documented in your history of abortion in America, there has been a close correlation for centuries between out-of-wedlock pregnancy and abortion. Today approximately eighty-five percent of the women who have abortion are unmarried. So, family structures that encourage monogamous, lifelong, covenantal marriage and that discourage sexual activity outside of marriage would likely greatly reduce the abortion rate.
The church is also important in providing emotional, spiritual, and sometimes financial support for women—especially those who don't have supportive families. By simultaneously encouraging marriage and healthy relationships and behaviors that reduce the likelihood of out-of-wedlock pregnancy and by providing a supportive community for women who do face a crisis out-of-wedlock pregnancy, a local church can reduce the abortion rate in its own community.
Social science studies have shown that women who have abortions are likely to be at least nominal Protestants or Catholics, but are less likely to be committed Christians with high levels of church attendance and high religiosity. As a church nurtures its young members, it can move them from a highly vulnerable "nominal" category—where people are much more likely to have premarital sexual relationships and resort to abortion—to become committed followers of Jesus who are less likely to have abortions.
But while the family and the church are the most important institutions in the effort to make our communities pro-life, they are not the only institutions that are needed.
In my view, the most effective non-ecclesiastical and non-familial pro-life institution of this century has been the crisis pregnancy center. Today there are more than three times as many CPCs as abortion clinics in the United States, and the more than 2,500 CPCs that are in operation counsel millions of women experiencing crisis pregnancies.
Unfortunately, though, some CPCs have focused a lot more effort on convincing women not to have abortions than they have on supporting them through their pregnancies and beyond by connecting them to financial resources and educational or job search help. I applaud the ones that do offer comprehensive economic assistance, but not every CPC does this.
Nearly half of the women who have abortions are living below the poverty line. The majority are already mothers of at least one child. Many cite economic reasons as an important factor in their decision to have an abortion; they don't think they are equipped to care for an additional child.
So, any institutions that provide economic and educational assistance for women will probably help reduce the abortion rate. There are organizations that provide such help specifically for women facing crisis pregnancies, but even those that are not designed exclusively for pregnant women will still probably have a positive effect on the abortion rate.
In the mid-to-late 1970s, there was a division in the pro-life movement between those who wanted to focus on providing positive alternatives to abortion and those who wanted to focus on changing the law. At the time, the most well-known pro-life organizations focused on changing the law.
Now that Roe v. Wade has been overturned and the country has become so polarized on abortion that enacting abortion restrictions in the blue states has become impossible for the time being, I think that pro-lifers in many regions of the country will need to return to the strategy of offering positive alternatives to abortion and lowering the abortion rate through social changes rather than through the enactment of abortion prohibitions.
This offers us an opportunity to show love to our neighbors and rediscover practices of charity that the church has practiced since ancient times. The new institutions that we create may help us maintain these ancient Christian practices even more effectively.
Editor: What would you tell Christians who desire to be truly pro-life right now?
MO: Roe v. Wade was a lie, and even abortion advocates knew it: a lie convenient for them, but still a lie. We on the pro-life side knew, and our opponents knew, that the Constitution did not include a right to abortion. It's not healthy to live by lies, and this particular lie was murderous. The pro-life movement for almost half a century largely told the truth by saying Roe should be overturned and states should be able to make their own laws.
Unborn children in the 1970s and 1980s did not give their lives in vain. The United States and the Soviet Union were in a Cold War that could have turned hot any time, maybe by human design, possibly by human error. Happily, God's in charge and He kept that from happening. Roe eventually brought about a massive political shift as Democrats who were pro-life saw their party pushing them out and Republicans welcoming them.
A second Carter administration in the early 1980s would have shown weakness and prolonged the Cold War. But "Reagan Democrats" aroused by abortion brought in a different president who strengthened the U.S. military, forced the slumping Soviets to realize they could not compete, and declared forcefully in Berlin, "Mr. Gorbachev, tear down this wall." Pragmatic Mikhail Gorbachev made a deal that turned out to be bigger than he expected. The Berlin wall came down. Those long trapped in Russia's eastern European empire went free. The Soviet Union itself disintegrated in 1991.
Given the makeup of the Supreme Court, Roe v. Wade should have disintegrated also at that time, but Justice Anthony Kennedy gained the nickname "Flipper" by agreeing in a 1992 case to prolong the agony. That gave the abortion regime three more decades to solidify its grip on American culture: three more decades of cultural softening up, three more decades of developing structural abortionism, with corporations and other organizations assuming that upwardly mobile women will get abortions whenever a baby gets in the way. Like structural racism, it discriminates against one class of Americans—and this lynching goes on. 
Conservatives were complicit in structural abortionism. For example, "the success sequence" became a conservative meme: Teens learned that to progress economically they should graduate from high school, get a job, and not have a child until they were married and moving on up. True enough, but what happens when a young woman gets pregnant? Finding the right policies to discourage unmarried pregnancies but keep babies alive is no easy task. The hardness of it points to the limitations of law and public policy. The pro-life movement, tied up in conservative politics as it became, never arrived at a consensus on welfare policy.
There's truth in the old saying, "When wishes are horses, beggars will ride," but beggars unprepared for the fulfillment of their wishes quickly fall off. That's what happened to the pro-life movement when, after decades of disappointment, the Supreme Court did overturn Roe. It was good to celebrate the Dobbs decision, yet the credibility of the pro-life movement suffered when some leaders quickly reversed themselves and, after years of advocating state authority, demanded federal boundary-setting at six or even fifteen weeks. It was clear that abortion-advocating reporters would quickly publicize every absolutist demand, but some leaders out of conviction or fund-raising waxed not only triumphalistic but ballistic.
Ballot box defeats during the past year show that we're probably where the anti-slavery movement was in the 1830s. Let's acknowledge the truth of some cliches: We're not at the beginning of the end, but at the end of the beginning. We can be glad that the White House landed on and crushed the wicked witch of the east, but the wicked witch of the west—a consumer culture that puts money above morality—still lives. Let's then move to a harder truth: We can sing "Hi ho, Roe is dead," yet legions of other wicked witches occupy our hearts.
The primary battle is not legal or political. We are far from a culture of life, and emphasizing winner-take-all politics will leave us bereft. We need to build up the compassionate wing of the pro-life movement. That will take some commitment of money but even more commitment of time, working one-to-one with women (and men) who see no practical alternative to killing their babies. The patience of an Abraham Lincoln will be more effective than the belligerence of a John Brown. (The Zealot and the Emancipator: John Brown, Abraham Lincoln, and the Struggle for American Freedom by H.W. Brands, is a good book to read.)
In summary, we need to show, not tell. Cut down the badgering, step up by listening and showing women and men alternatives to death before birth. The U.S. Constitution emerged in 1787, the same year Josiah Wedgewood designed what became the anti-slavery movement's defining emblem: an "African in Chains in a Supplicating Posture" asking, "Am I not a man and a brother?" We need to show unborn children together with the question: "Am I not a human being?"
Beyond that, I'm waiting for innovative thinkers in a new generation to come up with good ideas. After all, many years and defeats did not keep most Americans from eventually agreeing that a person is a person, no matter the color of his skin. The same can happen regarding small persons—but we have millions of denials to go until we sleep, and until unborn children can sleep in peace.
DW: I think that when it comes to abortion policy today, we have probably reached a limit to what can be accomplished by legal changes that are unaccompanied by shifts in cultural attitudes.
Unfortunately, the Supreme Court's reversal of Roe v. Wade last year hardened cultural attitudes. The Democratic Party, which up until that moment had had a substantial minority of voters who were open to restrictions on abortion, reacted to the reversal of Roe by becoming stridently and almost monolithically opposed to any proposal to limit abortion. The Republican Party reacted by fragmenting on the issue, with many Republicans in rural, socially conservative areas moving quickly to restrict abortion as much as possible and Republicans in less religious, less socially conservative regions distancing themselves from such measures.
The pro-life movement cannot win lasting political victories as long as this situation remains unchanged. If the pro-life movement attempts to use the courts to create some sort of nation-wide abortion restriction, it will face tremendous backlash from the majority of voters who oppose such a move, and the victory will not be lasting. And if pro-lifers remain content to restrict abortion only at the state level, they'll continue to face the situation they are experiencing today—a situation in which a few conservative states have succeeded in closing down all abortion clinics in their states through restrictive legislation while abortion remains legal in most states. As a result, this strategy will result in only very limited decreases in the national abortion rate.
But there is a more effective way to save unborn lives, I believe. Instead of focusing on enacting new restrictions on abortion, pro-lifers can work to ensure that lower-income, unmarried women facing crisis pregnancies are equipped with the resources they need to carry their pregnancies to term and care for their children. This is a mission that some pro-life Christians will choose to carry out primarily through their churches and local crisis pregnancy centers, while other pro-life Christians may also seek public policy solutions that can also contribute to this work. But in any case, if women have access to health care, job security, family support structures, and the economic resources to care for their children, they will be more likely to choose life for their unborn children when facing a crisis pregnancy.
To save unborn lives, we have to think about more than abortion policy; we have to consider how we can create support structures for the economically vulnerable. When we do that, we'll not only be carrying on the legacy of the pre-Roe pro-life movement but we'll also be following the teachings of Jesus about loving our neighbor and caring for those who are in need.
Thank you for engaging in this conversation with me, Marvin. I appreciated this opportunity to learn from your perspective.