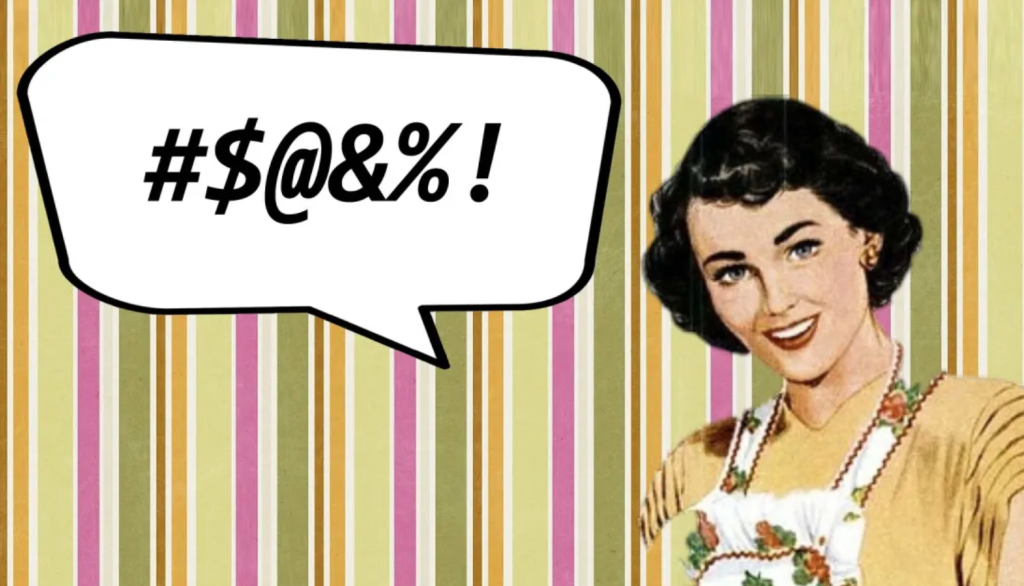 'Tis mighty and dreadful no more
Query: If a tree nymph shouts the f-word as his forest home falls, and no one over fifty hears it, has he said anything worse than "fiddlesticks"?
I ask because I'm wondering, on behalf of tree nymphs, how long it will be till the last drop of dark power has drained from that formerly mighty morpheme. Once so dangerous that it disabled televisions and radios, ended the careers of comedians, and changed our parents' minds about Richard Nixon, it's no longer that big of a deal. People under thirty now use "fuck" pretty much the same way they use "like," as in "I'm, like, so irritated by the word 'like.'"
Much of the power left to the f-word derives from medieval prejudices we don't realize we still have. Compare your gut reaction to the English word "shit" with your reaction to the French "merde." If the first sounds rude while the other suggests a quiet nook at the Bodleian, you've just sided with the Norman invaders. Yes, all foreign vulgarities sound less vulgar, but French words in general sound more sophisticated than English counterparts. Does Je m'en fous sound like a line Edith Piaf might sing at Olympia Hall while "I don't give a f***" is something she'd yell at her mobster boyfriend back at the hotel bar?"
The rest of the f-word's waning power, in the U.S. anyway, comes from Generation X. Those of us raised on broadcast TV were programmed to think that using the f-word made you a very bad kid—a powerfully bad kid, one with a secret weapon that most well-raised children hesitated to use, especially in mixed company. In the fourth grade a girl named Jeanette yelled it at me on the playground. Being from a very evangelical household, I needed my mother to explain what this unfamiliar term referred to and how exactly I could do that to myself. I recall only the gathered eyebrows, the coral lips framing a shocked "Oh my, oh no." Does anyone remember that part in The Magician's Nephew when Queen Jadis explains that she destroyed her own land and people by speaking the "deplorable word?" I now knew what that word was.
(It's significant that I don't remember what I did to Jeanette to provoke her. She was the only black girl in our class and undoubtedly needed a weapon.)
With the advent of cable TV, followed by the social media revolution and the age of streaming television, the f-word has become unavoidable in public life. We're used to it, at least those of us not exclusively watching Bluey. Even on Ted Lasso, a show about family, friendship, kindness, and other wholesome virtues, use of the word is pretty much unremitting. In an L.A. Times article, actor/producer Brendan Hunt (Coach Beard) comments on the frequent use of the word and says, "Our show is the next evolution of wholesome shows." Exactly the kind of thing Coach Beard would say. Exactly the kind of thing that would have given my mother a stroke.
My conclusion after much personal research (TV watching) is that the f-word will not by itself cause the breakdown of the social order. For that to happen, you need pandemics, unhinged dictators, bad weather, and former presidents who practice their scariest mugshot in gold-plated mirrors. I can think of at least one good reason, though, to teach your kids to choose a different word, especially in public. For older people it still carries sexually degrading and misogynistic associations from the past. Maybe, for Gen Z, "effin" is just an emphasizer now, like "so" or "really" or the obnoxious "totally". But I remember when "fuck" was something often said in a threatening way, sometimes by men who sandwiched it between "I want to" and "you". Once, an older guy yelled it out to my sixteen-year-old date in reference to me. That was an awkward drive home. We didn't even get to stop for ice cream.
But probably your kids won't listen, even if you tell them not to say it. Language changes as culture changes. Today's "fuck" is tomorrow's "gadzooks". But, to paraphrase John Donne, F-word be not proud. Those whom thou thinkst thou dost shock shock not, poor f-word. Because many of them who would be shocked are in senior living trying to figure out the buttons on their TV remotes. The rest of us are either very irritated by you but too cheap to purchase Vid-Angel or else don't care much either way and scarcely notice when a great show like Swagger or Severance has minimal cussing. Funny how that is. When it's not there you don't think about it.
Though some have called thee mighty and dreadful, poor f-word, now you're over-exposed and ineffective, much like that other institution the Brits wore out, the royal family. These days a word can go quickly from unsayable and unhearable to just as boring and irritating as Windsor gossip.
But in some ways, mighty f-word, I miss you. Or at least miss the glory days when people still believed in what you could do. You were like a Marvel villain—a good distraction from our real problems. And though I hated your threatening side and the way you sounded when rough people used you, you did convey the strong emotions of ordinary folks (the "vulgus") very well. Don't human beings need a few sounds that, when formed in the diaphragm and manifested from our mouths, magically convey our deepest feelings about the incredible and the unbearable? Don't we need a few powerful, rarely used words, not to offend others but to express our greatest joys, fears, and furies across the vast spaces between our minds? We are like birds chirping at each other across a wide backyard. "Hey, did you hear me over there? Get your beak off my effin worm!" 
M. Elizabeth Carter is a counselor and writer living in Alabama.