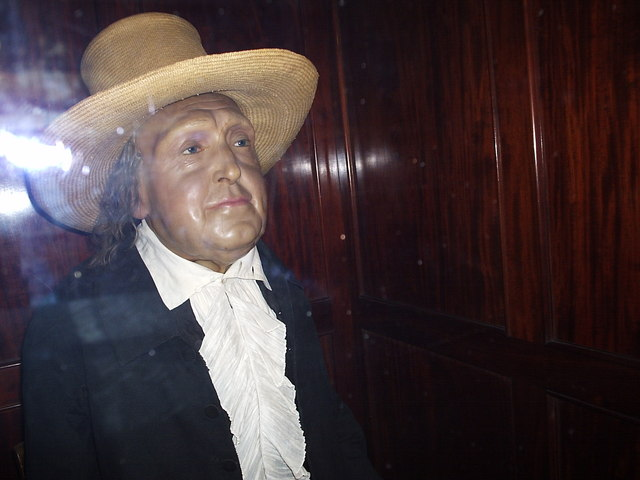 Recently, my eight-year-old son has become mildly obsessed with the nineteenth-century English philosopher Jeremy Bentham. Inspiring my son to write his own illustrated last will and testament, upon his death Bentham bequeathed his body to science, requesting that following a dissection, his reassembled body should be embalmed, posed and seated on his favorite chair, available for public display. The head, alas, had to be replaced with a replica following an unfortunate accident with preserving the original. My son is determined to get to the bottom of this.
Bentham has been on my mind, however, for a different reason. He is considered the founder of modern utilitarianism—a philosophy that evaluates the merits of actions based on their utmost good or harm for the greatest number of people. Here is a classic old-school textbook example of a utilitarian ethical dilemma. What would you do if a train were hurtling down the track, sure to run over a group of people, and you had the power to flip a switch and divert the train to a different branch of the track, where it would run over another group of people? How would you choose whom to condemn to death in that moment? Do you send the train to the place where it would claim fewer deaths? That would be the utilitarian's recommended solution. This is the philosophy that some would now apply to higher education and the economy at large. But, again, there are bodies to sacrifice in the wake of such decisions.
Last week Shad White, Mississippi's State Auditor, made his feelings on higher education in his state known on Twitter/X: "It's time to stop investing in college degrees that aren't worth anything and put our money into degrees that can supercharge Mississippi's economy."
White argues for using each dollar in the state for the best of the state—forget those majors that benefit merely a few. Focus only on those that benefit the majority and, of course, generate profit. His comments reveal a lack of understanding of what a college student's major actually means for a future career trajectory (very often, nothing). Moreover, I have considerable concerns with the overt utilitarianism of someone who states in his Twitter profile that he is "Christian trying to live His will."
All of this said, White's views are not unusual among politicians in many states right now. And this makes this particular philosophy that such utilitarian views represent all the more destructive—just ask the 143 West Virginia University faculty, whose liberal arts fields, along with their jobs, were just cut.
I would like us to keep the textbook utilitarian image of the destructive rogue train in mind, distasteful as it is, because the economics of any state or society are, ultimately, calculations about pricing human life. After all, any discussion of prioritizing certain careers over others involves, at the very least, prioritizing—and pricing—the flourishing of some people over others. In this case, as will become clear shortly, some very literal pricing of human lives is happening that reveals a mindset more pagan than Christian—a topic on which Louise Perry recently wrote so eloquently.
Human sacrifice is alive and well in arguments like White's. It just looks a little different than two-thousand years ago. Fewer literal altars, more figurative ones. But the greatest god of all, demanding these human sacrifices, is the economy. I am not exaggerating. It was only three years ago that Texas Lieutenant Governor Dan Patrick called for the elderly in Texas to sacrifice their lives to allow their state's economy to get back on track during COVID-19.
First things first, however. White is laboring under the unfortunate assumption that each student's college major feeds directly to a career. This is true for trade school degrees: if you would like to be a plumber, you get a degree in plumbing; hair-cutters get a degree in cosmetology; long-distance truck drivers get certified in commercial truck driving, and so on. But in a traditional four-year university, the people who major in something like Sociology or German literature (two of the fields White noted he would rather the state did not support) do not go on to become sociologists or scholars of German literature. Rather, they may do any of the following things—all of which real majors in these fields do: go on to medical school or law school; or become a data analyst, social worker, teacher, business-owner, nurse, pastor, or stay-at-home mom. This, to be clear, is not a complete list.
But this first objection is quite minor compared to the larger issue of the utilitarian approach in supporting only those "degrees that can supercharge Mississippi's economy." What exactly can supercharge a society's economy? Careers that are producers of goods, rather than service careers. Let us come up with a more precise list. Engineers, as White himself noted, are indeed in. So are any other industry-related fields and, perhaps, business professions that will move these goods.
If these fields are in, then who's out? Let us ride the utilitarian train to its inevitable destination of running over at least some human bodies, as we consider which careers truly supercharge the state's economy and must, therefore, be prioritized, and which ones must be sacrificed on the altar of economic productivity. Oh, and spoiler alert: the bodies the train will be running over in making the best choices according to these criteria happen to be mostly those of mothers and children.
If one's goal is to supercharge the economy, service careers that do not generate new revenue for the economy, but only drain resources from the state, have got to go. So should the majors that lead to them, of course. What might those careers be? Well, certain healthcare professions, for one. This philosophy already is at work in Mississippig–half of the state is a "maternity care desert." The state consistently tops the lists for the most unhealthy state in the U.S. and boasts one of the highest (or even the highest, in some studies) maternal and infant mortality rates in the country.
Alarmingly, the rest of the U.S. is thinking about maternity care in similarly utilitarian terms. The past few years have seen the closing of multiple maternity wards and hospitals across the country, most of them serving disproportionately poor rural areas. As Ivana Greco has noted in her analysis of this problem in Connecticut, the reasons for these closures have repeatedly been economic. Again, it appears that providing healthcare for pregnant women is not profitable.
But this is not the only area where the bodies of women and children are to be sacrificed for the good of the economy. To mention just one more example, special education resources, needed by so many children, albeit still a minority rather than a majority, are extraordinarily expensive. School districts nationwide struggle to provide them. A utilitarian response, of course, would be to minimize them—from the perspective of supercharging the economy, what is the value of educating a child with Down syndrome or severe autism, if that child will never become a producer?
And then there are social services that states provide—a career field into which college students who major in Sociology or Women's Studies, topping White's list of useless majors, go. Where is the profit in serving impoverished families or children in foster care? Last but not least, perhaps the group that arguably does the least to reinvigorate or supercharge the economy is stay-at-home mothers. Are they worthless for the economy? At the moment, it appears that both some Republicans and Democrats would say, yes.
My gallop through issues here is admittedly cursory, but I hope that my overall point is clear: with many economic decisions, we face a choice: as a society. We can be pro-economy or pro-family. The Christian answer should be clear, as is the post-Christian alternative—which looks remarkably like the pre-Christian one.
When the Romans devised their earliest law code, the Twelve Tables, in the fifth century BCE, Table IV grimly noted: "A notably deformed child should be killed immediately." Why? Because the Roman state had a complex hierarchy of the value of individuals. Those with disabilities had no value for either their families or the state but were merely a drag on resources. Christianity, with its revolutionary claim that all people are made in God's image and are, therefore, priceless, refused to operate by such standards of the world around.
And so, as Christians, it is immoral for us to price people and their college majors and careers based purely on their ability to supercharge the economy, making Mammon our supreme god. Or, to put it another way, we do not have to ride the utilitarian train of our own making over the bodies of any members of our society. Defying the textbook scenario, we can simply stop the train.