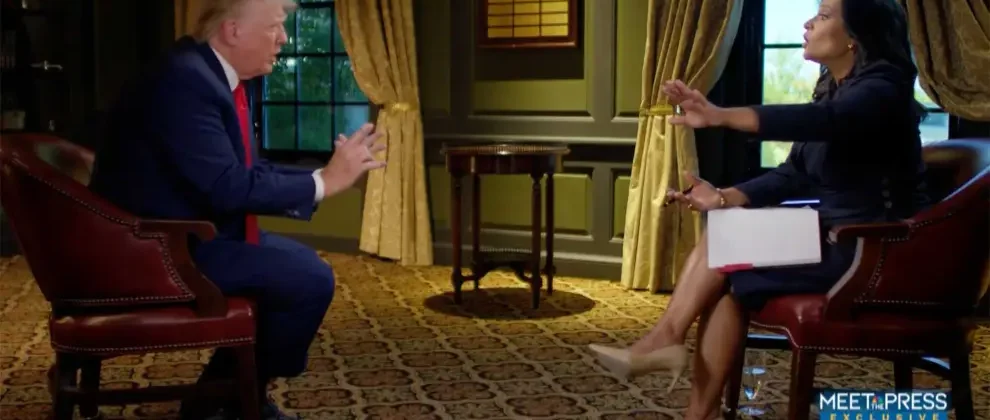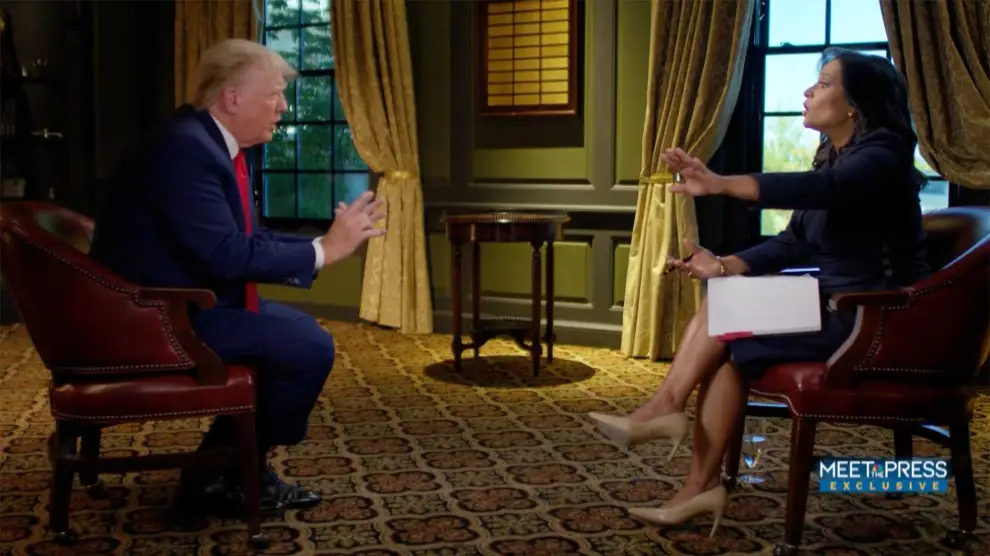 In case you missed it, NBC News journalist Kristen Welker began her new gig as host of the "Meet the Press" with a Donald Trump interview.
This morning NBC News published a piece fact-checking Trump: "Former President Donald Trump made a spate of false and misleading comments about immigration, foreign policy, abortion and more in a wide-ranging interview with NBC's "Meet the Press" moderator Kristen Welker that aired Sunday morning." Here is a summary:
Trump said that more 15 million "illegal immigrants" would come into the country by the time he gets back into office and ends the "flooding" of our "cities" and "countryside." Yes, border crossings are up in the last year. But number is closer to about 2.7 million.
Trump said that a "record number" of terrorists are crossing the border. This year 216 people on the terrorist watchlist were stopped at the border. In 2019, under Trump's presidency, that number was 280.
Trump claimed that the United States gave $85 billion worth of military equipment to the Taliban. In reality, when the Afghanistan government fell to the Taliban, it had $7.1 billion of U.S. funded military equipment.
Trump claimed that people who never entered the U.S. Capitol on January 6, 2021 were given "sentences of many years." This is technically true. Proud Boys leader Enrique Tarrio and Oath Keepers founder Stewart Rhodes did not enter the Capitol on January 6, 2021. They were convicted of conspiring to start the insurrection.
Trump said the 2020 election was "rigged" and quoted Dinesh D'Souza's movie "2000 Mules" as evidence. Trump and his supporters brought more than 50 lawsuits to overturn the election. None of them succeeded. A Georgia State Election Board investigation thoroughly debunked D'Souza's claims in "2000 Mules"
Trump said the price bacon is "up five times." Actually, it is up by 12%.
Trump claimed that his tax cuts brought in more revenue for the country. Actually, the Congressional Budge Office projected that Trump's cuts raised our national deficit by $1.4 trillion.
Trump claimed that COVID-19 drove-up the national debt. This is technically true, but Trump did nothing to do reduce the national debt. It rose every year during his presidency.
Trump claimed that Democrats want to "kill babies" after they are born. Actually, no Democrat takes this position. Moreover, 1% of abortions are performed after 21 weeks.
Trump said he built "almost 500 miles" of border wall. Most of this was the reinforcement of already existing barriers.
Trump said that the media is "no longer reporting" about the war in Ukraine. Anyone who examines coverage on NBC, ABC, and CBS will conclude that this is "demonstrably false."
Read the transcript of the interview here. Read the fact check here.