'Tis the season of pumpkin spice and everything nice.
At midnight on September 1st, it happened again, just as it does every year in recent memory: the pumpkinification of autumn. The term is one, I should note, that existed already in Latin—apocolocyntosis. Originally, however, this pumpkinification had nothing to do with autumn, and the way to it was through mushrooms, or so the Roman imperial biographer Suetonius tells us.
One otherwise ordinary night in 54 CE, the wife of then emperor Claudius is rumored to have served him a delicious mushroom dinner. Following it, Claudius died (not a coincidence, historians in antiquity were sure), and his stepson Nero promptly became emperor. As has been the case with most of Claudius's predecessors, the senate then voted him a god—the Roman pantheon was, after all, quite flexible on such things. Mushrooms became known overnight as "the food of the gods." So far so good. Except, Claudius really did not seem to be god material to most observers, and the philosopher Seneca wrote a satirical work, which became later, in the second century CE, known as Apocolocyntosis Divi Claudii—literally, "The Pumpkinification of Claudius," punning on the term apotheosis, which means "deification."
It feels, sometimes, that the entire season from September to November is our own annual cultural apocolocyntosis. We are all living in a strange foodways satire, whereby every "normal" food item—from coffee to cakes to soups to breads to pasta to ice cream to yogurt to pretzels and trail mix—must have pumpkin spice added to it just during this season. If we stopped here, it might all be good and well. Except, the pumpkinification of this season does not encompass merely food. The satire extends—is amplified!—through the addition of pumpkin spice to candles, cleaning supplies, shampoo, essential oils, soap, throat lozenges, scented pinecones, toothpaste, deodorant—well, you get the idea.
This thought inspires a lot of complicated feelings in some, including Beth Moore.

I love this pumpkin craze so much for reasons I can't fully explain, and I'm not alone. Historian Andrea Turpin has made no secret of her joy for this season. After counting down to the occasion for several days, she got her first pumpkin spice latte of the season on the first weekend it was available—although she had to opt for the iced version in deference to Texas weather. Several other friends have posted their PSL news and selfies with glee. In the spirit of scientific research, I polled readers earlier this week to find out their views on the pumpkin-everything craze, at least in connection to the pumpkinification of foodways. The results were interesting: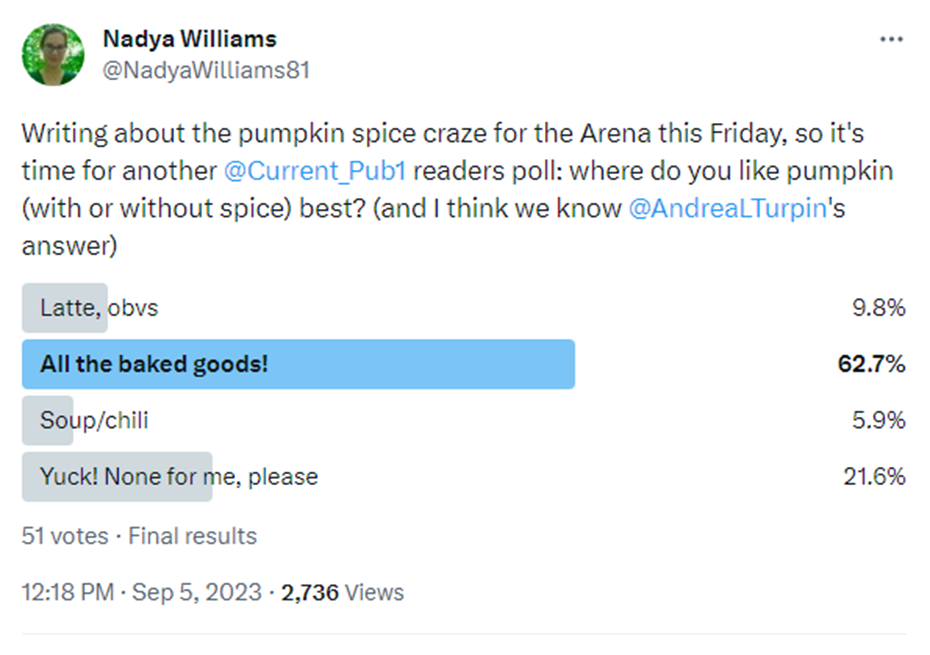 These results show that while most of us are happy with this season and look forward to our baked goods or PSL, there is a sizeable minority (which includes my husband) of those who would rather avoid this vegetable invasion. If this is you, don't despair. Past precedent shows that you need only wait until the day after Thanksgiving. At that glorious time, the pumpkinification of the world all around will end, and the usual seasonal reign of peppermint will commence.