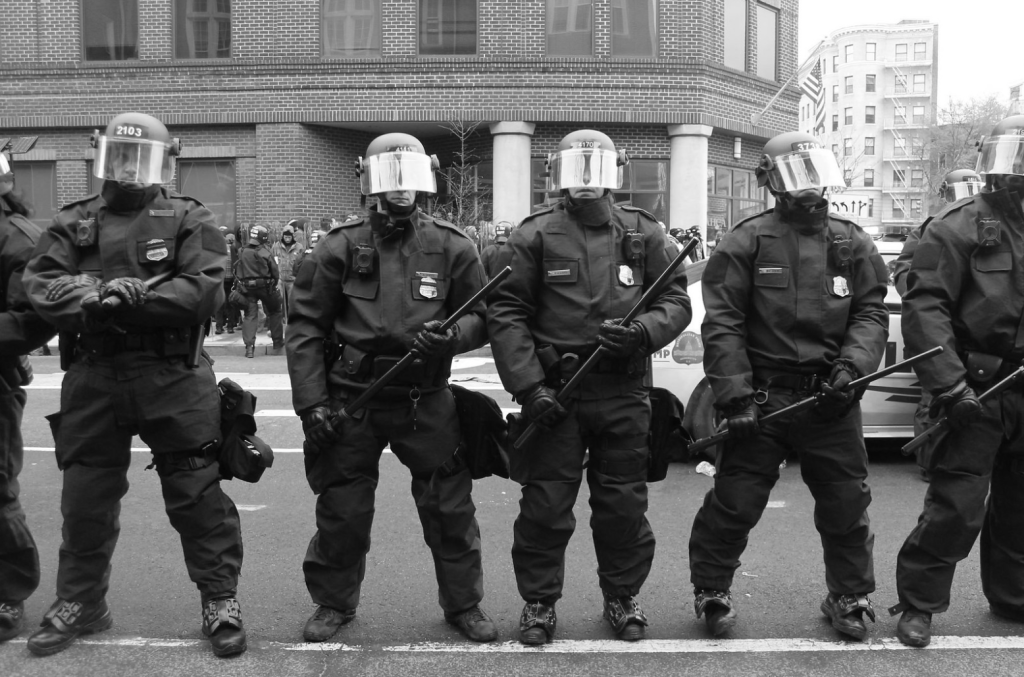 The endgame of election denial is already underway
Two deaths last month. Craig Robertson of Provo, Utah, was shot by the FBI after making repeated threats against Joe Biden. Robertson was allegedly refusing to comply with a search warrant. Nine days later Laura Ann Carleton of Cedar Glen, California, was shot by a man who objected to her display of an LGBTQ+ flag in her shop. The assailant shouted at her, mocked the flag, and then killed her.
Two very different Americans—both dead because of the militarization of the right. Robertson threatened people through social media and, when asked about it, threatened with a gun. Carleton displayed a political flag and was shot.
Neither should have died. But they remind us that we need to talk about American political violence—and the little-known fact that in modern America 96% of all murders linked to radicalism come from the far right.
We know the source. Since the rise of President Trump, violent rhetoric and calls for armed retribution have become daily occurrences—sometimes from the president himself, sometimes from allies in the conservative media ecosystem, and sometimes from robots at Russian troll farms seeking to egg us on to more and greater violence.
I don't want to elaborate on this. We all saw the riot on January 6. We know about the Proud Boys.
What I cannot understand is how our political reporters are still missing the connection between Trumpist calls for violence and paths to power in the United States. A recent cover article at Time mentions Trump's indictments under the euphemism "legal troubles." Trump does not have legal troubles: he has been indicted in an attempt to overthrow the legitimate election of an American president through violence. As a former president now faces multiple trials for trying to overturn an election, and as that president threatens his opponents with force, most political columnists still wonder how it will all shake out for Trump's strategy in the election. They remain focused on questions such as whether Trump will appear at the GOP debate, how he will alter his talking points, and what his messaging will be in the wake of accusations.
They continue, in short, to treat this crisis as a scandal. It is far more than that.
Political experts and talking heads still assume in the age of election denial that everyone in America accepts the basic norms: Political power and authority come through a series of laws, determined and enforced by elected officials—the law binds us and gives power its legitimacy.
Trump does not believe that, and he and his close associates have been broadcasting a different version of American legitimacy for years.
In this world, only "real" Americans have a right to rule. What makes a real American? It is left deliberately vague, but outward patriotism and militarism are sure signs. It is not quite race-based—Vivek Ramaswamy is running for the GOP nomination as an Asian-American. But he wants to limit the vote to people over twenty-five. Those Americans who fit the stereotype of a 1950s suburban or farm family: These are the people who count. But support for Trump matters, too. Trump and his retinue have over and overstated that the people who support him are Americans; everyone else is a traitor or potential traitor.
Those who love America are the ones who must rule America. Legitimacy comes from ideology, not law. For Trumpists, the question that defines whether a person can legitimately voice political concern is not, Are you a citizen? It is, Do you love America?
Yes, the question is ill-defined—but then, it is not a question of law but a question of intent. Trump still believes America is legitimate, but the courts, the Biden administration, and any Democrat are not legitimate, because they do not love America.
The media continues to treat this rhetorical shifting of legitimacy as a sideshow—"Hey! That's funny." But it's a feature, not a bug. Indeed, it explains much of Trump's current movement: The election of 2020 was fraudulent, because the results indicated that Biden won, and Biden did not love America, and the late-counted votes for Biden came from big cities where real Americans do not live. Therefore, they must have cheated.
Biden could not have won, therefore he did not win, therefore the government is no longer legitimate.
And here is where we need to pay better attention: If the government really is illegal, then its decisions are not binding on the populace. This is part and parcel of most theories of political power, and certainly for the American experiment born from "no taxation without representation."
And so Trump and his allies ignore the law, lambast the judges, and encourage violence against other Americans—because in their minds, the law is no longer binding upon them.
This idea is now filtering down to the streets of Provo and San Bernardino county. Robinson did not have to obey the search warrant the FBI produced, because (as one Facebook fan put it) he refused "to kneel before a godless tyrant.") A man who apparently had threatened to kill numerous Americans did not have to follow the law, because the law had become godless.
In the world of election denialism, the government has no authority, and therefore "real Americans" have no obligation to it. Indeed, the government itself is illegitimate and un-American, and Americans who are not real—Democrats, religious minorities, LGBTQ+ people—have abetted that crime. America is under siege.
Therefore it is no crime to commit violence to liberate it.
As efforts to rein in this violence—and as the process of bringing the perpetrators of the January 6 riot to justice picks up steam—this notion will get louder. And it will become, if it has not already, the paramilitary wing of the Trump movement—not formally aligned but omnipresent, willing to smash, shoot, and intimidate where necessary.
Will all Trump voters do this? No. What about all of his hard-core base? No. What about the people who fly Trump flags, and Blue Lives Matter flags? No. Not even all of them. But some of them will. And then we will have a presidential candidate with an informal army.
Our modern politicos and commentators have no idea what this would look like; they are far more interested in whether Joe Biden likes ice cream than on how paramilitary groups helped destroy democracies in Argentina, Peru, Burma, etc. This has happened before in the U.S., by the way—in the 1870s, southern Democrats adopted the Ku Klux Klan as a paramilitary wing and used intimidation to smother Black votes and establish one-party rule in the South. It has not gone down as a great era.
The media is still waiting for Trump to pivot to the general election and become a "normal" politician. The response to his solid grip on the 2024 GOP nomination is met with a kind of open-mouthed naivete: "What will happen if he wins?" They do not seem to understand that if Trump sounds insane, that is because he is no longer working with the constitutional model of American legitimacy.
The media will never get this, not really. But you can. It behooves all of us to recognize what calls for violence and violent political rhetoric are: a call for an uprising against the American constitution and the rule of law. It is literally un-American.
This theory of where power comes from may not come to pass, but those who laugh it off or tolerate it because they think it will inevitably be defeated are abetting its rise. By failing to take the rejection of the consent of the governed seriously, they inhibit the efforts of this country to resist its coming effort to seize power.
What exactly, will it look like on Election Day 2024?
No one is quite prepared to say. But too many people are taking that lack of preparation as an excuse not to prepare for anything. 
Adam Jortner is the Goodwin-Philpott Professor of History at Auburn University. He is the author of The Gods of Prophetstown and the Audible original series American Monsters.
Image: Trump presidential inauguration, 2017