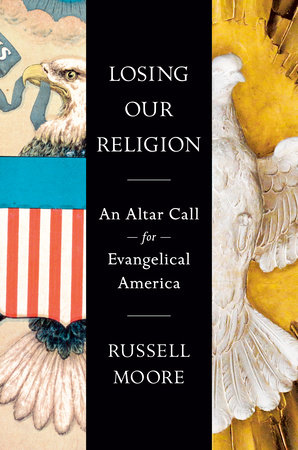 If you have spent any time in evangelical circles, Russell Moore requires no introduction. A former professor and dean at the Southern Baptist Theological Seminary, he was for eight years the President of the Southern Baptist Convention's Ethics and Religious Liberty Commission. Since 2022, he is the Editor in Chief of Christianity Today. His newest book, Losing Our Religion: An Altar Call for Evangelical America, could just as aptly have been subtitled "how to love the church when it won't love you back." Or, perhaps, "how to love Jesus when your church won't love Him—or you." His goal is to encourage his readers to pursue all of these good loves while "declaring independence from the kind of culture where it's always Election Day, and never Easter." This is an important reminder, as another presidential campaigning season gets under way, and the hearts of evangelicals are once again seen as a key political battleground.
To point the way to loving Jesus more fully, beautifully, and honestly at great personal cost has been the mission of the three most prominent Southern Baptists who have taken a stand against Trump in 2016 and have been paying the price for it in various ways ever since: Russell Moore himself, Beth Moore (his self-described "sister from another mister"), and Karen Swallow Prior. Not coincidentally, the trio has also been among the most outspoken critics of other abuses of power within the Southern Baptist Convention. All three have published books on these themes this year, and all three books are very much worth reading. On a side note, I highly recommend Andrea Turpin's recent review of Beth Moore's memoir for Current, as well as Andrea's interview with Karen Swallow Prior about her book at the Anxious Bench last week. Current's Contributing Editor Christina Bieber Lake is reviewing KSP's book for us later this fall.
For many who have felt hurt by the church in various ways, the logical fashionable next step has been deconstruction. This process of evangelical deconstruction has too often meant walking away from church, declaring the theology of the church the culprit for one's individual plights, and shaking the toxic dust of it all off one's feet. What I appreciate about all three of the above thinkers and writers is that that's not what they have done. Rather, each of the three, I think, would agree with Moore's central point in this book: sometimes pursuing truth and loving Jesus first requires "losing our religion." What does he mean by this?
I was reminded of Phil Christman's satirical yet gut-punching modern update on the parable of the Good Samaritan earlier this year. In this retelling, a man is hurt while traveling along the road from Athens to Atlanta. A conservative megachurch pastor, a mainliner, an exvangelical, a Catholic, and two Duke Divinity School postliberals in town for a theology conference all pass him by, at times stepping over the hurt man rather than helping him. And each thoughtfully articulates reasons why it is not his obligation to help the hurt man. Some, in fact, wonder if the hurt man is himself to blame for his plight, or they casually blame some social structures ("the woke") for this trouble, while extricating themselves from any responsibility for doing anything to assist.
But it is another absence that is the most shocking in this retelling, just as it is in Jesus's original presentation of this parable in Luke 10:30-37. None of these believers of various sorts sees the face of God, the imago Dei, in the man who has been hurt! Yet many of them resort to seemingly religious terms to explain why they do not need to help the man.
That is the kind of religion that Russell Moore would say we need to lose. Whenever Christians, whether leaders or ordinary churchgoers, do not live out the gospel of Jesus Christ, but prioritize "religion" of other sorts, they create gods made in their own image and ultimately declare their own unbelief. Instead of proclaiming the good news, they use the church to create power and authority of their own at any cost to others. As Moore reflects,
How do we determine whether a church is exercising authority, or refusing the exercise authority, in a way that is out of step with God's purpose? We do what the apostles taught us to do: we judge the church by what has been revealed in Scripture, not the other way around… Over the long run, though, the people of God recognize the Scriptures, not because the church creates the Scriptures but because the Scriptures create the church. A final authority for Scripture means that every human authority and institution is accountable to a truth outside of its own making. When any tribe or individual or government or political party or politician or pastor or church demands the ability to define what is real and what is unreal, what is true and what is false, step back and ask if this person or institution is trying to become your god.
Different categories of people need to read this book and consider Moore's arguments for different reasons. First, for readers whose story might echo his own, who too have found themselves disillusioned with the church since 2016, Moore has a powerful appeal: Jesus is exactly the same today, yesterday, and tomorrow. He and His love for sinful humanity will never change. We need to keep clinging to Him and His promises for us. This means not giving up on Jesus even if some may need to change churches and even denominations—as Moore himself had to do, and as Beth Moore did as well. And so, Moore, right along with Beth Moore and Karen Swallow Prior, would exhort these readers not to lose their faith because of the sins of others against them.
Second, for readers who have not been personally hurt by churches, but who are aware of what has been going on in the SBC and feel conflicted about airing all of this dirty laundry in public, Moore has that same message: Jesus is exactly the same now as always. Some have tried to hide scandals claiming that these scandals would only harm the cause of the gospel. Moore's response to them throughout this book is: God is bigger than this. Hiding any abuse or misbehavior by church leaders, or even endorsing questionable politicians all with the desire to win political clout for the church, is ultimately an expression of unbelief in the power of Christ. It is this crisis of unbelief that should make us deeply uncomfortable. In other words, sinning further in order to hide or compensate for other sins is not a good look for any church.
And third, there are readers like me, who have known nothing but love from their time in church. Indeed, I suspect, I'm not the primary audience that Moore has in mind. Since coming to Christ in 2011, I've known nothing but care and love from every church of which I have been a part—and, I should note, I have always happily been a member of complementarian churches, although never in the SBC. I have written about my gratitude for one of these churches here and here. By contrast, the abusive, disrespectful, and outright misogynistic behavior that I have heard about from close friends or experienced firsthand myself (and, believe me, there has been plenty) has come almost exclusively from secular institutions, especially from secular academia. In other words, I agree with Moore when he cautions against the conclusion that some have reached, that the antidote to abuses in the church is secularism.
Still, readers like me, who have never suffered hurt from the church, need to read this book—and those of Beth Moore and Karen Swallow Prior—to try and understand brothers and sisters in Christ who have experienced such pain from the places and people who should have placed the gospel over all else but didn't. Ignorance of evil does not make the evil go away. Complacency if we find ourselves in a situation where we see such evil will only make us complicit, Moore reminds repeatedly.
Church leaders and churches may fail us at times. As Moore admits, "American Christianity is in crisis. The church is a scandal in all the worst ways… Evangelical Christianity as we know it might not survive. American evangelicalism might not be there for the future. But someone will be. As long as there's a church, there will be people within reminding everyone else that the Spirit blows where he wills, and that there's hope, no matter how far gone a person goes, to be born again." Because the gospel—the Good News of Jesus Christ who came to die for sinful people like me and each and every one of us—will never fail.