Tim Larsen offered an important bit of unicorn-related trivia in a comment last week: a group of unicorns is called a blessing. This is the third unicorn roundup of eclectic reads from this week. But is it a blessing?
***
We started this week at Current with Jane Greer's review of a somewhat unusual royal memoir—The Habsburg Way. Jane briefly referenced a more famous (and definitely less tame) royal memoir from earlier this year, Prince Harry's best-selling Spare. Naturally, this conversation called for further scientific research.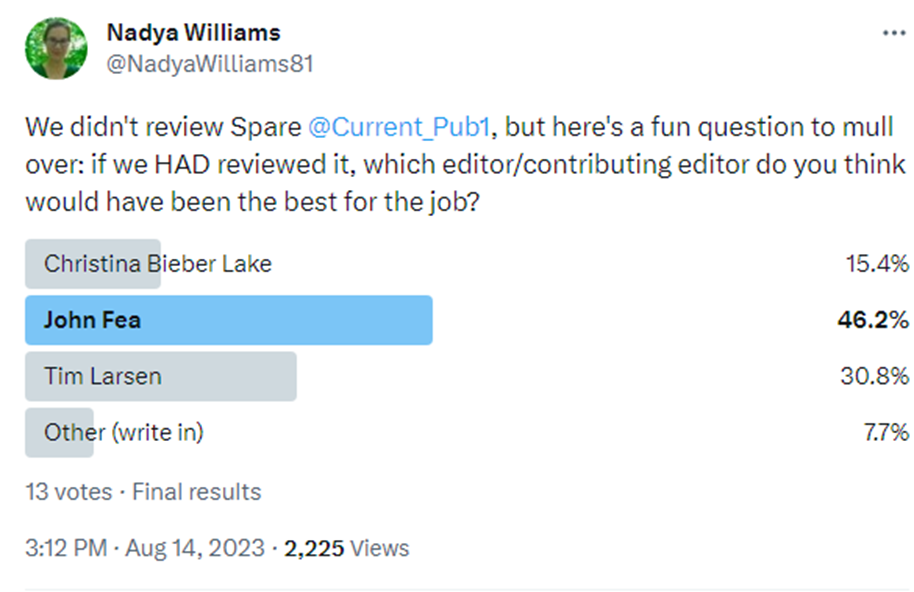 In an awkward moment, John Fea tried to interfere with this election by publicly admitting on Twitter that he had to look up Spare before voting. This appears to have backfired, however, as poll results show. But I do think Tim Larsen may have grounds for contesting this election.
***
In September, which is increasingly less far away, Current will run a two-week forum of essays, reviews, and short responses on the state of higher education right now. It will be amazing, we can promise you that. And part of this forum will be a review of a new volume The Liberating Arts, out now from Plough Books. This week, Plough ran Zena Hitz's chapter from this volume, "What Is Time For?" It will be very good use of your time to read it in full. But here's a taste:
What would happen if we tried to organize our lives around merely instrumental pursuits? We are not likely to order our lives around grocery shopping or paying taxes. But what about earning money? If I pack my swim bag, put on shoes, get my keys, and drive my car to the pool, only to find it closed, my goal of swimming is frustrated, and my string of actions is in vain. Suppose the pool is open and I get to swim: Why do I do it? I swim for the sake of health. I want to be healthy so I can work. I work for the sake of money. And the money is for the sake of food, drink, housing, recreation, and exercise – all of which make it possible for me to work.
I have described a life of utter futility. If I work for the sake of money, spending money on basic necessities, and if my life is organized around working, my life is a pointless spiral of work for the sake of work. It is like buying ice cream, immediately selling it for cash, and then spending the proceeds on ice cream (which one sells once again, and so on). It is just as tragic as working for money and getting crushed by a falling anvil on the way to cash the paycheck. For this reason Aristotle argued that there must be some activity or activities beyond work – leisure, for the sake of which we work and without which our work is in vain. Leisure is not merely recreation, which we might undertake for the sake of work – to relax or rest before beginning to labor anew. It is an activity or set of activities that could count as the culmination of all our endeavors. For Aristotle, only contemplation could be ultimately satisfying in this way: the activity of seeing and understanding and savoring the world as it is.
***
On a philosophy-related note, philosopher and Wake Forest University Professor Christian Miller announced this week the conclusion of (the grant period of) his Honesty Project. You can read more about this important project here. And here is a bibliography of the work that has emerged from it.
***
Philip Bunn's review of Sohrab Ahmari's Tyranny, Inc. this week at Front Porch Republic is a classic example of the usefulness of reviews. I had heard the buzz around this book, but it didn't seem of interest until I read Philip's review and reflections. A taste from his conclusions:
Though squarely positioned in the American right wing, Ahmari offers a critique of corporate tyranny that ought to be persuasive or at least challenging to those far outside his standard political network. Indeed, the blurbs of Ahmari's book anticipate this: figures as diverse as Slavoj Žižek, Fredrik deBoer, Josh Hawley, and Glenn Greenwald have expressed positive sentiments on his thesis. It is difficult to imagine many other books on which figures across that range might find some common ground. Tyranny, Inc. will thus likely serve as a touchstone of the conversation surrounding big business and the future of liberty, with which future commentators must grapple to contribute seriously to the subject.
In emphasizing that tyrannical behavior can originate from private actors, Ahmari is in good company. Alexis de Tocqueville famously reflected on the possible development of what he termed an "industrial aristocracy" in America, one characterized by the sharp division between laborers and masters, and one that threatened the preservation of both equality and liberty in America if left unchecked. Ahmari aids in restoring this broader understanding of potential and current threats to our liberty, and our political conversation will be the better for it.
***
Rob Vaughn wrote a heartfelt love letter to his old (200 years old!) childhood home in NJ, which has recently been torn down. A taste:
My parents, now gone, bought the place on Glenside Avenue in Summit in 1968. (They sold it in the '80s after we kids left.) Property records say it was built in 1808. It was ancient. The floors were not level and Dad discovered corn cobs in the walls for insulation. I suspect the recent demolition unleashed a torrent of cobs.
And there would have been sobs, had I known that house had an expiration date. I didn't cry when I got Mike's photo, but there was a creeping sense of heartbreak. Followed by a low hum of bewilderment: all that stuff on Glenside Avenue, in and around that home with the clanging radiators and the spooky basement and the big kitchen where my mother filled the air with singing and the fragrance of southern cooking — all of that really happened, didn't it?
Memories are weird. One second, they're vivid and sweet; the next second, they're blurry and you have doubts about their veracity. One moment, they're solid, like the huge slab of rock that covered a primordial well behind our old house; then, they're turning to mist and you're not sure you would swear to them in a court of law. But memories, however indistinct, are the portal to the world that was, and they're a gift.
***
If you and/or your offspring have read and appreciated Calvin and Hobbes (the boy and his tiger, not the reformer and the Thucydides scholar), you may enjoy Nic Rowan's essay on Bill Waterson. Why did Waterson walk away from his project at the height of its popularity, Rowan wonders? He attempts to untangle the answer:
"Work and home were so intermingled that I had no refuge from the strip when I needed a break," Watterson recalls. "Day or night, the work was always right there, and the book-publishing schedule was as relentless as the newspaper deadlines. Having certain perfectionist and maniacal tendencies, I was consumed by Calvin and Hobbes."
***
Have a wonderful Saturday, friends!