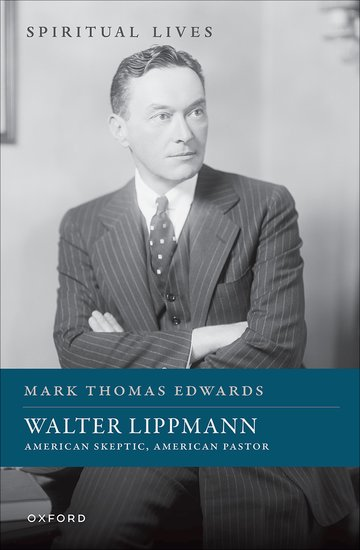 Mark Thomas Edwards is professor of US history and politics at Spring Arbor University in Michigan. He is the author of The Right of the Protestant Left: God's Totalitarianism (2012) and Faith and Foreign Affairs in the American Century (2019). In the Spring of 2018, he served as Fulbright Senior Scholar to Hankuk University of Foreign Studies in Seoul, Korea, where he taught American diplomatic history.
Today he visits the Arena to talk about his new book, Walter Lippmann: American Skeptic, American Pastor, out just last week with Oxford University Press. The book is part of the Spiritual Lives series, edited by Current's Contributing Editor Tim Larsen.
For those who may not have heard of Walter Lippmann, who is he in brief?
Walter Lippmann was not the most popular "op ed" journalist in twentieth-century America, but he was close, with a weekly readership of ten to twelve million. He was most likely the highest paid, working for the New York World (1920s), the New York Herald Tribune (1930s-1960s), and the Washington Post (1960s).
Lippmann wrote his first book, the critically acclaimed A Preface to Politics (1913), in just a few weeks and before age twenty-five. He went on to write twenty more, including the bestsellers A Preface to Morals (1929) and U. S. Foreign Policy (1943). His Public Opinion (1922) remains a classic in political theory and media studies.
Lippmann also served in U.S. military intelligence during World War I and drafted parts of Woodrow Wilson's "14 Points" peace platform. He befriended, advised, challenged, and rebuffed U. S. politicians well into the 1960s, most notably Wilson, the Roosevelts, John F. Kennedy, and Lyndon Johnson. Lippmann was the only American allowed to interview Soviet Premier Nikita Khrushchev, which he did twice in 1958 and 1961. He is generally remembered as a Keynesian liberal in domestic politics and a realistic Wilsonian in international affairs. Among the many words he coined, "stereotype," "manufacture of consent," and "Cold War" might be the most memorable.
So how did you get interested in Lippmann? What was it like to dwell with him (intellectually speaking) for these past few years, as you were working on this book?
I wasn't interested in Lippmann in 2018 when I approached Tim Larsen, Oxford's wonderfully generous Spiritual Lives series editor. I wanted to write about Bono. I hoped to expand on an essay I had written in grad school, "Bono: The Post-Christian Gadfly," where I argued that U2's frontman represented an unmooring of "Christianity" from traditional intellectual and social formations—and that Bono was, well, annoying in a good way. Due to copyright issues, Tim vetoed the project but encouraged me to consider other subjects like Dwight Eisenhower. I don't like Ike, but I did remember enjoying Lippmann's books from grad school days. Tim and Oxford approved, and so I was off.
I can't remember when or why I settled on "post-Christian" as the main frame for understanding Lippmann. But it was while drafting the epilogue that I realized I had written about Bono all along (and I'm certain that Lippmann would have enjoyed U2's "I Still Haven't Found What I'm Looking For").
What I most learned from Lippmann was that he was "us" before there was us. As much as Lippmann was shaped by and shaped his times, he anticipated ours, especially our problems of finding solidarity in ever more complex "Great Societies." For Lippmann, from his Harvard socialist days until his defense of Nixon as our rightful king, the question of how to get along absent a common culture was a spiritual and religious one.
Readers who want to learn more about Lippmann the man should read Ronald Steel's masterpiece, Walter Lippmann and the American Century (1980). It wasn't that Steel overlooked Lippmann's obsession with religious belonging but rather that it got lost in the 500+ pages. My book is among a forthcoming slate of targeted Lippman studies. On that point, everyone should be on the lookout for Tom Arnold-Forster's Walter Lippmann: A Political Biography to be published by Princeton sometime next year.
Can you give us a taste of something surprising, intriguing, and unexpected that you have found in your work on this project?
I was surprised by how easy and fun it was to write. I outlined this book paragraph-by-paragraph over spring break of 2020. Then Covid hit. I found myself with more time and energy because I didn't have to drive to campus for classes (and with guilt for working from home when so many couldn't). I started very early each morning with a walk/run during which I would imagine that day's sentences. I then went home and wrote them. Nine months later, I had a completed draft. My takeaways: 1. Walking makes for clearer thinking (running is still awful); and 2. I'm so grateful I spent the first year of a global pandemic with Lippmann and not CNN or FOX.
Now, about Lippmann: I think I was most intrigued by what Steel termed Lippmann's "Jewish anti-Semitism." Lippmann had experienced discrimination firsthand at Harvard and during his military service. We shouldn't blame him for never talking about his ethnic background, for censoring others from doing so, and for opposing Zionism. Yet Lippmann went so far as to downplay Henry Ford's anti-Semitism and criticize Jews for being conspicuous consumers. Lippmann also offered secret support for Harvard's quota system. He hoped that Jewish boys would marry Nordic Protestant girls and then melt into the mainstream as he thought he had done. Finally, when it became clear what the Nazis were doing in Germany and elsewhere, Lippmann recommended that the U. S. relocate European Jews to Africa because America was too crowded.
Lippmann's ambivalence toward cultural pluralism after 1920 was reflected in his break with his best friend, the Supreme Court Justice Felix Frankfurter, over Nazi treatment of the Jews. Frankfurter's Court would later introduce the "wall of separation" notion into church-state relations (1948), while Lippmann would argue that prayer and Bible reading should remain in public schools. Granted, Frankfurter had terrible handwriting and blustered on and on, so I understand where Lippmann was coming from.
Your book is part of a Spiritual Lives series. What would you say is the value of reading spiritual biographies, whether for historians and/or for the general public?
Oxford's Spiritual Lives project complicates commonsense meanings of "spirituality." In the case of Woodrow Wilson, whom most everyone would acknowledge to be a religious person, Barry Hankins's entry offers new ways of thinking about HOW Wilson was spiritual. The anthropologist Margaret Mead, meanwhile, is generally not remembered as a Christian public intellectual. But Elesha Coffman's biography proves just how unconventionally conventional was the spirit of one of the twentieth-century's greatest influencers. My book is closer to Coffman's in trying to recover and account for Lippmann's affiliation with what he called the "classical and Christian heritage."
I use contemporary terminology like Spiritual but Not Religious (SBNR) and Religious but Not Spiritual (RBNS) to highlight Lippmann's foreshadowing of our present. This has aggravated some friends and colleagues. But my primary aim was to overwhelm the reader with just how consistently and profoundly Lippmann's politics were shaped by his hope-fears about religions and vice versa. The extensive quotations are intentional: I invite readers to join Lippmann in working through the dilemmas of post-enlightenment spirituality just as I have.
I don't believe it is possible completely to categorize Lippmann the skeptic-pastor or pastor-skeptic. Is that because he really was "incurably eclectic," as he put it, or because I am imposing my own love/hate relationship with paradox upon him?