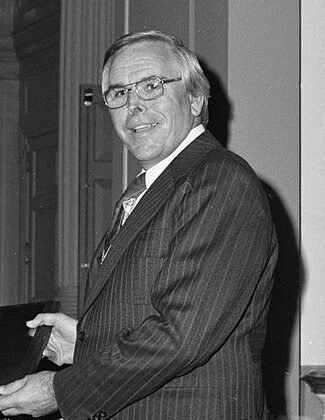 Historians love anniversaries. They give them an excuse for writing about what they want to write about anyway.
This year is the 40th anniversary of a book that, unless you're approaching retirement age you have likely never heard of, but its influence may have been as large as anything else occurring in 1983: Robert Schuller's Self-Esteem: The New Reformation.
Schuller (1926-2015) was one of the prominent televangelists of the 1980s. His was a rather mild, "power of positive thinking" style of Christianity, appealing to affluent, successful people like the celebrities that attended his church in California. He had a classic mid-20th c. American story: born on a farm in the Midwest, raised in the Dutch Calvinist tradition, moved to California in the 1950s, innovated (his first church there was held at a drive-in theater) institutionally and re-tooled his message for modern people, became a great success.
In 1981 he moved into the newly constructed Crystal Cathedral, a multi-million dollar, earthquake-proof, all-glass building (constructed with more than 10,000 panes of glass) that seated more than 2000. His television show was called "The Hour of Power." Schuller's message (one of relentless optimism) along with his preaching style (which many found mesmerizing) gave me the willies, but he was never involved in any sexual or financial scandals (though things got a little Succession-y at the end), and Billy Graham seemed to respect him.
It's hard to say if Schuller was more of a vector for his very positive theology or a seismograph, but his book got attention even among those who hated his approach. Some of it, in my judgment, was because people feared he was onto something. Church leaders were just becoming aware of how competitive the religious marketplace was. Seminarians like myself were waking up to the fact that people weren't tied to their family's faith tradition anymore. They were mobile, going where their felt needs were satisfied, and Schuller identified a popular theme.
The book said things that were shocking at the time, but which now sound almost like platitudes, bed-rock assumptions anyone trying to appeal to middle-America violates at their peril: "Classical theology has erred in its insistence that theology be 'God-centered,' not 'man-centered' … I have no right to ever preach a sermon or write an article that would offend the self-respect and violate the self-dignity of a listener or reader … Sin is any act or thought that robs myself or another human being of his or her self-esteem … Sin is psychological self-abuse … the most serious sin is one that causes me to say, 'I am unworthy' … To be born again means that we must be changed from a negative to a positive self-image–from inferiority to self-esteem, from fear to love, from doubt to trust …"
Schuller's ideas may not even today dominate the field, they might not even be explicitly acknowledged in every church. But they are back there, behind the scenes, acting more or less as controls, limiting what preachers feel comfortable saying, shaping the way they say it, affecting their read of what the people will tolerate and what they won't.
His claim that this fresh sensitivity to people's self-esteem constitutes a "New Reformation" seemed like marketing blather at the time. Now, I'm not so sure. His notions jibed with a view then latching on that people were, in effect, victims–of life, of the world, of the workplace, of their families, of everything–and that they needed to be treated gently to be restored to effectiveness–or maybe just peace of mind. I see this everywhere now. Where I ramble, the word that is most often used by the exceedingly affluent and secure white Christians I know when they describe themselves is "broken." Schuller's notion that Christianity should be a kind of therapy for such people is one of the pillars of our contemporary temple, a liturgy for the age of anxiety.