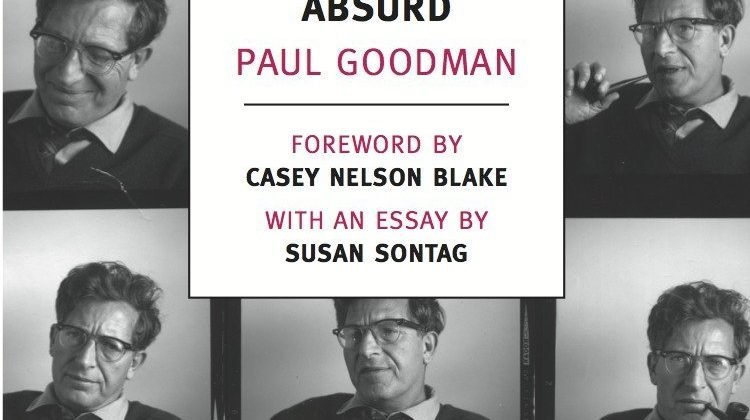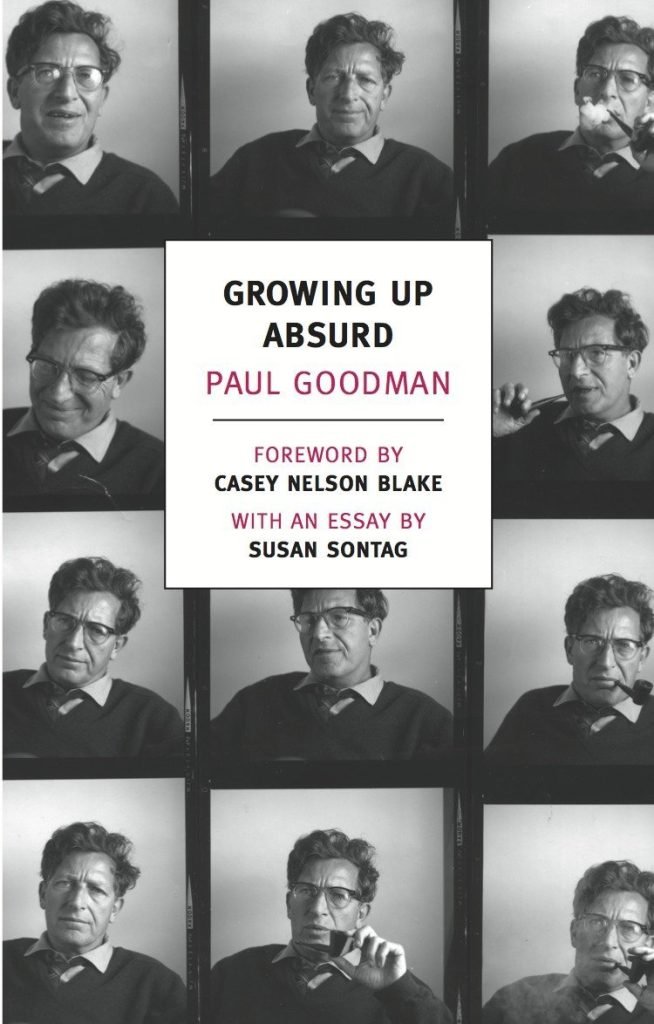 I recently picked up the NYRB edition of Paul Goodman's Growing Up Absurd, which has a foreword by Casey Nelson Blake. In that foreword, Blake suggests that some aspects of the book are still relevant. For Blake, Goodman is part of "the sturdy tradition of American social and cultural criticism," which Blake also finds significant to the young writers at places including Front Porch Republic, who have "turned for inspiration to thinkers indifferent to political conventions."
As someone who sometimes writes for FPR, when I saw it referenced, I was immediately intrigued about the ways that Growing Up Absurd's social and cultural criticism might apply today and determined to reflect on that myself. This essay is the first in a series of three for Arena about Growing Up Absurd and its relevance for America in 2023.
Growing Up Absurd: Problems of Youth in the Organized Society was first published in 1960. It was a bestseller that, even in 2023, you'd be hard pressed not to have heard of. It is deeply concerned with the challenges of growing up in American society, using delinquent youth as a doorway into the reality that society was becoming, for most, a meaningless rat race.
Some of Growing Up Absurd definitely feels dated. For example, Paul Goodman was only concerned with the plight of boys. He believed that girls had a fixed and satisfactory place in organized society and we didn't need to worry much about them. Growing Up Absurd also has a lot of observations on the Beats, who have more or less disappeared from the scene.
This is the kind of book that you'd see Don Draper pondering alone at the end of some episode of Mad Men. Yet, in many respects, the book truly does contain quite a bit that applies in 2023. In the introduction, Goodman suggests that "our abundant society is at present simply deficient in many of the most elementary objective opportunities and worth-while goals that could make growing up possible." There seems to be little to no dignity in adulthood. In America, growing up means going to work. "But the question is what it means to grow up into such a fact as: 'During my productive years I will spend eight hours a day doing what is no good.'" Goodman references a study looking at the relationship between workers and their employment, which did not even "inquire about the usefulness of the job." This is a problem, because for Goodman, it is a "philosophic truth that except in worthwhile activity there is no way to be happy."
In the years since 1960, this problem has persisted. Work very often does not seem worthwhile and certainly few of us are doing jobs that others would consider noble in any way. Think of a movie like Office Space (1999), in which it is clear that everything everyone is doing at work is worthless. Once the main character, Peter Gibbons, stops caring about anything, he's happier than ever before. Think about the movie Wanted (2008), in which Wesley Gibson is a pushover at a silly desk job, bullied by his boss, until he is activated as an assassin and begins to truly live. Think about all the men you know under 40 who plan to retire at 40. Clearly these men do not find great meaning in their work. You would only leave behind something you didn't think mattered much.
For too many Americans, work is what it takes to pay rent and student loans and go on vacation. It is not a vocation. It is not necessarily "worthwhile activity." So much of what contributes to human dignity for adults is what Teddy Roosevelt praised, the opportunity to do work worth doing. Goodman writes that our society is "…thriving on maximum profits and full employment but without regard for utility, quality, rational productivity, personal freedom, independent enterprise, human scale, manly vocation, or genuine culture."
Goodman argues that teenage delinquent behavior is actually a request. "It asks for manly opportunities to work, make a little money, and have self-esteem; to have some space to bang around in, that is not always somebody's property; to have better schools to open for them horizons of interest; to have more and better sex without fear or shame; to share somehow in the symbolic goods (like cars) that are made so much of; to have a community and a country to be loyal to; to claim attention and have a voice. These are not outlandish demands."
We might still today see delinquency as a response to a lack of opportunity for "manly" work, self-esteem, and a place in a real society. But we can also see those same needs in adults reflected in the opposite of delinquency in 2023. Think of the obsession with Navy SEALs and their workouts. Jocko Willink has over 805,000 followers on twitter, who soak up his early morning pictures of sweaty workout mats. A few people pay to be trained by SEALs, quite a few people do Crossfit, HEW, etc. They want to be inspired to wake up at 4 am and push their bodies to the limit—before they go to work, where they apparently cannot prove themselves in a meaningful way. They want a challenge and they want an opportunity to feel they have earned respect. We are clearly searching for something you don't get by having great spreadsheets and quarterly reports, which often relate to goals and products we don't actually care about. People are craving accomplishment and self-esteem. Where are the jobs that are "worthwhile activity?" If we had them, we might be able to spend more of our downtime with our children.
If there are those who seek to find their own fulfillment, in 1950s teenage delinquency or in 2000s weekend warrior efforts, there are others who simply accept defeat. Goodman writes that "young men who conform to the dominant society become for the most part apathetic, disappointed, cynical, and wasted." This is Wesley Gibson before Angelina Jolie shows up. This is not relevant to everyone in 2023, but it certainly resonates in some circles. There are people who think that all jobs are a joke. All causes are ridiculous. Everyone is an idiot. Read the comments on an online article or a TikTok post or wander around on Twitter. Or read the insulting t-shirts some people wear. There are cynics among us, some of whom think "I Support the Current Thing" is the best joke they've ever heard. It's impossible that any current thing would be worth caring about.
Seeing these outcomes in adults, in many ways, proves some of the arguments of Growing Up Absurd. Many people do not grow up properly with our societal conditions. In 2000, millions of young people were listening to "Real Slim Shady" by Eminem. They found it profane and rude and funny. "All you do is annoy me/ so I have been sent here to destroy you/ And there's a million of us just like me/ Who cuss like me/ who just don't give a f— like me/ Who dress like me/ walk, talk and act like me/ And just might be the next best thing/ but not quite me." Maybe there is a timeless aspect of teenage rebellion and saying outrageous things to get a reaction about that song. But if you go online, some of those teens clearly never matured out of that attitude as they became adults. We have men and women in their forties and fifties who still operate with that ethos.
It's not just that it is hard to find worthwhile occupations and uses of our time, Growing Up Absurd also highlights a consequence of a decline in religious belief as the loss of a sense of an objective, created world. This isn't necessarily about a seven-day creation or a particular religious tradition. Goodman writes that young people are lacking a sense of "a real world, rather than a system of social rules that indeed are often arbitrary."
Goodman was convinced that many a young man "feels that the social roles are entirely learned and artificial; he cannot begin to belong and play a part just being himself and following the promptings of nature and ordinary human associations." This observation seems incredibly relevant to today. The widespread belief in the arbitrariness of social rules and roles has made society a more challenging place for many people to navigate. Both who you are and the right way to treat people seem to be highly negotiable. We see a range of reactions to these circumstances. Some people act out or seek to boldly define themselves. Others simply fade into the background or abandon the cause of self-definition.
Consider both extremes of the responses to COVID restrictions and vaccination. If we believe that everything around us is driven by perception and agenda, we have no space to believe that anyone is making a good faith effort to do anything based on evidence or conviction. We find ourselves miserable, unable to relate to people who disagree with us, and too often defining ourselves by rules and reactions we categorically reject without consideration. We live our lives like an episode of South Park, everything becomes something to cynically pick apart.
Among those most antagonized by what they consider society's arbitrary rules, it is not uncommon to mock those who seem more willing or able to abide by those rules. An insult on the rise these days is to call someone an "NPC"—a non-player character. This is taken from the world of video games, where there are characters that are not animated by players, they are little more than programmed scenery. For those who find the perceived arbitrariness of society to be angering, the people who go along with it are basically electric sheep.
Most of us don't want to be sheep, even if our religious tradition encourages us to see ourselves as sheep in some ways. The absence of a clear path for human dignity and a well-defined self is as clear in 2023 as it was in 1960. People still crave meaningful work, though most jobs are seemingly untethered to meaning. People need a place in society, but many find society's rules to be seemingly arbitrary. We want a fixed, good position, but we often find it hard to find. A better sense of the social contract and more emphasis on vocation would be as much of an improvement now as ever.