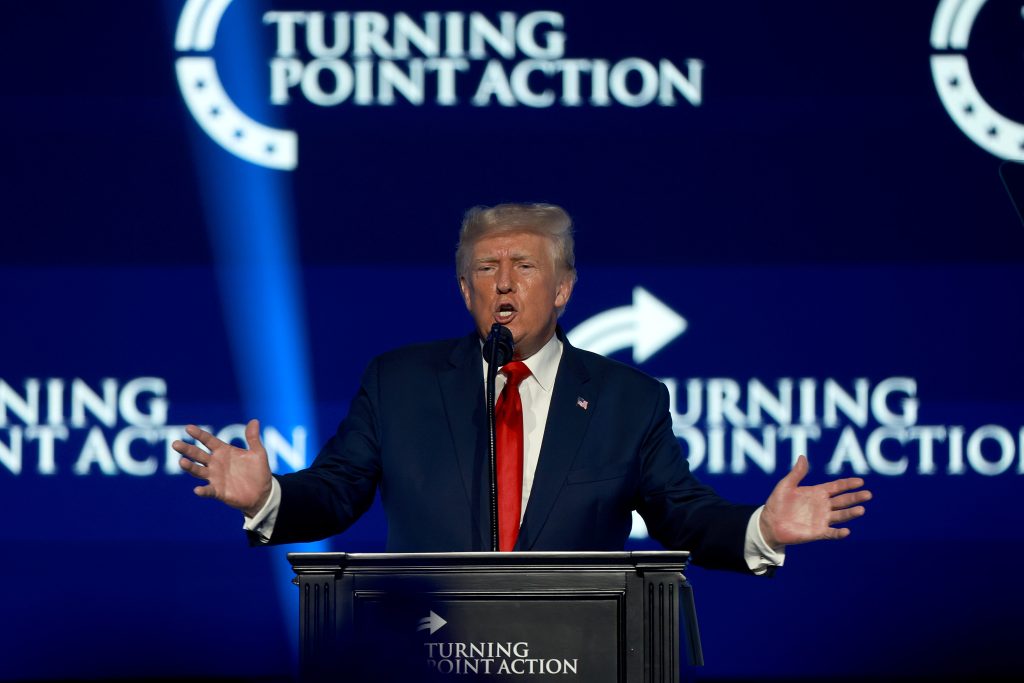 He was the keynote speaker at Charlie Kirk's Trumpfest. Here is what I "learned":
Donald Trump started putting the words "Marxist" and "Fascist" in his talks and now everyone is using these terms. (Just for the record, Marxism and Fascism are opposite ideologies. This is also the essence of narcissism).
Bill Clinton kept 79 audio tapes in his socks. (Here is what actually happened),
The National Archives and Records Administration (NARA) is a 'very Left" group who are "sick people."
Donald Trump had too much respect for the office of the presidency to attack Joe Biden, but now that Trump is indicted "the gloves are off."
"I am being indicted for you." (Apparently he has a Messiah complex to go along with his narcissism. Trump will go to jail to set you free!)
Joe Biden is the most corrupt president in American history. (Says the twice-impeached and multiple-indicted former president)
If Trump gets re-elected America will once again be free.
The world is laughing at Joe Biden and think he is totally corrupt.
Biden doesn't know "where the hell he is" and he wasn't very smart thirty years ago either.
Chris Christie is "sloppy"
The president of Mexico is a "great guy" despite the fact that he is a socialist.
One can buy a "Limited Edition' Trump Tumbler for just $10.00.
Mexican soldiers are not "politically correct."
Trump wll "obliterate" the deep state if he gets re-elected.
Trump will end the Ukraine-Russia war in 24 hours after becoming president.
Ron DeSantis is a "son of a b*tch".
Donald Trump will prevent World War III.
Undocumented immgirants are "snakes" that want to kill us
All "communists" and "Marxists" will not be permitted in the United States in a Trump administration.
Adam Schiff is a Marxist who hates our country.
Here are some live comments on the Right Side Broadcasting Network stream of Trump's speech:
​RESTORATION AND VINDICATION
​THE BLOOD OF JESUS IS THE RED WAVE
Everyone is laughing at our country
​ORANGE MAN GOOD
Gee, Trump looks sharp and fit! TRUMP 2024
CHRIST IS KING
MEL GIBSON RESPECTS PRESIDENT TRUMP
COCAINE KAMALA
God bless Donald Trump
Trump smartest president ever
Jesus Is Our Savior – MAGA Is Our Movement – TRUMP Is Our Commander In Chief!!
DRILL BABY DRILL
The Christian world loves Donald Trump
TRUMP=Anointed By GOD
Trump, Please finish the WALL !!!!!!!!!!!!!!!!!!!! Please close the border !!!!!!!
Best president Donald j Trump' 45th and 47th.fighting for the American people.. God
blessed this president.keep him safe. He is the one to make America great again. fromTrinidad
​DIVINE TIMING = PRESIDENT DONALD J TRUMP
Trump is OUR BRAVEHEART
​its a spritual war, get back to God, without God we cant win
Yes, we were great from 2016 to 2020