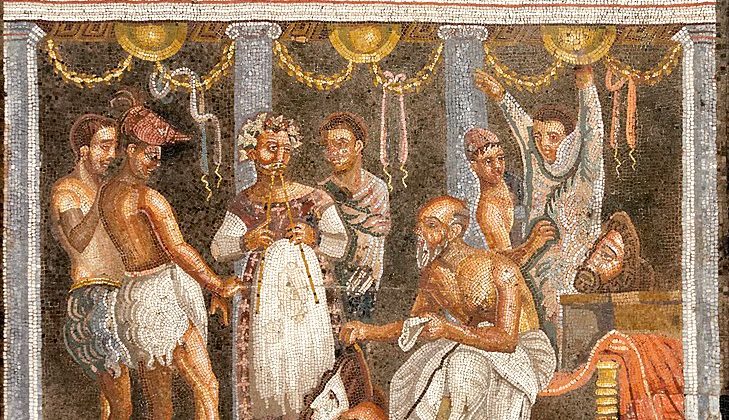 In the opening number of Stephen Sondheim's Broadway musical A Funny Thing Happened on the Way to the Forum, made into a film by the same name in 1966, the narrator/protagonist does his best to excite the audience about the production afoot: "Something familiar, something peculiar, something for everyone: a comedy tonight!"
Indeed. But what exactly is served up for comedy tonight? In short, a lot of slapstick humor, bawdy jokes, and a good window into the world of Roman slavery.
Recently, when I invited Arena readers to let me know what topics they wanted to see covered in this space, John Gardner took the assignment to heart and posed several excellent questions. Today I address one of them: what was slavery in the ancient Mediterranean world like, and how did it differ from slavery in antebellum U.S. South? As a historian of the ancient world, I will focus on the first part of the question and only briefly touch upon the second.
There were different types of unfree labor around the ancient Mediterranean, but perhaps we know the most about Roman slavery. Roman comedy is not a bad place to begin in trying to understand Roman slavery and how the Romans themselves saw slaves in their midst. And A Funny Thing Happened on the Way to the Forum happens to be a good introduction to Roman comedy. The plot combines stock characters and plots of multiple comedies of Plautus, a Roman comic poet of the late third and early second century BC, more of whose comedies survived than of any other writer of Roman comedy.
Roman comedy was based around stock characters. And so, some of the characters in the film bear the very names of their stock types. Senex is the old man and father of the household, kind of past his prime. Everyone else is trying to bamboozle him a bit; he seems to be asking for it perhaps. Domina is the lady of the house, his domineering wife—the one who really calls the shots. Miles Gloriosus is the braggart soldier who appears half-way through the plot to complicate the situation. A conqueror of something like twenty countries in ten days, he is all business, reminding us that sometimes the funniest people are those who take themselves too seriously.
In addition to these three, A Funny Thing features the son of Senex and Domina. He is the stereotypical clueless young man in love. We also get to meet his love interest, but there is a complication. She is enslaved and owned by someone else—in most comedies, as in this one, by the brothel owner next door. Just another regular neighborhood in Rome, you know. But, moving right along, last but not least, the most important stock character for the plot, the one whose clever machinations make everything somehow work out at the end for everyone is… the clever slave. In A Funny Thing, this is the narrator, Pseudolus—the titular character of one of Plautus' surviving comedies.
Using these stock stereotypes, Roman comedies based their rather similar plots loosely on long-lost (to us, at any rate) Greek originals but adapted everything to have a sufficiently Roman flavor. The plot typically revolves around a love story that seems doomed, but somehow, often because of a case of mistaken identity that is suddenly cleared up at the end of the play, everything works out. Boy gets girl, at least.
There are jokes aplenty. Both Plautus's originals and A Funny Thing Happened on the Way to the Forum are quite funny. And yet, if we pay close attention, we may notice a startling element that is taken for granted in the Roman context. This something is present in every scene and is even more readily visible in the film version than we might notice if we were just reading Plautus's originals today: enslaved people are everywhere, just as they were everywhere in the Roman world in Plautus's time. And their lives, as the comedies readily and unapologetically show, were bleak.
The Romans were continuously at war during the third century BCE, a period of rapid and dramatic expansion. With each conquest, there were more people to capture and sell into slavery. Once enslaved, they became absorbed into the urban and rural landscape. Some could be freed eventually, but definitely not most. This is a reality that Plautus, in whose lifetime this was a normal part of life, shows in his plays. For Plautus, this is prime fodder for jokes. Slapstick humor, after all, requires that someone be tripped up, beaten, threatened, thrown out of a window, flipped out of a cart—well, you get the idea. And it is the enslaved men who most often bear this violence in comedies. No wonder Pseudolus spends his time wondering how he might accomplish two things: 1. Avoid a beating; and 2. Earn his freedom.
But the fate of enslaved women was generally worse, as comedy shows as well. Repeatedly in Roman comedy, and likewise in A Funny Thing, they are intended for prostitution. Even when they are not in brothels, the film's song "Everybody Ought to Have a Maid" reminds us that they were still not that much better off. Only a lucky last-minute identity revelation shows that the love interest of the young man is, after all, a freeborn woman and nobly born to boot. Therefore, she must immediately be set free. But for the rest of the enslaved women in the Roman world, whether in comedy or in real life, no such respite or rescue was forthcoming.
Ultimately, there is no sugar-coating slavery in the Roman world any more or less than in any other place or time in history where people thought it appropriate to own other people. There have been occasional (and controversial) attempts among Americans to try and argue that maybe not all slavery was awful, and some slaves were even happy. The Romans never tried to make such an argument.
As Roman comedy shows clearly, the Romans took it for granted that slavery was an abusive practice, but in a world where some enslaved men also fought each other to the death for public entertainment, it did not seem to trouble anyone much. In a highly stratified world, the suffering of some was of no consequence; it merely reinforced the expected social hierarchy. One key difference, nevertheless, between Roman slavery and more modern iterations is that it was not racially based. And yet, this only made life more uncertain.
Roman comedy delights in cases of mistaken identity that illustrate the uncertainty of fate for all in the ancient world. Sometimes, as in A Funny Thing, the mistaken identity mystery originates when people are kidnapped by pirates and sold into slavery. Such stories, while allowing for plenty of jokes and dramatic plot lines, also show the less funny reality: the freedom and dignity of every single person was fragile in this world.
Perhaps the most famous individual in the Roman Republic who was captured by pirates, but speedily arranged for his own ransom, avoiding possible enslavement, was none other than young Julius Caesar. Following his ransom, Caesar turned around and pursued the pirates who had kidnapped him. He promptly captured them and had them all put to death. If asked to summarize his ordeal, Caesar likely would have agreed with Pseudolus's catchy refrain in A Funny Thing's opening act: "tragedy tomorrow, comedy tonight."