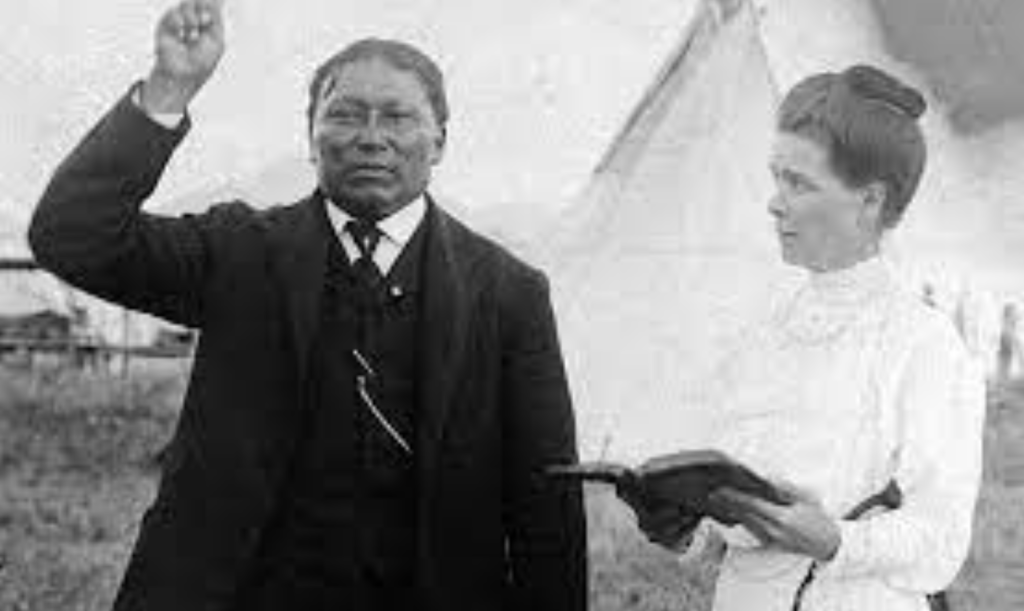 Isabel Crawford—a deaf Baptist missionary to the Kiowa—practiced a more excellent way
Of all past Christian endeavors, missions may be the most maligned—and not without reason. Imperialism and Christianity, in fact, arrived in many lands inextricably linked. Yet Isabel Crawford was not like the others. The deaf twenty-something Baptist missionary from Canada served on the Oklahoma reservation of the Kiowa nation from 1893 to 1906 during one of the most tumultuous periods of Euro-American and Indian relations. However, her culturally sensitive approach of bringing Christianity to the Kiowa defied the norms of her time, offering an example of exceptional mission work to which we can still aspire today.
I believe the reason lies in Crawford herself. Crawford was not meek and mild. Instead, as she described herself in her journals, she possessed "a castiron [sic] constitution, a Scotch backbone, and a fully developed Irish funny bone," according to Marilyn Färdig Whiteley's research in her book More Than I Asked For: The Life of Isabel Crawford. And Crawford certainly needed a hardy constitution, for fulfilling her assigned mission to the Kiowa, Comanche, and Apache in the Wichita Mountains of Oklahoma amid the roil of U.S. and Indian politics was no easy task.
A few years into her tenure Oklahoma would officially turn into reservation lands and would become a testing ground for the U.S. government's most harmful policies toward native peoples. Across the country these policies cleared the way for an array of destructive political acts: kidnapping (as it surely appeared) indigenous children and sending them to boarding schools; disallowing nomadic tribes from hunting and fishing in favor of farming within inhospitable climates; exiling warriors from their tribes after the U.S. military had defeated them; quashing the most defiant native voices; allowing settlers to grab land formerly designated as tribal territory and to hunt the buffalo to near-extinction; and forcing tribes to assimilate entirely into the European ideal of "civility" while seeking to stamp out any remnant of native culture, language, history and religion. According to The Red Road Project, reservations in the nineteenth century resembled "prisoner-of-war camps" instead of homesteads.
Much U.S. policy revolved around the popular adage "Kill the Indian, save the man," a slogan also endorsed by many religious leaders at the time, including Richard Henry Pratt. Pratt once wrote, "I am a Baptist because I believe in immersing the Indians in our civilization and when we get them under, holding them there until they are thoroughly soaked." (Pratt is also famous for his 1892 speech in which he said, "A great general has said that the only good Indian is a dead one.") In the mouth of Pratt, the sacrament of Christian baptism turned into a violent metaphor for indoctrination into white "civilization."
While Pratt's view was extreme for the time, American missions often matched the government's colonialist aims. Evangelism in the 1800s became an aggressive act, born of a conception of truth that discarded all of a "heathen's" past life, especially any past life that differed from the cultural norm of white protestant ideals. Missionaries acted as unofficial government agents in enforcing a policy of native ethnocide. As historian Clyde Ellis elaborates in the introduction to the Bison Books edition of Crawford's 1915 memoir, Kiowa: A Woman Missionary in Indian Territory, "Here [on reservations], under the watchful gaze of teachers, missionaries, and government farmers, policymakers hoped that the tribes would build a future in which they would be culturally indistinguishable from their white patrons—civilized, industrious, Christianized, white in every way except skin color."
Into this stew arrived Isabel Crawford. The daughter of a Canadian Baptist minister, "Belle" Crawford had been, in her words, "a terror" as a child and adolescent. At eighteen she contracted "consumption" (tuberculosis), and its treatment of quinine had the unfortunate side effect of leaving her deaf. She communicated by signs (including Plains Indian sign language), never quite mastering lip reading, and utilized various medical technologies of the time to aid her in hearing (a "conversation tube" and later an acoustic headband). Her illness may have left her health precarious, but it only made her faith more zealous. Her streak of religious fanaticism led her to pursue the career du jour for single women in her time: She would be a missionary. No longer a "terror," she wrote, but now a "holy terror."
No doubt, she understood that she and her colleagues were expected to carry the gospel of European supremacy to the Indians alongside any Christian teaching. But her memoir makes clear that she would not comply. She wrote in the preface, "The aim of this book is to contradict the statement that 'the only good Indian is a dead one.'" (I can almost see her glaring in Pratt's direction as she writes this, furious that she and he claim shelter beneath the same denominational umbrella.) So while Crawford did share many of the conservative ideals of her generation of Baptists (particularly her protestant work ethic and strong adherence to gender roles), her ministry in Oklahoma differed dramatically from her co-workers'.
For one, Crawford received invitations from Kiowa chiefs to each tribe she served. First, Chief Lone Wolf in Elk Creek (now Hobart), Oklahoma, recruited her to live amongst his tribe (1893-1896), and then Chief Dumot in Saddle Mountain, where she ministered from 1896-1906. Though not religious themselves, both chiefs saw that her presence offered a protection, not to mention access to resources they could not tap without the help of an Anglo-American.
In addition, her arrival to the Saddle Mountain Kiowa as a white, single, and disabled female, all alone, demonstrated to the tribe a fearlessness so unusual that even those Kiowa who felt hostile to her proselytizing greeted her with curiosity.
Even more surprising, she set up camp among both tribes, pitching a tent for thirteen years in the Oklahoma wilderness despite her precarious health. She fought fleas, suffered starvation, endured the extreme weather, and grieved for the dead right alongside the tribe. When Chief Dumot's child died, and then her own mother soon after, Crawford and Dumot grieved together. In a moving scene in her memoir, his tears drop onto her shoulders as he embraces her. Her fearlessness, her gender, and her deafness all made Crawford less threatening to the Kiowa peoples and initiated a greater mutuality in her ministry than a white male missionary could have cultivated.
But Crawford also understood her role differentlyfrom other Baptist missionaries in her region. In 1898, she wrote, countering the day's prejudice, "We are not here to boss the Indians [as missionaries], but to do what they let us when it is not wrong. [Even] if they are not 'citizens' on earth they are citizens of heaven and no person has a right to domineer over them."
Accordingly, Crawford taught the Kiowa to interpret the gospel on their own terms. She encouraged them to organize and fund their own mission society to reach other tribes with the gospel and deferred to their leadership in organizing themselves (though she herself was not shy about leading). She elevated one member of the tribe in particular: Lucius Aitsan, her first convert, who turned interpreter for her and then, at her encouragement, became the first native ordained pastor to serve at the Saddle Mountain Kiowa Indian Baptist Church until his death in the 1918 flu epidemic.
Her collaborative ministry style alongside tribal elders led to the establishment of one of the most integrated evangelistic efforts among the native population in the U.S., as illustrated by the rich history of Kiowa hymnody that emerged within the congregation she started. To date, hundreds of hymns have been composed by Kiowa, in the Kiowa language, and for Kiowa Christian worship.
Behind this distinctive ministry style lay a dramatic conversion that Crawford had experienced during her time among the Kiowa, a change of mind which both set her apart—and at odds—with her fellow missionaries, denomination, and even government. Whiteley, Crawford's biographer, told me in an interview that "Belle [came to see] the Kiowa as 'victims of the system,'" a perspective "characterized by one of her responses on a furlough trip to being asked [after speaking to a church group] whether white people had trouble with the Indians. And she replied that she didn't know about that but she did know that the Indians had a great deal of trouble with the whites."
Likewise, referring to the U.S. government policy among indigenous peoples, she wrote in her journal a few years after her arrival among the Kiowa, "They [the U.S. government agents] don't care two cents about the Indians. They want their land & minerals & they mean to get them even if they have to kill every red man on the continent. That's their policy."
So began her slide toward advocacy on behalf of indigenous Americans. While fellow missionaries used their furloughs to raise money, Crawford lectured congregations on the real Indian problem: white people. Throughout her life, she joined hands with many groups to advocate for Native American rights in the U.S., including the Friends of the Indian and Other Dependent Peoples, the Society of American Indians, and the Women's National Indian Association.
Yet her advocacy eventually created problems with her sending denomination. In a dispute about whether native members of the Saddle Mountain church were authorized to serve communion to themselves, the denomination insisted that only a white, male ordained minister could offer the sacrament to the congregation. Crawford disagreed, as Whiteley explains: Crawford felt that "the sacrament belonged to the congregation, not to the clergy. . . . It was so important to her that these people, as they developed toward becoming a church, that they be independent. And that's a good strong Baptist principle, but it didn't exactly fit with the hierarchy, let's say." For taking this stand she lost her post, and though she tried earnestly to return to live among the Kiowa again, the denomination steadfastly blocked her path to her beloved congregation. So she lived in exile.
It can be easy to dismiss all native missions as a form of cultural genocide; in fact, many efforts were. Yet as Luke Eric Lassiter points out in The Jesus Road, while the relationships between missionaries and Indians could be antagonistic, some "formed deeply meaningful relationships that did not require Indians to surrender their identity or even their beliefs. . . . What ultimately matters in these encounters is how Indians and missionaries alike responded to a 'shared history of interaction, communication, negotiation, and face-to-face encounters.'"
Crawford's ministry reflects this complexity—and for me, the best measure of Crawford's ministry comes in the words of the Kiowa themselves. On her last Sunday living among them in 1906, an elder prayed a blessing over the woman who had brought the tribe Christianity: "Who brought the 'little woman' over here? The Great God, our Father, that He may teach us more. She is your child. We are your children. We will call her no more white woman but sister."
Instead of whitening the tribe, the tribe had adopted Crawford. And if the tribe was changed by her presence, so was she changed by them, never again fitting within the white European frame of her fellows. Crawford carved a righteous and lonely path among the Baptist missionaries of her time as she sought to share the humanizing freedom of the gospel of Christ, which honors no one culture above any other. Her collaborative, relational method of ministry is why the Kiowa of Saddle Mountain mission would send for her body after her death in 1961, burying her among their own dead. Carved on her grave stone is the inscription, "I dwell among mine own people," and still, to this day, in the shadow of that mountain, she and they rest together.
Liz Charlotte Grant has published essays in the Huffington Post, Christianity Today, the Christian Century, and U.S. Catholic, among others, and her newsletter, the Empathy List, twice earned a Webby Award nomination (Best Independent newsletter for 2022, 2023). Her first book releases with Eerdmans in 2024.Find her on Instagram @LizCharlotteGrant and Twitter @LizCharlotteG.
Image Credit: American Baptist Historical Society