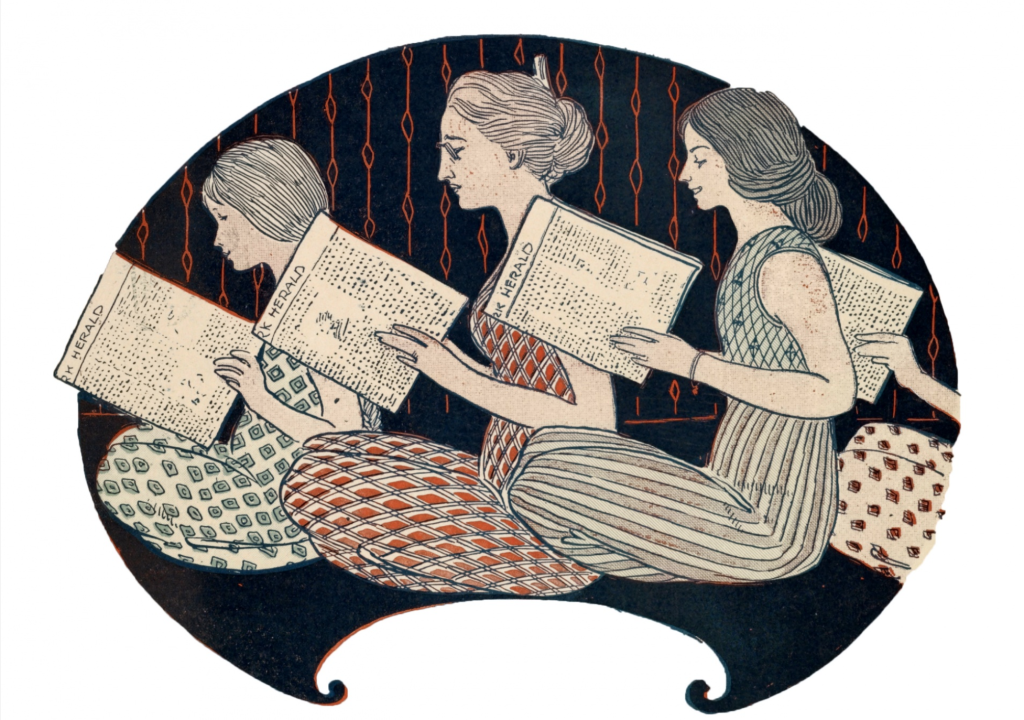 The good, true, and beautiful are here before us—if we have eyes to see
Here at Current we have previously noted our love of books that hold the potential to transform public discourse. We believe that Jessica Hooten Wilson's Reading for the Love of God: How to Read as a Spiritual Practice and Elissa Yukiko Weichbrodt's Redeeming Vision: A Christian Guide to Looking at and Learning from Art are two such books. Their books fit together remarkably well—indeed, Elissa has called them "book buddies." And so the idea for this written conversation between two authors who have never met "in real life" was born.
*
Editor: Elissa Weichbrodt has recently commented that both of your books "are guides to reading and looking with love. But they're also just exhortations on how to live a loving life." So perhaps each of you could start by explaining this point further.
Jessica Hooten Wilson: Love is a word that has lost its meaning in the public square because people use it to mean "be nice," "accept each other's faults," and so forth. When I tell my children that I love Marc Chagall or I love Dorothy L. Sayers, my five-year-old automatically queries, "More than God?" because the word "love" connotes for her "God loves me, and I love Him." She wants to be sure that whatever we love here is second to that love. It's a good reminder of how to love books, art, and neighbors—as ways to practice loving God, as ways to express our love of God, as ways to increase our love for God.
Elissa Yukiko Weichbrodt: Yes, I'm not interested in my students loving a Michelangelo sculpture or a Berthe Morisot painting for the sake of loving art. I'd be terribly disappointed if all that they got from Introduction to Art History was a list of interesting factoids. If we understand all mysteries and all knowledge and have not love, we gain nothing (1 Corinthians 13:2). I want us to look at art because we love God and want to know more about him and his creation, including other image bearers. I love what Jessica writes on page thirty-nine of her book, and I think the same applies to the viewer of art: "What begins in humility for the reader should be transfigured into an increase in charity—both vertically towards God and horizontally outward to our neighbors."
JHW: "[L]earning to see is the basis for learning all the arts except music. I know a good many fiction writers who paint, not because they're any good at painting, but because it helps their writing. It forces them to look at things." (Flannery O'Connor, Mystery and Manners 93)
When I was reading your book, Elissa, I thought of this quote from O'Connor about learning to see (which, of course, then makes me think of Josef Pieper's Only the Lover Sings). You introduce your definition of "redemptive vision" with God seeing Hagar, seeing the world and calling it good, and how we are called to mimic his gaze (19). Art and belles lettres share this transformative aspect. Both teach viewers and readers how to see. Did you run into the problem of considering which comes first: learning to see the art or the art teaching you to see?
EYW: What a great question. While most of us can remember learning the alphabet and how to read words, looking at images tends to feel completely natural. Often, people don't realize that they've developed a hermeneutic of looking or how they've been shaped by the things that they've seen. Or they think that looking at art is so intuitive that if they themselves are not "artsy" they won't be able to understand it. But learning to really see art opens up whole worlds to us. And the art that we engage in this way can teach us to see not only more art but to behold our whole world more rightly.
I think you explain this so beautifully in your book when you discuss reading tropologically. You write, "When a person reads tropologically, they create in response to what they have internalized—in how they live their life, how they pray, or what they create" (124-125). As an art historian, I love emphasizing that the Word became flesh and that the incarnation dignifies our embodied experiences with material objects. But I see a similar thread in your claims about literature.
Tell us a little bit more: why do the incarnation and our whole bodies matter when we're reading words?
JHW: Our lives become the truest interpretations of what we have read. Christians are familiar with the idea that we are living books, but there are lots of hurdles to reading books as though they live. It sounds too mystical for some. However, the minute we read words on a page, they are present, immediate, vivified by our attention. We can most fully experience these words when we read them aloud—we both taste and hear them. Not every page lends itself to such embodied experience, but the most poetic creations should be savored, from the psalms to the poems of today.
On another note, I was pleasantly surprised at how you draw on ancient art, which I rarely consider except for its historical significance. The Assyrian soldier paired with Paul Revere's engraving of Henry Pelmham's "The Boston Massacre"! Also, the way you connected pieces from across the globe, such as Velázquez and Kuba (though I did expect Wiley's adaptation of the Duke Olivares painting to come up). You show shared desires across time and space, universal enduring questions, and a timeless and region-less sense of beauty.
If you had to define these shared questions or features, what would make your top five?
EYW: You know, I think I'm less interested in shared questions or features of the artworks themselves. I am more interested in how we approach them. I deliberately chose a lot of non-masterpieces to use as case studies in Redeeming Vision. The Assyrian relief carving I talk about in Chapter ten is not a particularly tremendous example of human skill nor did it change the course of civilization. And yet looking redemptively still allows us to learn from it, not just about it. How does this cultural object help us understand the stories we still tell about ourselves?
In a similar vein, I loved the expansive list of texts that you reference throughout your book. Instead of just focusing on narrative as the literature that is "best" for Christians to read, as is often done, you encourage us to read memoir, poetry, history, theology and more. And what a delightful mental picture, to imagine Augustine, Julian of Norwich, Frederick Douglass, and Dorothy Sayers all sitting around a table, teaching us how to read! But I was also reminded of the first time I read Hildegard of Bingen's writing. It felt so other to me, so unfamiliar and disorienting, that I wasn't sure what to do. I felt like I needed to learn more about Hildegard and medieval mysticism before I could give any creative attention to the Scivias.
I'm curious if you've had a similar experience and how you approach that gap. Are there times that we need to read "about" a text before engaging with it directly? Or is that sense of disorientation while we're reading something important in and of itself?
JHW: Well said—sometimes the disorientation is good for us! We need to be humbled by reading as much as we need to be humble readers. But there is not one way to approach a text. And great books demand multiple readings. One may read The Brothers Karamazov unaided, then choose a guide, and read it again in a new way. Reading can be enhanced with instruction, book clubs, teachers. I fear we read too often alone, which makes difficult books even more challenging to understand. If we can find ways to remove obstacles to our reading—especially by reading in company with others—we may enjoy more books from the past that seem other to our current reality and find ourselves being read in the process.
In contrast to a few books I've read on Christianity and art over the past years (Rembrandt is in the Wind, Art + Faith, or The Beauty of Holiness), your book takes a more didactic approach—not to what works of art mean but to how to encounter them. I found your "how to" similar to mine when it came to reading, though you're more systematic than I am. What led to your approach? Who has taught you most how to view art?
EYW: I've encountered so many students and other curious folks in the church who were already convinced by people like Makoto Fujimura that they "should" care about visual art yet felt overwhelmed when they entered an art museum. I wanted Redeeming Vision to be a beginner's field guide to looking redemptively.
In many ways, I was formed to look at this art this way because of how I was taught to read in college. My undergraduate professors in English, Philosophy, Theology, and History all emphasized reading with humility, charity, and curiosity. They also all insisted that we needed to be reading Scripture well if we were going to recognize God's common grace elsewhere. Reading C.S. Lewis's An Experiment in Criticism and Hans-George Gadamer's Truth and Method certainly played a role as well.
And then, my senior year, my Art professor and mentor first taught a class on contemporary art and we applied a similar hermeneutic. Not everyone was convinced that there would be anything Good, True, and Beautiful to find in the objects we studied! But I remember being so startled by how artworks that I initially disliked or thought had no merit could end up convicting me and expanding my love for my neighbor and the world.
The contemporary art historian and critic Dan Siedell and the Early Christian art historian Robin Jensen write about really different kinds of art, but they both describe the encounter in embodied and thoughtfully contextualized ways. Siedell gave me language for "embodied transcendence," or the way that modern and contemporary artworks can function sacramentally. Then, when I read Jensen's Understanding Early Christian Art, I realized that I wanted to see and to teach all art, regardless of time period, in a similar way: alert to the work's materiality, curious about the maker's context, and open to how it might change me.
And perhaps this is another way of answering your first question: I remember seeing a specific contemporary artwork—Felix Gonzalez-Torres's Untitled (Portrait of Ross in L.A.)—as a critical moment that catalyzed my approach. At the time I knew it was important and transformative. But now I can look back and name the different threads that wove together in that moment.
Do you recall a specific encounter with a text that was a critical, transformative moment in learning to read? Or, to misquote Jane Austen, perhaps you were in the middle before you knew you had begun?
JHW: I have learned to read several times over, and I hope I am still learning. Mark Twain's Huckleberry Finn was the first book that taught me the pleasure of reading a book more than once. In high school, Kate Chopin's The Awakening altered my assumptions about marriage and love so much that I realized how fiction could shift the philosophical ground one stood on. Reading Augustine's Confessions showed me that ancient books could be as relatable as contemporary ones—perhaps more so! It was not until graduate school that I began to analyze all my presuppositions about reading and consider what comprised my hermeneutic.
Like you, Elissa, I read C.S. Lewis's Experiment in Criticism and Gadamer's Truth and Method. Also, R.R. Reno's and John O'Keefe's Sanctified Vision showed me how to read scripture in the way the early church did, which sent me on a search into Origen, Augustine, the Cappadocians, etc. Other eye-opening books on how to read were Dorothy L. Sayers's The Mind of the Maker and David Lyle Jeffrey's People of the Book. Now I read books and am regularly considering how the writers or characters read. It's how I stumbled upon Frederick Douglass's way of reading, learning from his biography. This is also how I ended up with a chapter on Julian of Norwich.
Editor: This interview shows beautifully the ways in which your two books really are in dialogue with each other! On that note, what is the difference between redeeming vision and redeeming reading? Why do we need both?
JHW: I wouldn't say there is a difference—Elissa chose to focus on a different medium with the same practice in mind. Undergirding my entire book is Colossians 3:17, "Whatever you do, do in the name of the Lord Jesus." How does this imperative apply to our reading life? Elissa is focusing on the imago dei and the way that we fulfill God's image and creativity in how we image or create art. I'm starting with the God who speaks creation into existence with his word, the Incarnate Word, and the Christian's identity as part of the people of the book. But I stress that practicing reading words redemptively should lead to reading the world and others with that same charity.
EYW: I agree. Both of us are calling Christians to live into the fullness of the cultural mandate and our identity as image bearers, and we're using our own disciplines as a starting point. Contemporary culture—particularly the tyranny of the screen—offers some particular challenges to both of these practices. As Jessica observes, we've been catechized for entertainment and distraction rather than love for what is better. Likewise, images are everywhere and we spend a lot of time looking without paying attention to what and how we are seeing. Redeeming vision and redeeming reading are both invitations into being more human.
Editor: As we wrap up, I was thinking it would be fun if Jessica could name a few of her favorite works of art, while Elissa would name a few of her favorite books.
JHW: My children expect us to visit an art museum every time we travel; even if I am in a city only for a day, I try to make time for these visits. My favorite artists are Chagall, Rouault, Arcabas, and Kehinde Wiley. My favorite painting is Rembrandt's Prodigal Son. I also love icons and manuscript illuminations–I could spend an entire day looking at annunciation scenes.
EYW: Shusaku Endo's Silence absolutely haunts me in the best way, but beautifully crafted nonfiction reading is my sweet spot. Reading both academic and public theology and history is an invigorating delight. There is a particular chapter from Kelly Oliver's book Witnessing that I read probably once every other year because it makes me cry. My favorite memoirs use food or art as a rhetorical frame, like Michelle Zauner's Crying in H Mart, Robert Witten's Priceless, and Nell Irvin Painter's Old in Art School. 
Elissa Yukiko Weichbrodt is Associate Professor of Art and Art History at Covenant College in Lookout Mountain, Georgia, and she is the author of Redeeming Vision: A Christian Guide to Looking at and Learning from Art (Baker Academic, 2023). She is a Contributing Editor for Current.
Jessica Hooten Wilson is the inaugural Seaver College Scholar of Liberal Arts at Pepperdine University and a Senior Fellow at the Trinity Forum. She is the author of several books, most recently The Scandal of Holiness: Renewing Your Imagination in the Company of Literary Saints.
Image Credit: Karen Arnold