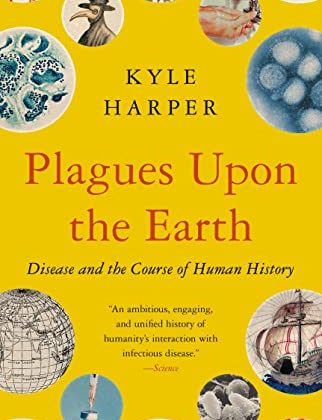 "There have been about ten thousand generations of humans so far. For all but the last three or four generations, life was short, lasting on average around thirty years. Yet this average is deceptive, because life in a world ruled by infections disease was both short and uncertain."
This poignant statement early in Kyle Harper's most recent book, Plagues Upon the Earth: Disease and the Course of Human History, sets out one key story that he will investigate further. Released in Fall 2021, it is impossible not to read this book in light of the Covid pandemic, even as Harper had written most of it before the pandemic broke out.
Harper's previous book, The Fate of Rome: Climate, Disease, and the End of an Empire, which I considered in yesterday's Part I, left him with additional questions. These questions, he felt, required him to broaden the lens, going beyond the Roman Empire in scope: "Why did the Roman Empire suffer giant pandemics at all? Why these diseases and why then?" In yesterday's post, I noted that as historians, we ask a lot of questions about agency and reasons for actions: WHO did this, and WHY did they do this? Usually, our considerations of agency focus on humans, but in these two books, Harper considers the significant effect that the environment, germs, and disease have upon our agency and history.
So who are the agents of human sickness (and, no less important, historical change) involved in this story? There are four categories of parasites that can get us sick: helminths (aka worms), protozoa, bacteria, and viruses. (As a side note, I feel very smart when I get to use scientific vocab like "helminths" in conversation. Must be a humanities person thing—here I am, dropping science lingo like the really cool kids.)
But to get back to Harper's point, humans' vast expansion to fill the earth made them susceptible to a whole lot more diseases than any other species. No one—and Harper emphasizes this point—no one else can get sick from quite as many things as we humans can. We're over-achievers: "Ecologically, humans are a global primate that spreads like a weed, lives like a rat, and consumes like a plague of locusts. In time, we have acquired the pathogen load to match." Indeed.
Advances in the research on the human genome over the past decade have been a boon for historical study of the sort Harper relies on in this book. In The Fate of Rome, Harper described "natural archives." In this book, he continues to rely on them, and especially the human genome. Harper also doesn't like the usual division of the human timeline into history and prehistory, where historians study, well, the past five thousand years or so, and anthropologists handle the rest. Paleogenomics allows us to recreate the medical history of "prehistory," which turns out to be immensely helpful in understanding our modern disease burden. So, who are the leading actors in this story?
For starters, Tuberculosis. A major respiratory disease that thrived in antiquity, the Middle Ages, and modern Europe, to this day "TB still takes 1.5 million lives each year. TB may just be, in aggregate, the most lethal enemy our species has ever encountered." At the same time, though, practically everyone from antiquity into the early modern period was affected by helminths (just think of all the entries in Martha Ballard's journal about people, mostly kids, passing worms!). The disease burden of malaria (caused by protozoa) on much of the Old AND New World has been heavy for millennia as well.
But there have been plenty of other lethal enemies, some of whom struck for a time, rather than sticking around for millennia without interruption. One example is the Bubonic plague. In his discussion of the emergence of the Justinianic Plague, Harper traces it back to the history of the black rat: "The black rat has not always been a global species. Its success is historical and recent… In Britain, for instance, the rat only arrived around the time of the Roman expansion, which is hardly a coincidence."
It sort of adds insult to injury, if you ask: what have the Romans ever done for us? Well, they built those nice baths and theaters, but they also brought along the rats that carried the plague to all of Europe. Thanks. The rat, previously considered wildlife, discovered cities, and it became a global love affair that continues to this day (cue NYC's concerns about rat control!)
Yes, lots of rat talk. But there are lots of good reasons to worry about rats. Updated numbers about deaths from the plague is one: "Although many a textbook still claims that the Black Death carried off a third of the continent, in reality, the best estimates are closer to half."
Harper proceeds chronologically, and this also means geographically switching gears a bit as we get into the late Middle Ages and the Early Modern period. In particular, he complicates the usual narrative of the Columbian Exchange by arguing that while there was a horrific population crash, there were more factors than just disease involved.
One important subject that repeatedly comes up in the book is that a disease with the same name might not have remained the exact same disease over the centuries, but could evolve, usually growing in virulence. Smallpox is one such noted example: the disease used to be at times a fairly mild childhood disease, up until the sixteenth century. "By the early seventeenth century, smallpox was installed alongside plague and typhus as a leading cause of early death, one of the quintessential pathogens of the early modern period." Once established throughout the world, it just kept on going: "Smallpox accounted for 10-15 percent of all mortality in eighteenth-century Europe… In Japan, it was a dreadful burden, in one region claiming 20 percent of all children."
As we get into the modern period, increased speed of travel, starting with steamships and railroad, also assists spread of disease, making it possible for any deadly pathogen to go global in very short time. But another part of the story has been the differences between rural and urban lifestyles: residents of cities up until very recently have generally been much sicker on average than rural dwellers. Mosquito-born illnesses are, of course, part of this story, but so is everything else that is involved in crowded conditions.
Reversing that trend required something that many of us consider controversial today: reversing the millennia-old trend of cities being much sicker than the countryside took massive and coordinated government intervention in providing such services as vaccination, food and water safety, sanitation and waste disposal, and public health care more generally. In England, one key to success was compulsory vaccination for smallpox. The result? "By 1900 endemic smallpox was gone in England." This is not an argument for or against government strong-arming, but it is a valuable reminder that eradication of any particular disease is not easy.
If you are wondering if Harper has anything to say about coronaviruses, he does! And this story, I thought, was particularly fascinating. Coronaviruses, one of which is where we get the common cold has as its closest relative (and origin) the bovine coronavirus, which likewise basically gives cattle the sniffles. Another common ancestor serves the same function for pigs.
"All three shared an ancestor around two hundred years ago, when the branch that includes human and bovine coronavirus split apart. The human coronavirus diverged from the ancestor it shared with the cattle virus sometime around 1890. The human disease caused by OC43 is not an ancient affliction; it joined the roster of human illnesses only in the midst of humanity's great reordering of planetary biota to slake our hunger for beef. The modern global meat industry gave us the common cold."
As Harper gets into the history of the last three or four generations of humanity—the generations that have seen unprecedented gains in lifespans—he notes the differences that war, authoritarian governments, and geography make in allowing some places to achieve much better outcomes than others. He also singles out HIV/AIDS as a modern recently evolved virus that became "the global health calamity of the late twentieth century."
Harper concludes with these words of wisdom: the history of human disease shows that we need to understand humbly that we are "one species, ingenious and vulnerable, whose health is intimately dependent on each other and on the planet we share with our invisible companions."
Or, as he said more poignantly earlier in the book, "It's a microbe's world. We're just living in it."