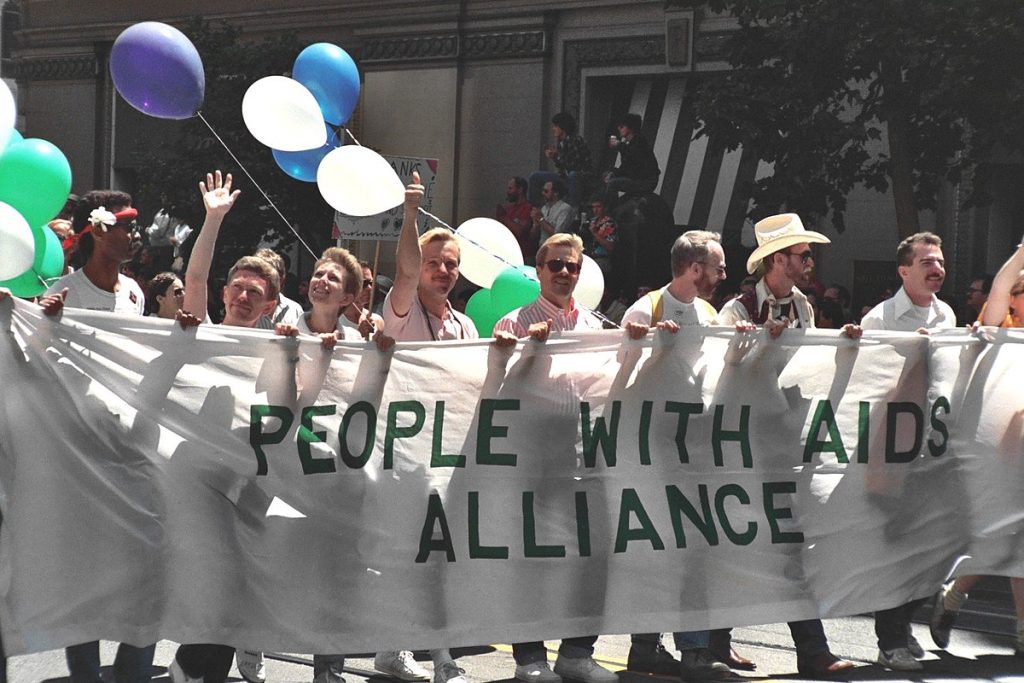 Rethinking the politics of freedom, health, and fear
I didn't know who Rock Hudson was, but I remember the headline of Life magazine in July 1985: "NOW NO ONE IS SAFE FROM AIDS." I was ten, and too frightened to read the article. That seemed appropriate, because this plague shrouded itself in secrecy and horror. Blood. Secretions. Immunodefense. And something called the "gay" lifestyle, a vague something that made my parents frown and change the subject. But how was I supposed to survive AIDS if no one would tell me what "gay" meant?
Thirty-five years later, when things began to shut down in March 2020, I remembered that front cover of Life magazine.
With those thoughts in mind, I decided to teach the history of the AIDS epidemic to a generation of college students that lived through COVID.
It turns out we have a lot to learn from AIDS.
The order of things I learned in COVID was upside-down in the 1980s—or rather, the correlation of politics, health, freedom, and science as they unfolded in the 2020s was not the same as it was in the 80s.
Of course people who cared made desperate appeals for the public to pay attention and take action. "Our continued existence," wrote Larry Kramer in 1983, "depends on just how angry you can get."
Yet the response Kramer heard from the gay community—of which he was a prominent member—veered from dismissive to hostile. Marcus Conant (running an unfunded clinic for AIDS victims in the first years of the pandemic) recalled meeting men with AIDS who dismissed the whole idea of a virus. One man told Conant he heard AIDS was destroyed by taking a shower after coitus. Another man explained the secret to avoiding AIDS was to change the sheets after sex. Joseph Sonnabend, one of the few gay doctors speaking openly about AIDS in 1982, publicly attacked the science behind AIDS: "The notion that it's a virus is just stupid." Multiple news outlets—even within the gay community—stressed the need to avoid panic.
We in 2023 have also heard that keeping lives normal is more important than science. And that personal freedom is more important than public health, no matter the risks.
Just as masks greatly reduce the spread of COVID, so too condoms greatly reduce the spread of AIDS. When the New York Native published an article encouraging gay men to have safe sex, one respondent snarled back, "If I cannot join another man's body to mine, how am I gay? Liking Bette Midler isn't enough." The Sutra bathhouse in San Francisco made a bonfire of safe-sex pamphlets provided by the San Francisco Health Department, blaming "AIDS hysteria." An anonymous man put it more succinctly: "I didn't become a homosexual so I could use a condom."
Here, within the gay community of 1980s America, was the same language of supposed religious conservatives of 2020. But the surprises didn't end there. I also found out that evangelicals of the 1980s starting caring for people with AIDS instead of condemning homosexuality.
As Anthony Petro explains in After the Wrath of God, his religious history of the AIDS crisis, Protestant Christians organized to address AIDS as early as 1986. Earl Shelp and Ronald Sunderland, pastors in the deeply conservative Southern Baptist tradition, wrote an article that year in the Christian Century: Churches had been silent except to condemn homosexuality. Shelp and Sunderland argued that churches need to engage with both their words and the resources to care for the sick—as Jesus had—in the face of the still-slow response from government. (Virtually no federal funds were available for AIDS research until 1985.) Shelp and Sunderland created and wrote books about pastoral care and missionary outreach to people with AIDS.
The pastors did this despite their moral opposition to homosexuality. Their work never condoned gay life, but it did create a "care model" for providing support for those afflicted with AIDS and accurate medical information for caregivers. Not all pastors would be suited for such work, they wrote, but they did believe that showing love to those who were sick and outcast was the main issue facing "the integrity and credibility of the people who bear Christ's name." And the biggest public health move to protect Americans from AIDS came from Surgeon General C. Everett Koop—who before AIDS had been known as a staunch religious conservative. Koop mailed pamphlets on safe sex to every household in America in 1988.
In other words, portions of the Protestant church—including evangelicals—was responding to AIDS by stressing medical knowledge and Christ's love.
I was ready to hear about how evangelicals condemned AIDS as God's curse—and they did, of course. Tim LaHaye (later to co-author the Left Behind series), prepared the way in a 1978 book that declared, "America is experiencing a homosexual epidemic" and linked the "rapid decline" of Britain in the modern age to its 1957 legalization of sodomy. LaHaye claimed Britain declined due to homosexuality, not its decision to spend all its money fighting the Nazi menace: Sexual morality is tied to national greatness.
So yes: There were Christians claiming that AIDS targeted American greatness, not individual human beings, as there are those now who claim COVID was a deliberate plot by China or big tech to destroy America.
But Petro's history of AIDS looks beyond the volume and virulence of some Christian groups to see the general shift of Christian churches to a care model. By 2000, even Rick Warren and George W. Bush had made fighting AIDS planks in their Christian and political platforms.
People can (and will) argue over Warren's and Bush's intentions. But the larger point in the wake of COVID is that the language of the pandemic remained the same—but not the people who were saying it. The call for personal liberty above public health concerns came from urban gay men trying to live a life true to themselves in 1983, and it came from rural cultural conservatives in 2020.
Opinions about freedom, public health, and the government are not merely byproducts of social status, nor are they constant throughout time. The fact that people in very different social categories in 1983 and 2020 said similar things about how personal decisions outweighed any possible public benefit reminds us that social position does not dictate ideology or belief. Our struggles in America are not about one group against another. They are about ideas. They are about how we define freedom and what we, as a society, owe to one another.
I learned this lesson while chatting with my friend Steve, a retired Southern Baptist pastor. I was describing to him my lesson plans on Christian AIDS ministries in the 1980s, "probably something you never heard of back then," I said.
Steve just nodded. "I remember," he said. "I was part of one back in Birmingham. 1987, I think."
Once again, I felt my ignorance overtake me as Steve described the creation and implementation of an AIDS ministry in Alabama in the 1980s. He had sat, week after week, with an AIDs patient, just trying to help her live her life.
The media missed this quiet Christian response. Here it was, in my own Deep South home. We—including me—have much to learn from AIDS and the first generation of AIDS activists.
Adam Jortner is the Goodwin-Philpott Professor of Religion in the History Department at Auburn University. He is the author of the Audible series Faith of the Founding Fathers and was part of the creative team behind Where in Time is Carmen Sandiego?
Photo: Alan Light, Wikimedia Commons