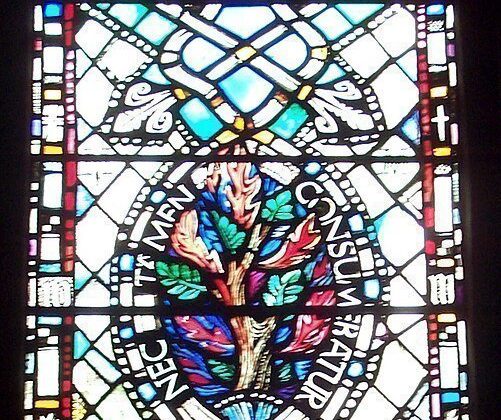 Andrew Michael Jones completed his PhD at the University of Edinburgh in 2018 and is an incoming Assistant Professor of History at Reinhardt University near Atlanta, Georgia. His research focuses on religion, identity and race in modern Scotland and the Scottish diaspora. We are excited to welcome him to the Arena today.
Your first book appeared last year (congratulations!), and the affordable paperback edition is coming this fall. What are the big questions you are investigating, and to whom would you especially recommend this book?
First of all, thank you so much for letting me share a bit about myself and my life in scholarship and teaching! So my first book is entitled The Revival of Evangelicalism: Mission and Piety in the Victorian Church of Scotland. There are three big questions I set out to answer in the book, but a little context will probably be helpful for readers who aren't as familiar with 19th c. Scottish church history (The horror! I kid…).
Around 1790, the transatlantic Protestant awakening movement typically known as evangelicalism began to make significant inroads among the ministers in the established Church of Scotland (CofS), Scotland's national Presbyterian church. A number of evangelicals in the CofS coalesced into an ecclesiastical party also (confusingly!) known as the Evangelical Party.
This group, among other things, championed the rights of the laity to choose their own ministers over and against the practice of patronage, where a local landowner, member of the urban elite, or British Crown had the ability to choose the parish minister. When an unpopular (oftentimes theologically liberal) minister was forced on (typically evangelical) congregation, they described this as "intrusion."
Proponents of patronage and a more theologically progressive approach were typically members of the Moderate Party. So by the 1830s we have Evangelicals ("Non-Intrusionists") and Moderates locked in conflict over this and other key issues. Following about a decade of this tension in which Evangelical policies were passed and then overturned by the force of law, in 1843 most of the Evangelicals seceded from the CofS in an event known as the Disruption.
But what happened to evangelicalism as a movement after so many evangelicals left the CofS? This is the major question I sought to answer. I further divided it into three sub-categories: continuation, breadth, and impact: How much continuity existed between the evangelicalism of the pre-Disruption CofS and the CofS from 1843 to 1900? How did evangelicalism broaden or adapt to cultural and theological developments of the mid-to-late 19th century? And how much impact – if any – did evangelicals have on the Church at large during the era in question?
In short, I argue that evangelicalism did, in fact, continue as a movement within the Church of Scotland through the ministries of leading evangelical churchmen and the official missionary agencies of the Church. However, the conservative Calvinism of the Westminster Confession of Faith was gradually modified to a moderate Calvinism, shaped by both Romanticism and contemporary developments in Scottish theology. Finally, evangelicalism had an extraordinary impact on the laity of the Church through revivalism, missionary movements, Victorian social justice campaigns (temperance, etc.), and organizations geared towards specific populations like women (i.e. the Order of Deaconesses) and children (i.e. the Young Men's Guild).
As far as audience, I'd recommend my book to anyone interested in the history of evangelicalism, Scottish church history, or Victorian studies.
This question always seems a little overly aggressive to ask someone who has just published a book, but what are you interested in writing about next? Is there a new book project afoot?
My next book project will hopefully be the first modern, academic biography of Rev. Peter Marshall. Marshall was born in Scotland around the turn of the 20th century and emigrated to Atlanta to pursue a career in Presbyterian ministry in the 1920s. Following several successful years of ministry in the Deep South, he was called to pastor the prominent New York Avenue Presbyterian Church in Washington D.C. and later served as Chaplain to the United States Senate during WWII.
He died young and his wife (who later became a famous author herself) Catherine Marshall published a memoir/biography entitled A Man Called Peter that was also made into a major motion picture. As a historian of modern Scotland and Scottish religion who was born, raised, and currently living in the Deep South, I feel uniquely equipped to provide a critical, dynamic reappraisal of Marshall's life that highlights his influences as well as his lasting influence. My first attempt to take on Marshall as a subject is an article entitled "Scottish Roots in Southern Soil: The Racial Formation of Peter Marshall," which was published this spring in The Journal of Presbyterian History.
What are the broader questions that fascinate you in your reading, thinking, and writing?
How much time do you have! No, I'll keep it brief. I think questions of place, ethnic and religious identity, belonging, and personal and communal development are some of the broader themes that inform the questions I ask and the topics I choose to research.
You have done quite a bit with public and local history as part of your teaching over the past few years. Could you tell a little bit about the kinds of projects you have done? What has been your favorite project?
The main public-facing project I've done is the Cherokee Voices Project. It was an NEH-funded project directed by Prof. Jeff Bishop of Reinhardt University's Funk Heritage Center. The focus was transcribing and digitizing claims made against the U.S. Government by members of the Cherokee Nation immediately prior to and following their removal (the Trail of Tears) in 1838-39.
We hired three undergraduate research interns to help us and were able to make significant headway, especially with claims made in the Cherokee Nation's electoral district called Hickory Log, which encompasses much of Atlanta's current-day northwestern suburbs.
My favorite part of the project was taking the interns to a conference and giving them a chance to share their own findings with a wider academic audience. It's also incredible to know that key figures within the Trail of Tears Association and leaders from the Cherokee Nation in Oklahoma are celebrating and championing our work.
As this academic year has just wrapped up, what was your favorite class to teach this year?
I had an opportunity to teach an Independent Study on Modern Scotland, Jacobitism, and the Scottish Diaspora in North America. It was a blast! My student did incredible work and her final research paper on the St. Andrews Society of Charleston, South Carolina during the Colonial Era was an absolute joy to read. She's going to polish it up in the fall and submit it to an undergraduate research journal!