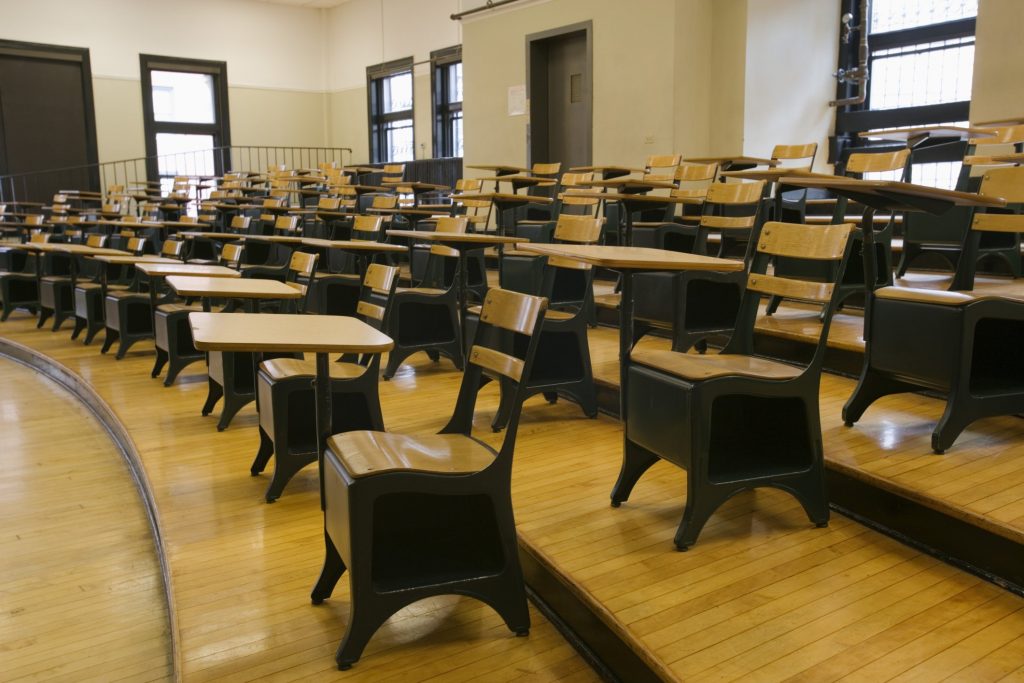 A friend and colleague likes to say that the classroom is the last refuge of the bad comedian. Students, in general, don't like learning. Learning is pain. Anything that goes on in the classroom that falls under the category of "not learning" constitutes "not pain." "Not pain" is better than "pain." Students appreciate bad jokes because, however bad they are, they are jokes rather than learning.
I use humor quite a bit in class. Some of it is unscripted, just arising in the moment. Some of it is planned. I've taught American Government so many times that it has become a kind of performance art. Many of the jokes are prepared. How one of my elderly colleagues actually went to college with Aristotle. The way in which Andrew Jackson's picture on the twenty-dollar bill looks a little like Dracula. I have a whole routine built around describing what a congressional whip does that involves making a cave drawing on the board and barking like a dog. Trust me, it kills every semester.
The temptation here is to move from using humor to break up the monotony of class to becoming something of a clown. There has to be some substance behind the merriment. When I think back on my own teachers, the ones I respect the most are the ones who had the highest standards. At the time we might have thought they were a little "uptight." In retrospect, however, especially as I reflect on my own teaching, the teachers I most want to be like are the ones who took the classroom most seriously.
In high school it was Mr. Hrabe. I had him for at least two courses (a writing class and a social studies type class called Social Problems). He was insistent that you had crossed the threshold of his classroom by the time the bell rang, or you were late. Didn't matter if you were one step away. I wouldn't describe him as a cold teacher, but I did have teachers who were extremely casual and they were awful. Mr. Hrabe simply took his classroom and the subject seriously. He held us up to a high standard and didn't let anyone get away with anything. Unlike some other classrooms, the high school boys (barely a step above feral animals) didn't screw around in Mr. Hrabe's class. Not coincidently we learned a lot from him.
I took a year off after college and worked at a bookstore in my hometown. I happened to run into Mr. Hrabe. He remembered me and we chatted. I said what I really wanted to do was be a writer. He said, "Almost no one can make a living as a writer. Maybe you should be a teacher, which keeps you thinking about things and allows you time to write on the side." Advice taken, Mr. Hrabe.
I spent two years getting a master's degree at the University of Wyoming. One of my teachers was Mike Horan. One class I took from him was Jurisprudence, essentially philosophy of law. Taught in a small auditorium-like room, Prof. Horan would walk in each morning, place his notes on a podium, and start talking. No pizzaz. No technology. He didn't even move that much. But he delivered a compelling lecture each time. When we had discussion, he would not call any student by his or her first name. He was extremely formal. It was "Mr. This" or "Ms. That." Prof. Horan was on my master's thesis committee. At the conclusion of a successful defense, he came up to me, shook my hand, and said, "Good job, Jon." This was the first time in two years he'd called me by my first name. It is still one of the highest honors I've achieved.
In my doctoral program, John Danford was already notorious as the guy who wore a bow tie every day. Prof. Danford helped me grow up. He gently but firmly chided me for wearing a baseball cap in his class. When I showed up to my comprehensive exams defense slightly underdressed (I wore a polo shirt and khakis) he afterwards again gently urged me to do better. "I know it's hard," he said, "because everyone else dresses like a slob. But you must take these kinds of occasions more seriously." It was starting to hit home. I needed to stop dressing like a teenager and start dressing and acting like a man.
I am certainly more of a clown in class than any of these fellows ever were. But from the minute I took my current job, twenty-two years ago this coming Fall, I tried to dress as best I could. Early in my career that wasn't much. I had neither money nor a wife, both of which are helpful when trying to dress well. I did wear a tie every day and to this day have never worn a pair of blue jeans in the classroom. I soon learned I could class up shirt and tie a little by putting on a sweater vest, so I became known as "sweater vest guy."
Later I would learn of the gift of the thrift store, a great way to find classy jackets at a low price. Nowadays, I seldom come to class without a jacket and tie. I have laxed a little on slacks (I will sometimes wear khaki Carhart denim), and every now and again I go "business casual" and neglect the tie. But knowing that I tend to be a little on the jokey side, I think it is important to dress up a little to demonstrate to students that what we are doing in the classroom is serious business. So, the standard attire is shirt, tie, jacket, slacks, dress shoes, colored socks.
I teach at a small, regional, South Dakota university. My students are typically from rural areas, first generation college goers, and sons and daughters of blue-collar folk. In addition, life on the modern campus is quite casual. Faculty tend to dress down. The curriculum has been weakened. Grading is often slack. Students will sometimes call faculty by the faculty member's first name. Students themselves typically dress in jeans or sweatpants, t-shirts and hoodies. There is no compunction about wearing a hat indoors. The general idea is that students hang around, pretend to learn for four years, and then we give them a credential that says, "You stuck it out and weren't awful." In other words, my students don't get much guidance in formality.
There has to be some indication from the university that what we are doing is important. We all know that dressing up can be a kind of snobbishness, but it's also a way of showing that we are up to something valuable. That's why we dress up for weddings and funerals (although I am sadly seeing more of these advertised as casual events). You wouldn't come to a job interview dressed like you were about to mow your lawn, so why dress that way in any important situation? People in positions of authority have a duty to model professional behavior, especially before people who may be bereft of such models.
So, I try to dress up each day, conspicuously so compared to most of my colleagues. My students call me either Prof. Schaff or Dr. Schaff. I don't know if it has any influence on anyone, and with each passing year my efforts appear more and more futile. But maybe somewhere out there is a former student who thinks of me the way I ponder Mr. Hrabe, Prof. Horan, and Prof. Danford. Perhaps I am paid just a little bit of honor every time that former student slips on the sweater vest, just like that goofy Prof. Schaff who told such bad jokes.