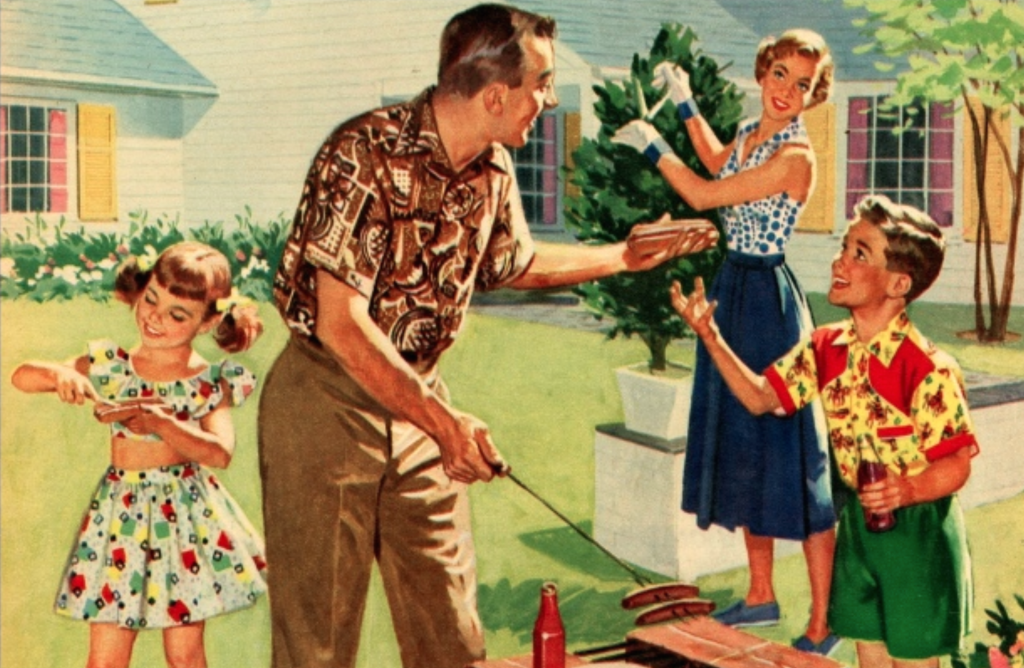 Nostalgia makes a terrible foundation for a political movement
My wife tells me that I am the most nostalgic person she has ever met. When I look at old pictures or watch home movies I am transported to the golden age of my youth. It doesn't matter that I was raised in the 1970s, an era of economic recession and cultural malaise. The images that flash before my eyes take me back to a time when all was right with the world. As cultural critic Mark Lilla recently wrote, "Photography is an exercise in anticipatory nostalgia. We foresee that come a certain age we will want to experience an odd pleasure that comes from reflecting on what has been lost."
Sometimes I get nostalgic in the presence of an older family member. My mother will look at the picture I am gushing over and say something like, "Oh, that must have been right around the time Uncle John and Aunt Michelle got divorced." Or an aunt will chime in: "Two weeks after that photo was taken your cousin Andrew was killed in a construction accident."(The women in my family tend to be the best historians.) Such "Debbie Downers" yank me out of my nostalgic longings and enable me to see the past more clearly. I don't usually like these reality checks. I'd rather bask in the perceived innocence of my glory days.
Nostalgia is an island of safety in times of change. As Christopher Lasch put it in his masterful The True and Only Heaven, "The more emphatically the modern age insisted on its own wisdom, experience, and maturity, the more appealing allegedly simple, unsophisticated times appeared in retrospect. Progress implies nostalgia as its mirror image." Modern life is hard. Nostalgia provides a much needed escape. It calms our fears. We prefer a past that triggers warm and fuzzy feelings.
In the eighteenth century, nostalgia was considered a mental disorder. It was first diagnosed among seventeenth-century Swiss mercenaries who suffered from an intense zeal to return to their canons whenever they gathered around campfires to sing native songs. At its worst, those afflicted with nostalgia confused the past with the present or, in a few rare cases, saw specters of loved ones back home. One eighteenth-century medical encyclopedia defined nostalgia as "a vehement desire in those absent from their country, of revisiting" and placed its entry on the pages between 'Nymphomania" and "Anorexia."
Thinking fondly about the past doesn't always have to be a bad thing. Sometimes we remember moments that are good, true, and beautiful. We might hear a song that reminds us of a time when things were going well. We might see a picture of a person who influenced our lives in positive ways. In this sense, nostalgia can help us cultivate a sense of place, a connection with the people who shaped us, and love for neighbors and nation.
But nostalgia is a terrible foundation upon which to build a political movement. Because nostalgia is an inherently selfish way of viewing the world it cannot bring us together as a people. It ignores the experiences and memories of fellow citizens. One person's nostalgia is another person's nightmare. And sometimes nostalgia attempts to invoke a usable past that never existed in the first place.
Nostalgia and history are two very different ways of engaging the past. History requires us to look at the past in its fullness. Historians, to quote theologian Jurgen Moltmann, "waken the dead and piece together what has been broken." The study of history reminds us that we cannot move forward without an accurate understanding of where we have been. And when we come face-to-face with the past in its complexity—the good and the bad—we may realize that sometimes history is not as useful as we would like it to be. Nostalgia always looks backwards. It is a reclamation projection—a return to a golden age. The politics of nostalgia is advanced by powerful people with narrow and self-indulgent memories.
History, on the other hand, starts with listening. It invites us to learn from strangers. It acknowledges change over time. History teaches us that our neighbors—even our new neighbors—have a story. When we understand where our neighbors have been, and how the past has shaped them, it may lead us to love and serve them. While nostalgia uses the past to build walls, the discipline of history, by its very nature, is hospitable.
The political scientist Glenn Tinder has argued that all political activity requires attentiveness and availability. Attentive citizens are ever aware of what people are saying, doing, and suffering. Available citizens are always asking how they might respond to what people are saying, doing, and suffering. The study of history is one of the ways we remain attentive. Citizenship demands that we give heed to the complicated and sometimes troubling world we have inherited. History thus offers the context necessary to meet the needs of a broken world.
The politics of nostalgia is real. When I talk to people about the phrase "Make America Great Again" our conversation usually revolves around the meaning of the word "great." My dialogue partner will inevitably invoke nostalgic references to a time when the United States modeled "greatness" at home and abroad. But "greatness" is in the eye of the beholder. This is why, as a historian, I always gravitate in these discussions to the word "again." I ask my interlocutor to identify a time in the past when the United States was "great," and then we try to consider such a period in all its fullness and complexity. I ask, Would we really want to return again to such an age? I challenge them to think about that era from the perspective of all Americans: African Americans, women, the poor, the oppressed, the workers, the orphans. Democratic culture relies on citizens who are willing to come to grips with those times in our collective past when we have failed to apply our deepest values, our founding values, to all people. But nostalgia has no use for such an uncomfortable engagement with these kinds of facts.
John Fea is Executive Editor of Current