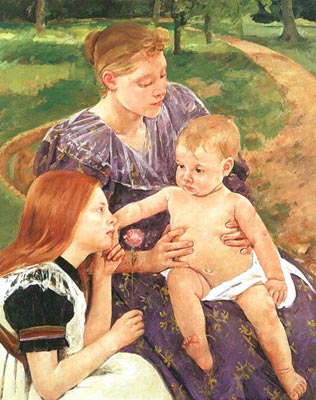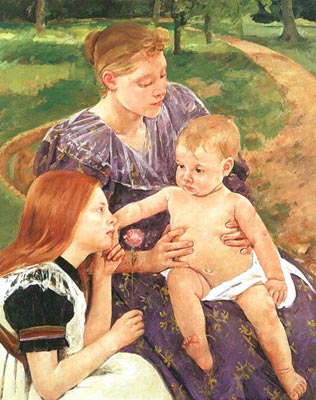 You are a historian and a homeschool mom of four. What does a "typical" day look like for you?
I roll through my day like a boulder careening down an unpredictable hill. I place a lot of structure on my days and like to plan ahead, but as any parent knows, life with young children brings a lot of surprises. Just when I expect to hit a gentler slope I hit a steep decline instead, and vice versa! So I have to be quite flexible. You never know when a little one will have a meltdown or an older one an existential question, so everything is always subject to change.
Generally, I get up around sunrise and start the day with about an hour of computer work and a cup of coffee. After breakfast, I try to dedicate myself exclusively to our homeschooling work. I have found that this works much better than multi-tasking. Homeschooling is challenging intellectual and relational work, and we do best when I am focused and enthusiastic during our school hours. We do our history, science, and literature reading and experiments together, and the kids do composition and math and some other projects and subjects individually, each at their own level. A long outdoor recess every morning gives me a breather and helps everyone reset their eyes and bodies. I have certain goals and written plans for each day, week, and year, but I also let the children's interests work for us whenever possible. I prepare much of our curriculum myself.
It has been delightful to find that homeschooling and discussing academic subjects with my children is also wonderfully supportive of my other work. My children have a keen interest in history and literature and it is fascinating to work through problems of context, causation, and culpability with them in conversation. Many hours of prepratory thought go into any essay or other piece of work that I create, and my children and their friends are tremendously helpful in this process. I also have had personal conceptual breakthroughs in both math and science through teaching my kids, finally understanding certain things that I had accepted but not really understood during my own elementary school years.
After lunch, the kids go to rest in their rooms for an hour and I attack whatever writing projects I have ongoing. Then I continue this work for another hour while the children play outside (and frequently interrupt me with requests for band-aids, snacks, and "come see my stick collection!"). I find I have to be sensitive to my mood regarding writing, reading, and research; when I was working on my dissertation, it was important for me to write at least one page each and every day, but now that I am doing mostly shorter-form writing, I find I have to keep lists of ideas, send out pitches freely, and do a lot of poking around some days rather than working on writing per se. So again, I try to be flexible.
When we reach mid-afternoon, we'll sometimes read aloud or do chores or run errands. Often, we are heading to piano lessons or swimming or to the mountains for a hike or the nearby pond for a walk before dinner. Other times, the kids set the table and then watch a movie while I sit on the porch and drink a seltzer water and yell at God and myself about how unfair everything is all the time! Then I realize I really just need a snack or to call a friend, so then I do that and more or less recover in time to make dinner, although to tell the truth, often I'm pretty fully worn out by the time we sit down to say grace.
When I am feeling ready to write, I tend to write quite quickly, in an intensely focused burst, and I neither hear nor see what is happening around me until the draft is done. I also read quickly and intensively. But since children need to be seen and heard, often this kind of writing (and reading) does not happen for me until after dinner (or on the weekend), when my husband is home from teaching his demanding load of college courses. If I myself am teaching a course, that will also often be held in the evening. Essay revision usually happens in the daytime, as evening revisions lead to convoluted writing and restless sleep.
After the kids are in bed, Chris and I talk through our work and the kids and our hearts and our days with each other while we ignore the toys on the floor and feel a little hopeless about all the chores that are still left to do. We met in graduate school and have always valued sharing our intellectual interests, and we often refine each other's thinking and strengthen each other's work. It is at this time of day that Chris starts making his terrible puns and I pretend that I don't think they're funny.
You describe yourself as an essayist, and you have indeed published a lot of essays lately! What are the big questions that you are investigating in your essays? What are the key stories that you hope to tell in your essays?
As a historian, two questions interest me above all: first, how are we like other people across time and place? And second, how are we different? For we are almost always both.
Unfortunately, we humans have a tendency to approach other people – whether our contemporaries or historical figures – with black-and-white understanding. We wish to either condemn or lionize others outright, depending on how much or how little we understand and agree with them. But history holds tremendous potential for learning to treat others both generously and critically rather than too often giving in to an excess of one or the other. That is, we should look for similarities between ourselves and others, but also expect differences. This helps us not to be afraid and not to isolate or alienate ourselves or anyone else.
When I teach history, I seek primarily to awaken historical imaginations so that students can see beyond themselves when they consider and judge other people. In my writing, I try to awaken imaginations by highlighting that which is rarely publicized so that we can grow in understanding of our secret, private selves and in sympathy for one another.
Often, the topics of my essays — ranging from the historical landscape to school choice and everything in between – come from my personal experience. If I am realizing that children really do grow and that their needs change over time, I write an essay to help younger mothers see the light at the end of the tunnel. If I am moved by a piece of music, I try to understand why and look for patterns that I can put into words for others who may feel the same way. If I am grieving, I try to speak my grief aloud so that others may grieve more freely as well. If I overhear older women scaring younger ones about childbirth, I write about how birth is indeed a crucifixion, but also a resurrection. And if you feel overwhelmed and like you ought to be a perfect homeschooling-homesteading-but-also-professional-wealthy-and-perfectly-coiffed person, I'll tell you how to raise chickens without losing your mind and demanding too much of yourself. And of course, I write what I know about teaching and homeschooling, too, because there's no perfect way to do that, either, and we really just need to calm down a little.
In our public discourse, even including conversations between moms at the park, the loudest voices often drown out a more civil, thoughtful, and humble majority, which then leaves many individuals feeling isolated and inadequate because they think their experiences or opinions are unusual or invalid. I seek to counter this trend in my essays by putting into words experiences that are rarely spoken but I suspect are widely shared, in the hope that this will build community and encourage others. Sometimes I flub it, but I learn a lot in the process.
You wrote a dissertation on homeschooling. Any long-term plans to turn it into a book? What is the big story arc that you are telling in that project?
My dissertation, a study of homeschooling in Los Angeles County from 1950-2010, argues that American homeschooling moved in that period from being an anti-instutional, radical activity to a post-institutional method of education that interacts and draws from the wider community. Homeschooling reflects, I argue, a growing subculture of localism that does not reject institutions, but seeks to move beyond them (and sometimes even to draw upon them).
It has been fascinating and gratifying to watch this argument be so strongly confirmed by the dramatic rise in homeschooling and other alternative forms of education since the initial public (and often private) school pandemic lockdowns in 2020. There is so much yet to be written on homeschooling! I would love to develop the dissertation into a book or a series of articles and, in fact, I have a couple of articles in the pipeline that I hope will be able to contribute to the public conversation soon. I'm still in the processing stage of thinking about how best to address this topic in a larger way, either in book form (developed from the dissertation) or in a series of essays and articles.
In the meantime, I'm enjoying frequently discussing and thinking about homeschooling, pedagogy, and teaching in general. All of us are teachers, whatever professional work we may do, and we all also have much to learn. And writing is a wonderful way to think through almost anything, especially when you have a posse of great editors and thoughtful readers on hand to challenge and strengthen your ideas.