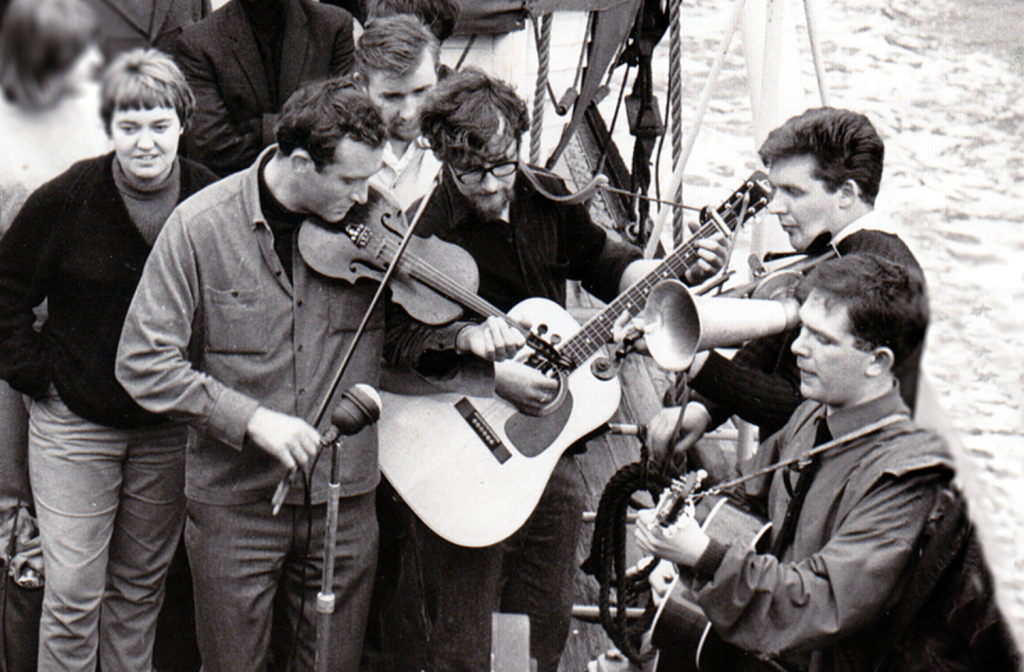 Is anything more necessary than music that tells us who we are?
One Sunday a few weekends ago my husband took all four of our kids on a day trip, God bless him. And after I had attended church and run my errands and even lain on the lawn staring at the winter sky for quite some time, the only thing left to do was to ask my younger brother to come pick me up so we could go driving around the valley until we found a restaurant that would serve us both gyros and fried pickles.
Soon enough we were meandering down the road in John's fancy white SUV and having a grand old time. John was especially enjoying taking random turns on country roads, and I was especially enjoying yelling "We need to go West, not North!" at him whenever I pleased.
Unsurprisingly, it was not long before John decided to put on some music to drown me out. The first track was a Robert Burns song from the late-eighteenth century, "Caledonia."
And it did indeed shut me up: It shut me up entirely.
In fact, before we were even three bars in I had forgotten entirely about the gyros and pickles. I had even forgotten about my need to boss John around. Instead, all I could think of and all I could feel was the great human longing inside me for home, place, and people. That deep longing in my heart thrilled and reached out to the song: "There once was a day / But old Time was then young / That brave Caledonia / The chief of her line . . ."
I, who a moment before had been thinking about pickles, of all things, found myself almost weeping at the ecstasy of this terribly old and moving song.
What is it about songs like "Caledonia" that touches us? Why does something inside us awaken when we hear such music, in an experience so deep as to be almost mystical?
Taking my chance to speak as the music ended, I asked John which would be better: to only hear deeply traditional music like "Caledonia" for the rest of our lives, or to only hear every other kind of music?
John likes to ruin the moment, and so he replied wickedly, "Everything else. I like the Red Hot Chili Peppers way too much to give them up."
But really, he knew what I meant. John and I both knew intuitively that although our present-day popular music does speak to us, it is limited in topic and style. Most of it cannot call to the deepest parts of our hearts.
Contemporary popular music is not made by or for "us," you see. It is made by and for "them." The famous ones. The beautiful ones. The rich ones, or the ones who become rich. The songs on the Billboard Top Forty songs are not made, for example, by the farmwives who improvised music as they felted tweed together in the actual hills of Caledonia many years ago, music that was made by them, sung by them, and lost to time when their great-granddaughters forgot them.
Now I have always loved folk music, but I do understand that it is not everyone's cup of tea. Part of me thinks this is because not everyone has experienced folk music as it ought to be heard—as the soundtrack and creation of everyday home-and-work life. Could I really get along all right without "Wild Mountain Thyme" and "The Lowlands of Holland" and "Oh, Shenandoah" and the endless other such tunes that speak loyalty to my heart?
No, I think not.
On the other hand, would I actually be willing to sacrifice not just the Red Hot Chili Peppers in favor of folksy music, but also Billy Joel and, much more painfully, Sibelius's "Karelia Suite?" Would I accept never hearing Copland or Bernstein again as the price of keeping "Caledonia?"
Ouch, and ouch again.
But: Yes. Yes I would, if it meant keeping the tunes of Burns's poetry and the heart-rending melodies of the American Civil War. Those are the tunes that cause echoes in my heart.
Realistically, the line between these two types of music—traditional or folk and the rest of it—is not always a clear one. And of course many songs that we think of as folk music were initially composed in part for sale. Examples include "Caledonia" itself or any of the many Stephen Foster tunes that have become part of our American heritage ("Oh, Susannah" is one). But when such songs are adopted and adapted by a people over generations, they take on lives and characters of their own. They are distinguished by the story and meaning that they carry and by the way that the people claim them over time.
The thing about folk music is that it belongs to us in a way that goes beyond the fads of our particular time. These songs cause something elemental to arise within us, an inner recognition of our calling to land, place, faith, work, and home—and especially to the mystical realm of our history, of our stories.
"Caledonia" tells a Scot that he belongs to a people. He has meaning. He is part of a line. Perhaps it should not surprise us, then, that during the recent pandemic lockdowns, when so many felt rootless and lost, it was sea shanties that brought people a sense of connection and shared emotion, while the infamous video of the super-rich singing "Imagine" fell flat.
The point is that folk and traditional music do not belong to a "them," to the advertisers and the trendsetters and the millionaires who sing their obsession with money, sex, and power. This music belongs to us, to all of us, because it tells us our own stories: It tells us who we are. It tells us what it means to care about family, home, friendship and freedom and what it means to labor daily in the service of this hope. The music that is most popular today does this only rarely. More commonly, it tells us that happiness lies in wealth and sexual power and that these can be purchased on Amazon.com.
But of course, that message is incorrect. It is the music of home and of the past, not of the curators of pop culture, that brings us back to ourselves. It doesn't even have to be good music in an objective sense. The off-key lullaby sung by an ordinary mother to her baby, which was sung to the mother by a grandmother long ago, has more beauty, meaning, and humanity than anything on the Top Forty. We like the faddish stuff sometimes, and we can bond in a surface way over it. These popular songs can arouse feeling, but do they really speak to the longer, deeper, bloodline hopes of our hearts?
If had to choose, I'd keep the lullaby. I'd keep "Caledonia." Wouldn't you?
Dixie Dillon Lane is an American historian, teacher, and essayist who writes frequently for Hearth & Field and Front Porch Republic as well as other publications, including her website, TheHollow.Substack.com. She holds a Ph.D. from the University of Notre Dame.